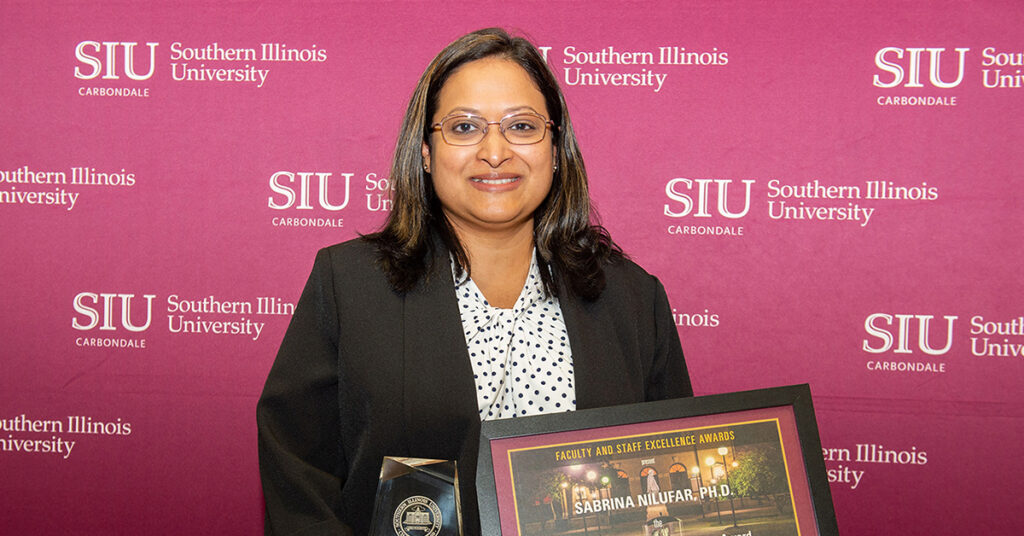 Sabrina Nilufar, assistant professor in the School of Mechanical, Aerospace, and Materials Engineering, is this year's recipient of the university-level Early Career Faculty Excellence Award at Southern Illinois University Carbondale.
Kanchan Mondal, professor and director of the school, said Nilufar represents a new generation of engineers performing cutting-edge research within the intersection of materials science, engineering and manufacturing.
"Her excellence in research, teaching, grantsmanship, service and her student-success oriented approach makes her a promising and rising junior faculty member," Mondal said.
The award recognizes a faculty member who has made significant contributions throughout the year to their discipline or to the SIU community, and who demonstrates excellence in scholarship, teaching and other professional activities. Faculty must be within their first five years of employment at SIU.
Nilufar earned her doctorate in mechanical engineering at the University of Illinois Urbana-Champaign. She was hired as an instructor at SIU in 2016 and became an assistant professor in 2019.
Nilufar specializes in additive manufacturing, which is also known as 3D printing, as well as advanced manufacturing methods, and solid mechanics of materials and nanocomposites, among other subjects. She was twice awarded the Outstanding Teacher Award (2020 and 2021) for her work in the Department of Mechanical Engineering and Energy Processes at SIU.
Get to know SABRINA NILUFAR
Name: Sabrina Nilufar
Years at SIU: 3
What do you enjoy most about your work at SIU?
The best part of SIU is the student body. I enjoy working with both undergraduate and graduate students and training them on scientific research projects.
I'm happiest when I am …
I am happiest when I enter the Engineering Building and interact with my colleagues and students.
At the top of my "bucket list' is to …
I would like to visit the Seven Wonders of the World.
My favorite activity away from work is …
I love watching movies with my family.
What are three things you cannot live without?
My family, reading splendid books and novels, and using my iPhone are all indispensable to me.