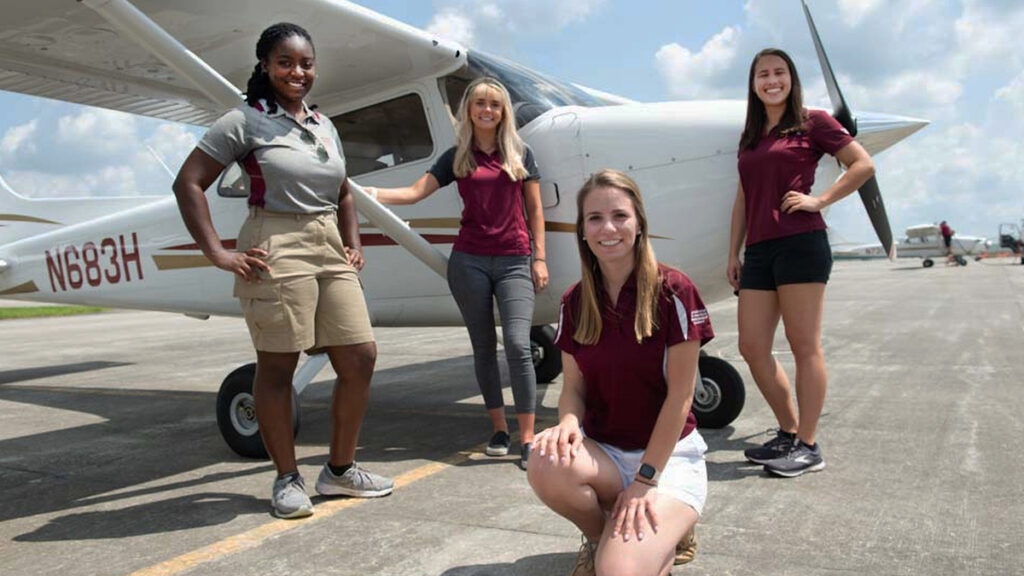 For Vernecelyn Allen and five other Southern Illinois University Carbondale School of Aviation female pilots, competing in the 2021 Air Race Classic is about building upon a legacy dating back to famed aviator Amelia Earhart in 1929.
"To participate in something that has been going on that long it is definitely an honor," said Allen, a May 2021 aviation management graduate now working on becoming a certified flight instructor. "It's an honor for me to represent SIU in this race and important as an African American female pilot to represent well. I'm really excited to be a part of this race."
Allen and co-pilot Abby Lee, a certified flight instructor in the program, are the Saluki Sky Surfers. Weather permitting, they, along with two other SIU teams ­– Saluki Dawgs (pilot Meadow Bowen, junior, aviation management, Bushnell, Illinois, and co-pilot Rachel Piacentini) and Saluki Aces (pilot Sophie Ottoson, senior, aviation management, Kaneville, Illinois, and co-pilot Gabrielle Escudero) – will compete this weekend in Cessna 172S aircraft on individual five-leg, one-day routes as part of the classic's Air Derby. The COVID-19 pandemic that scuttled last year's competition shortened this year's event from the race that lasts several days and covers more miles.
More than 80 teams from across the nation, including 15 collegiate teams, will compete between June 12 and June 26. A virtual awards event is June 27. This is the sixth year SIU has competed. A team from SIU won both the overall and collegiate event in 2015.
Event shortened to Air Derby this year
A different style race requires different planning. Where speed and safety are the focus in prior events, the derby format is about planning, navigation and matching projected course times. This event will test pilots in a different way, said Escudero, a flight instructor who teamed with Piacentini in the 2018 race when she was a student.
"Even getting to do the Air Derby is going to be a lot of fun," Escudero said. "It definitely tests our pilotage in a different way – our skills and our knowledge as opposed to 'go fast, get it done.'"
Lee said the derby will show how well competitors planned for variables that include weather and wind and how that could impact ground speed and fuel burn. Whoever comes closest to their projected time to complete their course is the winner.
"I'm excited to put my stick-and-rudder skills to the test, put my knowledge to the test and work with my co-pilot," Lee said. "It's a really great opportunity to work with these fellow flight instructors and students to promote aviation."
This is Piacentini's third air race; she competed as a student in 2016 and an instructor in 2018. She will take what she's learned previously and apply it this year.
"Each year you learn something new," Piacentini said. "You learn how to handle the plane a little better. You learn how to plan a little better."
Due to expenses, SIU in recent competitions had just one entry. With the shorter distance, time and reduced costs, the program was able to enter three teams.
"I'm really excited. I think this is going to be a fantastic opportunity for them because it's a different skill set," said Ken Bro, the program's chief flight instructor and program coordinator. "It's not the fastest plane that is going to win. It's the most accurate plane that is going to win. Having three teams helps more women get involved."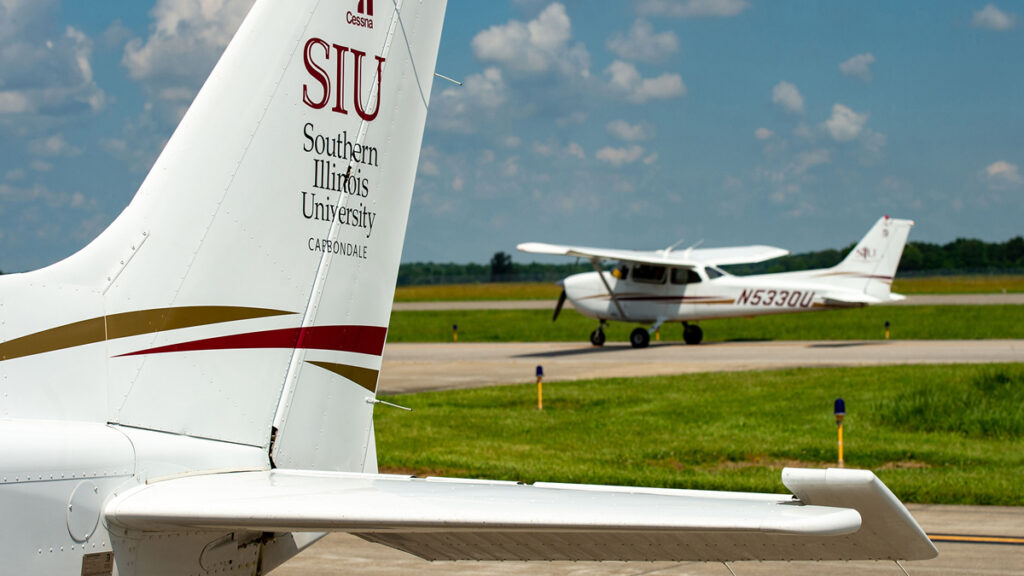 Female aviation students increasing at SIU
Piacentini, Escudero and Lee, the three certified flight instructors, each graduated from SIU's aviation program. This fall, the program projects at least 15% female aviation flight students. That is nearly double the national average of 8% licensed female pilots.
"Seeing the increase is really exciting, not only as an instructor to be able to work with them, but just seeing that more girls are becoming interested in aviation," said Lee, a 2020 graduate. "It's always amazing to hear how they got interested and what made them pursue aviation as a career."
Piacentini is also encouraged that more girls are interested in aviation.
"To know that SIU is doing a great job reaching them, getting to the point where a girl goes, 'Yeah, I can fly; that is totally a career option that I can take' is just honestly awesome to see," said Piacentini, chief pilot of executive transportation for SIU. "Getting that more diverse aviator field that we hope to see in the future shows that we are reaching out and doing the right things to really show – even if it's the young kids like the camp we have now, that they can do that; that anybody can go out and be an aviator is awesome to see."
Piacentini, Escudero and Lee each said that some of their rewarding experiences come with teaching students to fly, helping with camps or career day events.
Escudero enjoys being a flight instructor.
"Seeing your students, especially when you get the very beginner students and they are coming in with absolutely no knowledge and seeing by the end of their first flight course or semester here they are able to solo the airplane safely, is rewarding," she said. "Watching your student do their first solo, I love it so much. It's absolutely the best part of instructing."
Future goals
Certified flight instructors build up their flight hours with goals of becoming airline pilots. Allen, who is from Memphis, Tennessee, came to SIU Carbondale as a Chancellor's Scholar and became a University Honors Program member. She is working toward becoming a certified instructor and plans to take a qualifying test for the Air National Guard in Memphis within the next couple of months. Her ultimate goal is to be a cargo pilot for a company such as FedEx.
Allen said living by an airport in Memphis initially sparked her interest in aviation, buoyed by a camp hosted by a local chapter of the Organization of Black Aerospace Professionals, which included initial flights. Once Allen realized she could become a pilot, she immersed herself into learning everything about the profession she could.
The Chancellor's Scholarship played a part in her deciding to come to SIU, and so did the atmosphere Allen experienced while on a visit as a high school senior.
"After that visit, I kind of just felt like SIU was the school I was going to come to. I liked the campus and I liked all that they had to offer," she said, noting the legacy she feels as a female aviation student.
Being part of SIU's aviation program has been important, Allen said.
"It's one of the most important things that I will do. To not only represent myself well in the program so people who come after me have good footing to stand on but to empower those people who are already here."
More information on SIU's aviation program is available at aviation.siu.edu.