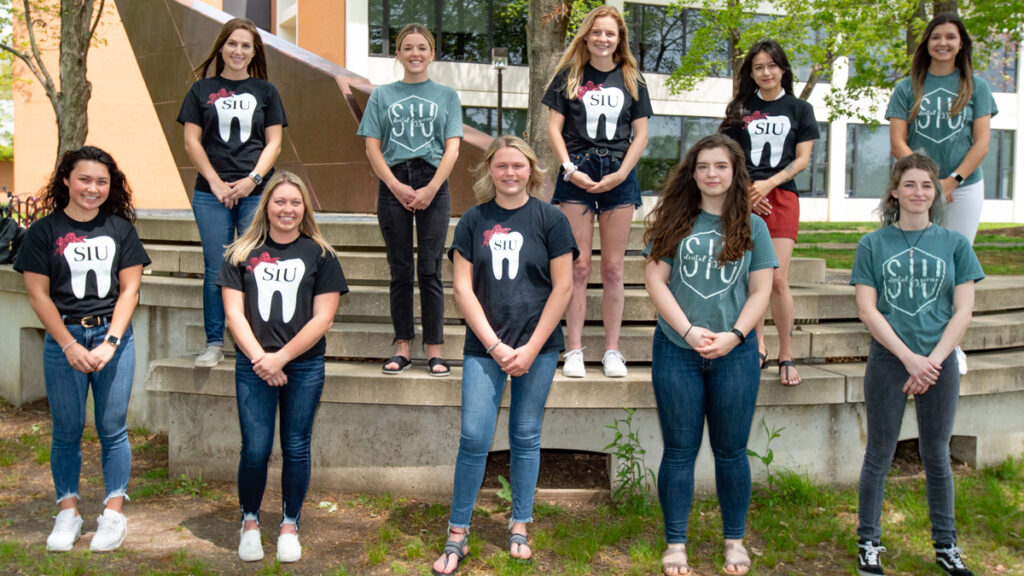 Earning the Community Dental Health Coordinator (CDHC) certificate greatly touched Southern Illinois University Carbondale senior dental hygiene student Fatema Alharbi.
"It's community health," said Alharbi, who is from Jeddah, Saudi Arabia. "I like to serve and help other people. This is my nature, this is me. I feel like everything that is represented in this class will help me increase access to dental care in my community and spread oral health education."
Alharbi and 29 other seniors in the program completed the online certification developed by the American Dental Association just prior to SIU's spring 2021 commencement exercises, which are set for noon, Saturday, May 8, in Saluki Stadium.
A dental assistant in Saudi Arabia for 10 years before coming to SIU for the dental hygiene program after transferring from Boise State University, Alharbi said her plans are to return home and work in the ministry of health at a government clinic to "give the best care for my patient."
"This has meant life for me. It gives me the future; it gives me another life and a profession," she said. "I'm so grateful for the school, the faculty, my country and my family."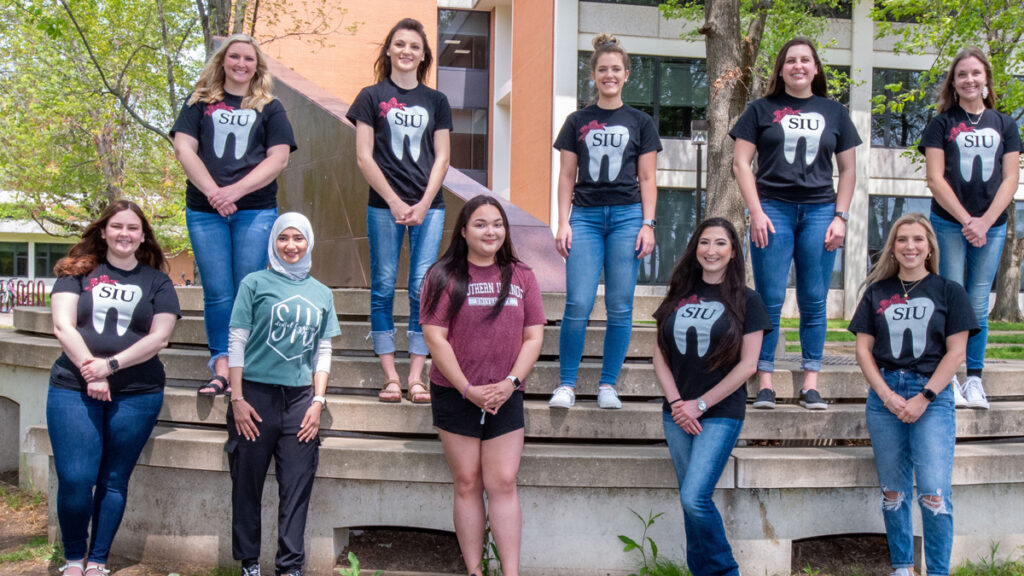 The online certification will assist graduates working in a federally qualified health center or community health center or with underserved populations. As a part of the certification, students learn program planning, grant writing and resource mapping, which is a mechanism for dental professionals to assist patients in finding a way to make dental appointments in public dental health clinics when access is limited.
Students begin taking the certification course during the spring semester of their junior year. Along the way, they participate in community dental center and dental sealant grant rotations. This spring, students also assisted in COVID-19 vaccination clinics.
"The students need to know how to work with different types of population groups," said Jennifer Sherry, an associate professor in the dental hygiene program. "They need to know how to navigate through systems that maybe their patients would need to know about."
For example, they could assist patients with finding community food pantries, help in finding children's clothing or assist in other areas where they might detect a patient needs help. Sherry noted the importance of dental hygienists being cross-trained.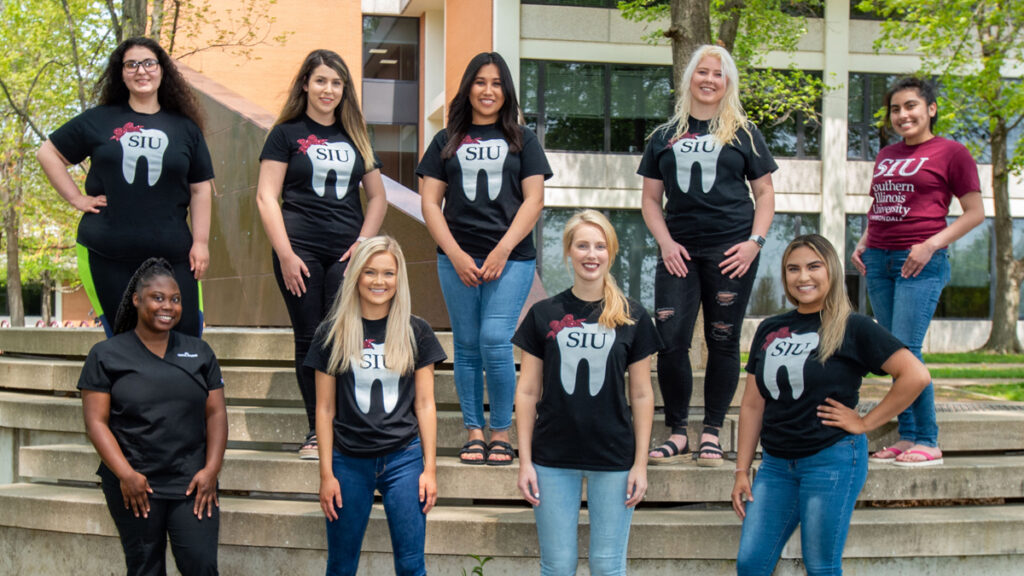 Accredited by the Commission on Dental Accreditation, SIU's program remains the only one in Illinois that offers a four-year dental hygiene bachelor's degree. The program also offers an online bachelor's degree in dental hygiene management and education for present dental hygiene professionals.
This is the fourth cohort of a five-year grant SIU Carbondale received for the online certification, Sherry said. Much of the CDHC material is already included in the dental hygiene program's community dental health course.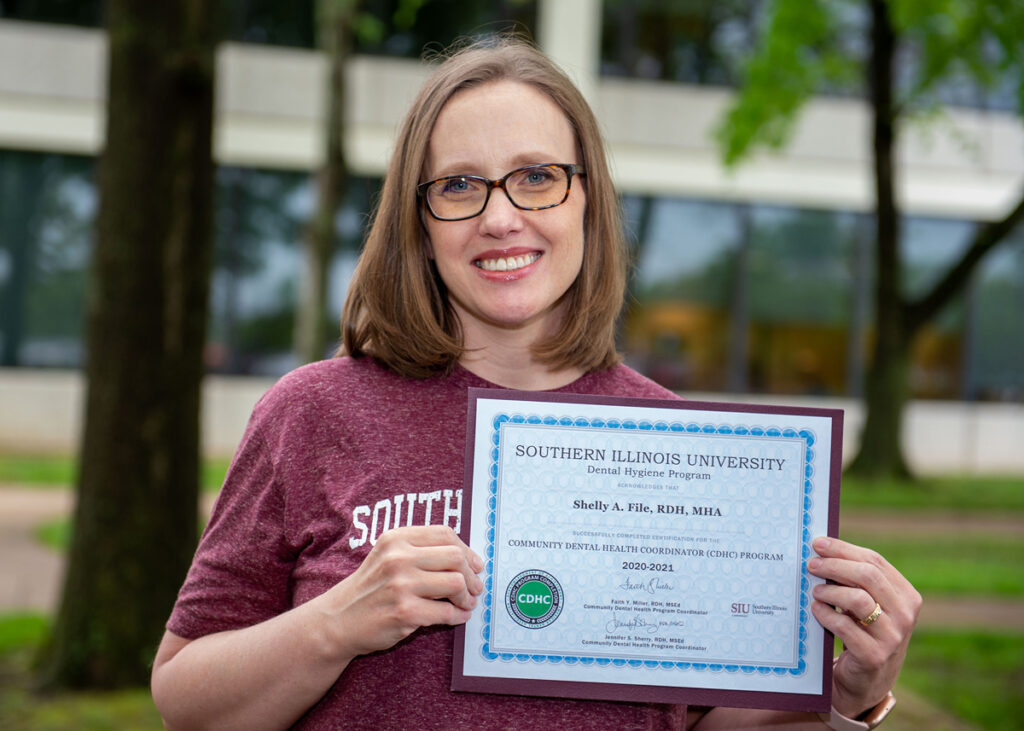 Shelly File, a senior lecturer in the dental hygiene program and a past manager of SIU's dental sealant program, is the first faculty member to complete the certification course. While File, who earned a master's degree in health administration in December, has experience with project management, it was important to take the course to further help students in the program, she said.
The 30 graduating seniors who completed the CDHC certification, with hometowns are:
ILLINOIS
Anna: Jessica Potter.
Anna: Erica Ralls.
Arlington Heights: Valeria Spivakova.
Ashland: Emily Koch.
Calumet City: Manar Mansour.
Chicago: Gabriela (Gabi) Herrera.
Chicago: Andrea Miranda.
Chicago: Emily Pfaller.
Du Quoin: Emily Born.
Elmhurst: Camille Peterson.
Frankfort: Andrea Hoover.
Granite City: Rebecca Ortiz.
Hoffman Estates: Ginger Sanchez.
Ingleside: Xochitl (Zoey) Osorio.
Lockport: Erin O'Donnell.
Melrose Park: Julyette Maldonado.
Mokena: Bailey Faber.
Mt. Carmel: Miranda Saltsgaver.
Murphysboro: Dani Morgan.
Pinckneyville: Callie Bigham.
Pinckneyville: Sydney Ginn.
Prospect Heights: Nicole (Coco) Yoshino.
Savanna: Jacqueline (Jackie) Gutierrez.
Sterling: Kennedy Shank.
ARKANSAS
MISSOURI
Advance: Chandler Ritter.
Annapolis: Carly Heuer.
Farmington: Kayla VanNess.
CHINA
SAUDI ARABIA
Photo identifiers
Photo 1:
Bottom row from left: Nicole Yoshino, Andrea Hoover, Kennedy Shank, Valeria Spivakova, Erin O'Donnell.
Top row from left: Jessica Potter, Chandler Ritter, Bailey Faber, Jiao Liu, Emily Pfaller.
Photo 2:
Bottom row from left: Emily Born, Fatema Alharbi, Gaby Herrera, Ginger Sanchez, Dani Morgan.
Top row from left: Callie Bigham, Erica Ralls, Camille Peterson, Emily Koch, Sydney Ginn.
Photo 3:
Bottom row from left: Andrea Miranda, Miranda Saltsgaver, Carly Heuer, Julyette Maldonado.
Top row from left: Manar Mansour, Jacqueline Gutierrez, Rebecca Ortiz, Sarah Akers, Xochitl Osorio.