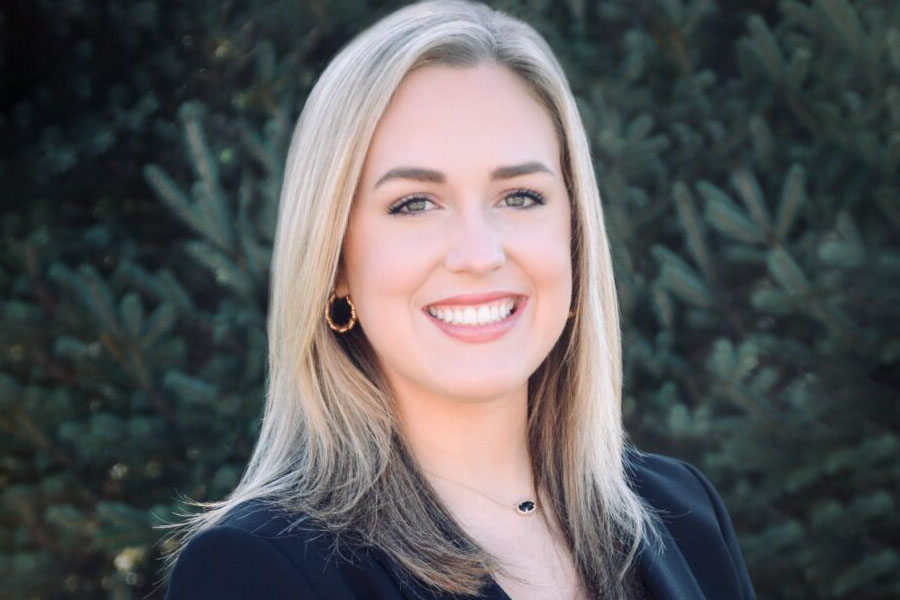 Jacqueline Nash decided that preparing for final exams while working full-time wasn't taxing enough. She is pursuing her master's degree in health administration at Southern Illinois University Carbondale, working as a graduate/teaching assistant and holding down another job, but during finals week, she also presented her research on COVID-19 and PTSD in radiologists at an international conference.
Due to the ongoing pandemic, she joined the ninth annual International Conference on Health and Medical Sciences May 3-5 in Greece virtually to discuss "COVID-19 Creates Environment for Potential Increase in PTSD for Healthcare Professionals" But she enjoyed the experience and thrives on being involved, especially when it comes to her passion – the field of health care.
During her time at SIU, she has researched several ways the pandemic has affected health care and learning.
Examining a timely, little studied issue
Nash has been heavily involved in research since her days as an undergraduate student at SIU, and the recent presentation focused on a topic that is very relevant to the times, she noted. Her recent study was also published in the July/August issue of "Radiology Management."
"It's a discussion about how COVID affects health care staff, especially radiology professionals," Nash said.
She and her co-authors were surprised to find that little research has been conducted on how the pandemic affects this group of health care professionals. Still, the team delved into the available data.
They discovered that as the COVID-19 public health crisis emerged and grew, there were increases in PTSD cases among all types of frontline health care professionals. Further, "with their normal day-to-day job duties already filled with trauma and illness, radiology professionals may be particularly susceptible to PTSD, and the pandemic may only add to their susceptibility," the study finds.
Thus, it's important for radiology managers and health care facility managers to be aware of the issue and involve behavioral health experts who can watch for signs and symptoms of PTSD and focus on the well-being of radiology professionals. Nash said a successful facility in California has a therapist who "roams" at all times throughout, tending to the mental health needs of all staff and watching for any signs or symptoms of PTSD.
Nash's co-authors include Sandra Collins, professor and health care management program director; Mitchell Dierkes, Master of Health Administration student; Richard McKinnies, professor and interim director of the School of Health Sciences; and Kelli Whittington, assistant professor, nursing program director.
Collins has worked extensively with Nash on research projects and said it has been a great experience.
"Ms. Nash is exceptionally talented and naturally inquisitive," Collins said. "It has been my privilege to work with her and watch her develop into such a resourceful researcher. I have no doubt Jackie is going to do significant things in the field of health care."
What if the patient refuses to wear a mask?
Nash extended her COVID-19 research into other areas as well. Along with Marshon Tucker, who is completing the dual track Master of Health Administration and Master of Health Informatics program, Collins, and Debra Penrod, assistant professor of nursing and registered nurse, Nash co-authored "Patient Abandonment and the Refusal to Treat: When Patients Reject Mask Mandates."
"This was very interesting research with ethical implications," Nash said.
Health care providers have sworn an oath to care for their patients to the best of their ability, but if a patient refuses to wear a mask, can a health care worker refuse to provide treatment? During a pandemic, when that refusal can endanger medical providers putting themselves at risk of being exposed to COVID-19, that is a serious question, Nash notes, and that's what this study explored.
She said the her main takeaway from this research is that health care facilities and providers need to have specific, detailed policies and procedures in place and adhere to them to avoid any confusion and grey areas when it comes to what will or won't be allowed or happen as far as treatment, masks and so forth. When rules are established and consistently enforced, health care workers and facilities can protect themselves as they care for patients, she said.
The study was published in the January/February issue of "Radiology Management."
Exploring the shift to online learning
Additional research delved into the "Student Perspective on the Shift to Online Learning due to COVID-19." She worked on this project with Dierkes, Penrod, Thomas Shaw, associate professor of health care management, Serdar Aydin, assistant professor of health care management; and Collins. They interviewed hundreds of students about the shift to online learning during the pandemic, a situation that has affected at least 290 million students worldwide.
According to Nash, about 60% of the respondents said the switch to completely online learning was not easy. However, the researchers found that student motivation plays a factor in how successful the transition is as does how involved the instructor is. In addition, students and faculty working together to improve student engagement, typically through a flexible approach that incorporates live and recorded elements is beneficial, the research found.
Publication is pending.
Nash is also a co-author of:
All online
Surprisingly, all of this collaborative research and writing has been happening across the miles as Nash now resides in Bettendorf, Iowa. After graduating from SIU with a 4.0 GPA and a bachelor's degree in health care management in spring 2019, along with minors in long-term care administration, health information and informatics management and rehabilitative services, she took a job in Iowa, working at her local community college, setting up clinical sites. She is completing her master's degree 100% online. She really appreciates having the flexibility to complete her degree and advance her career while she works.
She said that when she began looking for a Master of Health Administration program, she always found herself comparing every other program to SIU's.
"Ultimately, I realized the online program at SIU was exactly the right fit for me, and I've enjoyed every minute of it," Nash said.
Wants to help people
Nash has known for many years that a career helping others was in her future.
"I chose health care management because I wanted to be involved in health care and help people, but I wasn't sure a clinic field was what I was looking for," Nash said. "Health care management provides me with the opportunity to achieve both of those goals."
Initially, she was unsure where she wanted to pursue her undergraduate degree but as soon as she arrived for her first visit at SIU, "I felt at home right away. Everyone I interacted with was amazing and showed genuine interest in me as a student. The health care management program had everything I was looking for and offered me the ability to expand my skills by obtaining three minors during my four years."
Experiences paved the way to success
She said her undergraduate experiences at SIU paved the way toward research, publishing, leadership and career success. She was involved in both individual and group research projects as part of the undergraduate Healthcare Management Research Team. Her individual project focused on using telemedicine to improve patient care for pediatric patients, and she was the co-leader for an interactive contact-tracing group project. Based on this experience, she co-led the development of a training presentation about the contract-tracer process and presented it to health care management students. Contract tracers are often used for accreditation reviews in health care facilities.
She was an SIU University Excellence scholarship recipient 2015-2019 and served as vice president of the Student Healthcare Management Association, a campus registered student organization. A paper she penned was selected to represent the program in the American College of Healthcare Executives Richard Stull Essay competition, and she was the Mid-America Healthcare Executives Forum 2017 Undergraduate Healthcare Management Award winner.
Nash also completed an internship during the fall 2020 semester at Southern Illinois Healthcare, where she gained valuable first-hand management experience at various levels. She said the wide variety of experiences she obtained both in and out of the classroom has been incredible and she's grateful for the opportunities afforded at SIU.
After graduating in December, Nash wants to pursue a career in health promotion or management, ideally working at a children's hospital.