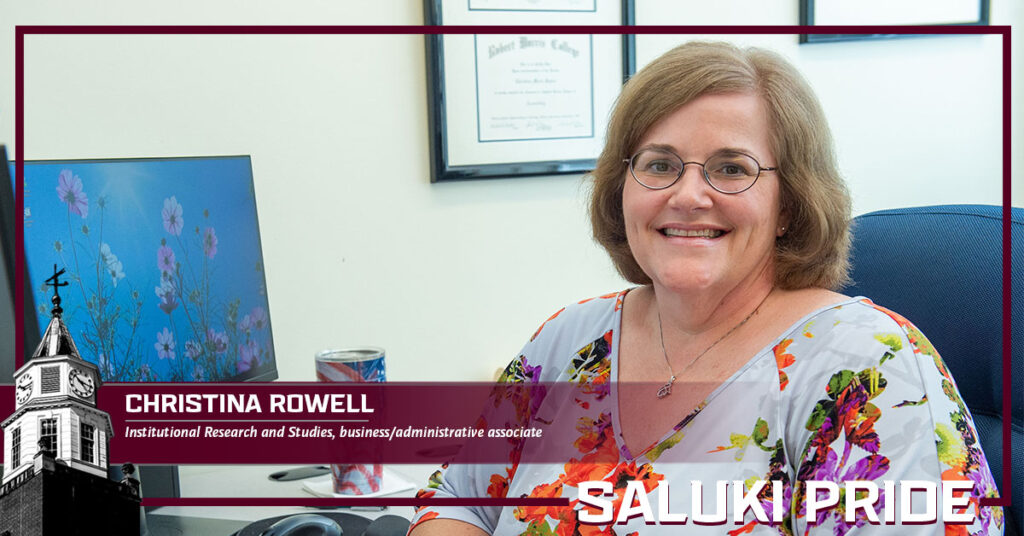 For a moment, imagine the sheer amount of data an institution with thousands of students, staff and faculty must generate and deal with. Christina Rowell, a member of SIU's Institutional Research and Studies team, helps make sense of it all.
Rowell has held a variety of positions at the university, including budget analyst and office systems specialist. A native of Du Quoin, Rowell is also a two-degree alumna of SIU and a registered CPA.
"Christina is a leader with regard to internal and external data reporting as well as data analytics," said Scott Bridges, assistant provost and chief information officer in the Office of Information Technology. "She is detailed, thorough, produces excellent work, is a great communicator and is extremely knowledgeable in university data. In many ways, she is a model employee."
Get to know Christina Rowell
Name: Christina Rowell
Department and job title: business/administrative associate in Institutional Research and Studies.
Years at SIU: almost 23.
Give us the elevator speech for your job on campus.
My job involves providing support for the university's academic mission through data research, computer program coding, database development and utilization, mathematical modeling and statistical analysis, and report preparation and presentation to meet external reporting as well as internal operational needs.
What is your favorite part of your job?
It's hard to choose just one. I'd have to say that the best parts of my job are that I'm always learning and that I'm blessed to work with a really great group of people here. Having a positive and supportive work environment makes such a difference, not just in the quality of your work, but also your work life.
Why did you choose to work at SIU?
When I relocated back to Southern Illinois almost 23 years ago, I knew I wanted to get a job at SIU because I wanted to be in an environment that not only facilitates, but also encourages and celebrates, learning and personal achievement through hard work and education. I was able to earn both my bachelor's and master's degrees while working here at SIU and, as I mentioned, I'm still learning every day.
What do you do in your free time?
Well, of course I enjoy the usual things like reading, walking, baking, etc. But I especially enjoy driving and tinkering with my 1973 Volkswagen Beetle. This year, a lot of my spare time will be devoted to getting him out for Sunday drives and back in car shows again. He holds great sentimental value for me and, what can I say, he's a happy little car that makes me smile.
What are your goals for the future?
Aside from continuing to learn new skills every day in order to contribute my best in my role within IR and my aspirations of becoming proficient in the fine art of classic VW Beetle restoration and preservation, I'd like to be able to devote more time to volunteer work. It's easy to get so wrapped up in our everyday responsibilities and routines that we lose sight of what's most important, and that's being there for each other. If this past year's pandemic experience has taught me anything, it's that. Also, I'd love to start mapping out travel routes that my husband and I can take all across the country once we hit our twilight years and begin the next phase of our journey through life, which will definitely include plenty of sightseeing and RV adventures.
Know an SIU faculty or staff member who deserves attention? Nominate them for Saluki Pride.