A group of almost 30 new Salukis have been enjoying a four-week immersive learning experience on the Southern Illinois University Carbondale campus. It's all about giving them a jumpstart toward success in their college careers.
Through the Dr. Seymour Bryson Future Scholars Program, 28 newly admitted students have been taking college courses for credit, complete with tutoring and mentoring. They are also exploring campus and the nearby area July 6-30 and learning about the myriad services and programs available both on campus and off.
The Future Scholars program was established in 1991 by the late Seymour Bryson, a triple alumnus of SIU who retired in 2008 as associate chancellor for diversity and Rehabilitation Institute professor. It was relaunched this year at the behest of Chancellor Austin Lane, after an 11-year hiatus, with funding provided by the SIU Foundation. The goal is to give students who didn't get the best grades in high school but have potential for college work a taste of university life and provide them with extra tools to help them succeed at SIU.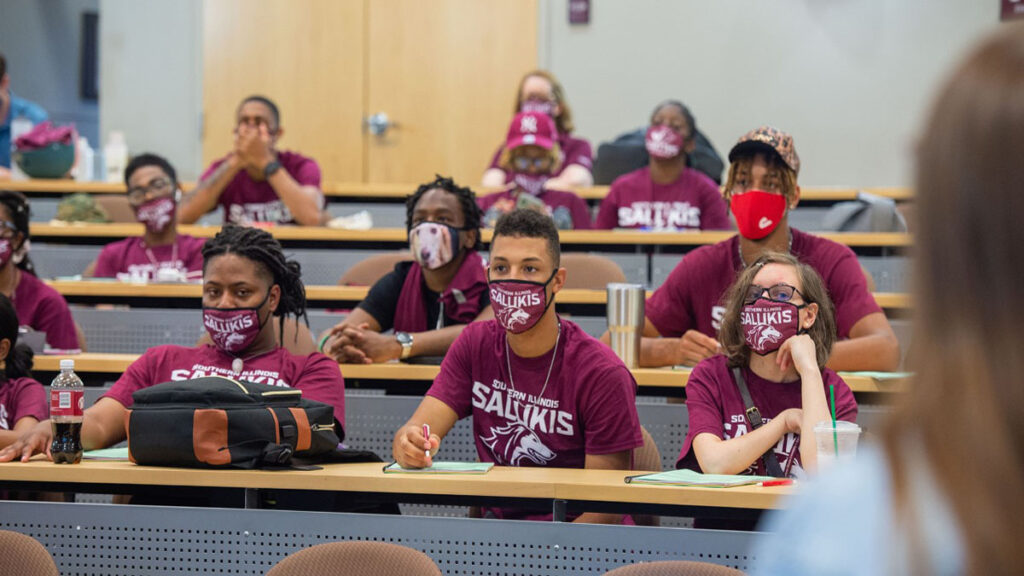 Earning credit
It's a busy, informative yet fun four weeks for the participants, according to Jeff McGoy, director of Exploratory Student Advisement. All of the participants are first-year exploratory students.
"It's fast-paced," McGoy said. "They can earn eight credit hours in four weeks."
The students complete three university core curriculum courses, including a communication studies class, which involves giving speeches, and the University 101 class, which incorporates hands-on activities. The program also incorporates a mandatory study table session several times a week for tutoring and academic coaching.
Miles Bengtson, 18, said he really appreciates the chance to get a head start on earning credit hours. The St. Charles, Illinois, student said his mother suggested he attend and he's been able to able to "get a feel for college," learning where things are on campus and what's available, and just getting acquainted with the place and people.
McGoy said many of the participants sign a one-year success commitment, pledging to receive tutoring services, meet with a mentor and adviser and use the resources available to them at SIU. "Participating in this program really helps alleviate a lot of the stress and nervousness associated with going to college for some of these students, and it helps them move into their major sooner," McGoy said.
Serving students
Along with the academic experience, Future Scholars focuses on showing new students the many services and types of assistance available to them.
Noah Jones, 18, of Woodridge, Illinois, plans to major in tourism and hospitality at SIU. In high school, he struggled with time management and has now come to realize the importance of that skill. He has found help in improving his study skills at the Future Scholars program.
At SIU's Student Health Center, Bryson Future Scholars learned about managing stress and that as soon as they arrive on campus "you have a doctor assigned to you." They also discovered that the center has a Dawg Lounge, complete with a free massage chair. Many were excited to hear that dogs often come there to visit, giving students a chance to relax and pet a canine. They also viewed the blue room with its bubble wall and swing, the pharmacy and other amenities and learned about the peer educator's program, confidential advising, special events and many other services.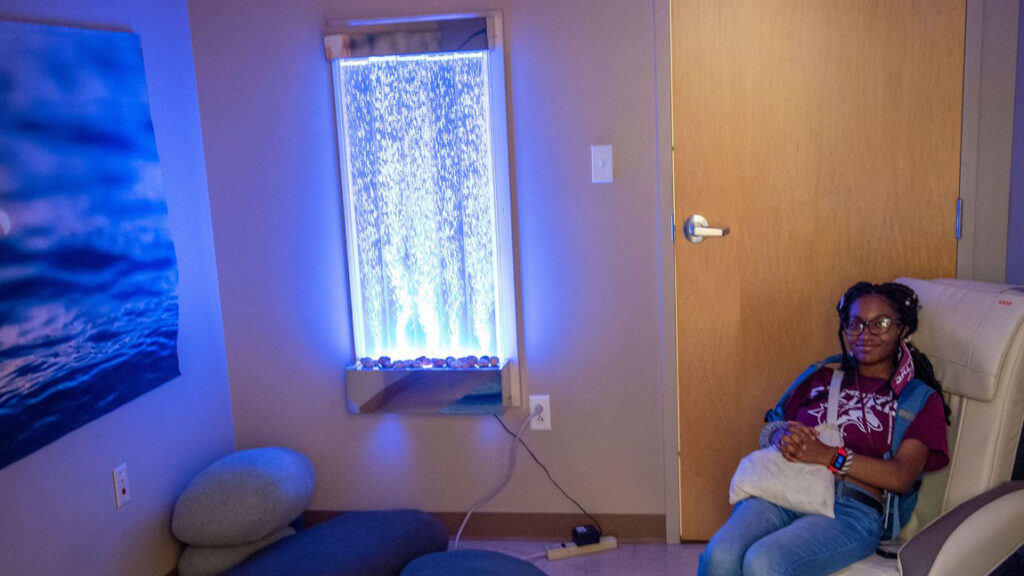 They have heard about various programs created just to serve various student populations, including:
The First Saluki Center – created especially to serve the one-third of the population who have not had a parent or legal guardian obtain a bachelor's degree.
Trio Student Support Services – established to meet the educational, social and personal needs of diverse student populations and assure they reach their maximum academic potential.
Office of Disability Support Services – to assure students with any type of disability have equal access to campus programs, resources and services.
The TRIO Student Support Services, First Saluki Center
Katie McGrath, 21, of Alton, Illinois, is quick to say she's a non-traditional student who really wasn't sure she would ever go on to college.
"I didn't really do well in high school and I was afraid I couldn't succeed at a university," McGrath said. Then she discovered SIU, the Exploratory Students program and Future Scholars.
"I love it!" she said. "I really like everything, except for the walking," she added with a giggle. She said she also appreciated the guidance and help she was already receiving from Disability Support Services, including assistance for her to have her emotional support animal on campus.
Workshops and discussions also highlight the services and amenities provided by admissions, academic units, University Housing, the Career Development Center, Morris Library, the Financial Aid Office, the diverse learning spaces throughout campus, the Center for International Education, the Office of Innovation and Economic Development (including numerous programs involving students) and more.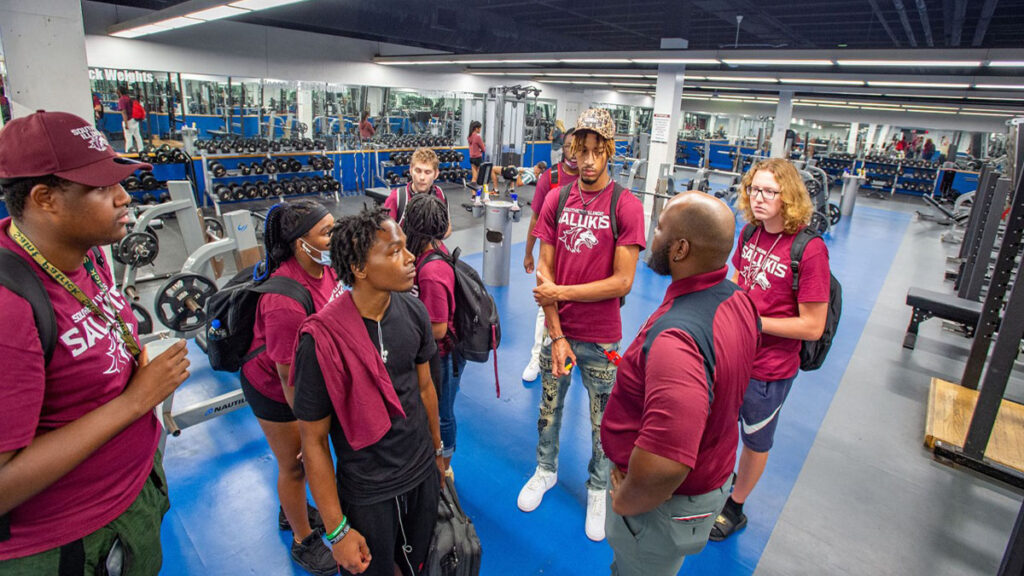 Action-packed month
Future Scholars introduces students to the rest of Saluki life as well. They toured the Student Recreation Center where students enthusiastically checked out the gymnasiums, walking tracks, weight rooms, exercise equipment, Olympic-size pool and other amenities, including the various matt, TRX and other studios featuring punching bags, exercise bands and more. They enjoyed team-building activities there as well.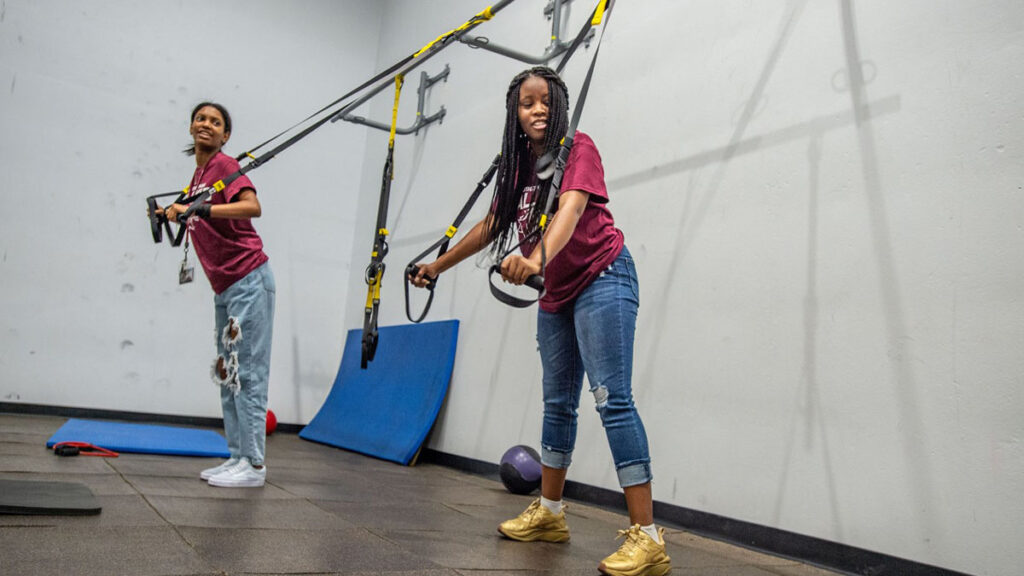 They checked out the Student Center and its Craft Shop, bowling and billiards. They found out about the 250-plus registered student organizations on campus. They're exploring the podcasting lab and the Agriculture Building green roof. They will even leave campus knowing where all of their fall campuses meet; they'll discover the locations during a scavenger hunt near the end of the program.
They visited popular area sites including the spillway and Giant City State Park and have enjoyed a fun game of laser tag, a Human X paint project and a variety of games, including "Two Truths and a Lie" during move in.
Jones has enjoyed the movie nights with his newfound friends.
"The students have really connected with each other," McGoy said.
"It's fun to meet people from all kinds of different places, even before the semester starts," agreed Jocelyn Morales, 18, of Highland Park, Illinois.
Morales and her good friend Alexis Segura, 17, of nearby Highwood, were attending Future Scholars together after learning about the program from Morales' older sister, SIU alumna Samantha Morales, who earned her accounting degree in 2018. Jocelyn hopes to earn an accounting degree as well and said she appreciates the chance to come during the summer, learn how things work on campus and get started on her classes.
"I'm glad I can start the fall semester with credits already earned and it's really helpful to learn about all of the extra services SIU offers, too," Segura said.
McGoy said the 2021 Future Scholars program has been a big success, thanks to the participants, the university and the community.
"This is really a campus and community effort," McGoy said.