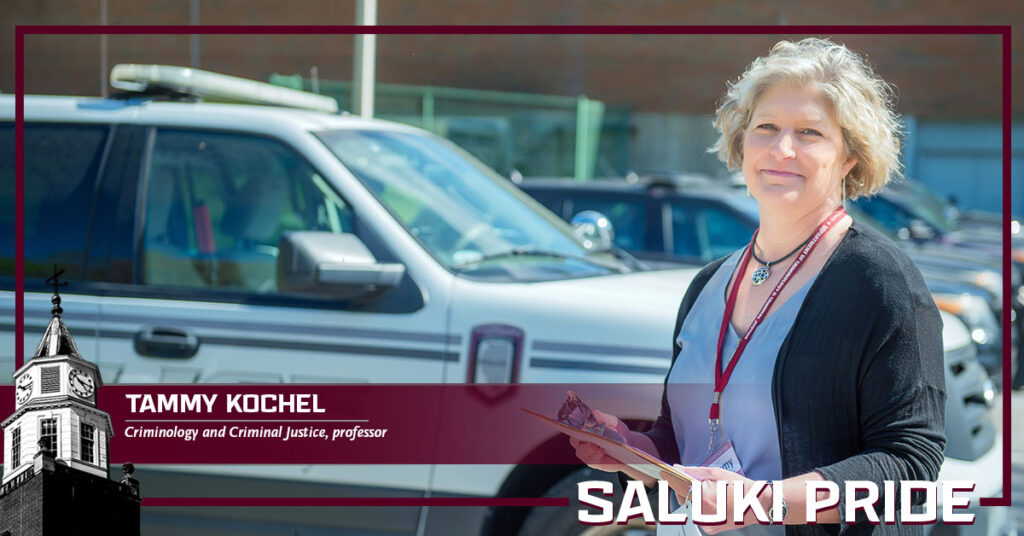 Tammy Rinehart Kochel, professor, criminology and criminal justice, has been at the forefront of policing research for more than 20 years, even predating significant incidents that contributed to police reform in places such as Ferguson, Missouri, notes Matthew Giblin, director, School of Justice and Public Safety.
Her research "is critical for improving the quality of policing, particularly in high crime communities" and suggests ways to reduce crime and violence and strengthen confidence in police. She has continued her work in St. Louis and Springfield with the support of $3.5 million in grant funding, including $1.3 million to SIU.
Get to know Tammy Kochel
Name: Tammy Rinehart Kochel
Department and job title: Criminology and criminal justice professor
Years at SIU Carbondale: 12
Give us the elevator pitch for your teaching/research/staff job:
In my role as professor of criminology and criminal justice at SIU Carbondale, I have the freedom to pursue my unique research interests with a support system to help facilitate that research with grant funding. I enjoy that SIU has smaller sized classes from undergraduate to doctoral students.
Also, I am usually able to teach classes that are squarely in my areas of greatest strength (policing and research methods), allowing me to bring into the classroom my real-world examples from prior jobs and my research experiences. Combining the teaching and research aspects is mutually beneficial to the learning and the research activities. I have fun in this job.
What is the favorite part of your job?
Working with students to conduct field research and teaching them about research. I love doing research, and I think that the students can sense that. When they actually get a chance to put research methods into action and conduct surveys or do observations, etc., they learn so much. I try hard to lead by example. When they also enjoy doing research and when they tell me what they have learned, I find that so rewarding.
Why did you choose SIU?
For several reasons. I wanted an opportunity to train doctoral students in my field and the criminology and criminal justice (CCJ) department was about to develop its Ph.D. program just as I was being hired. That was very exciting to me. Also, during my interviews, the then dean (Alan Vaux) and assistant dean (Dave Dilalla) of the College of Liberal Arts and Kimberly Leonard, chair of CCJ, were excited for me to possibly bring in grant-funded research to SIU, and I felt confident that I could make a contribution in that way. The CCJ faculty were also impressive in their accomplishments and so I felt as if I would be joining a team of motivated and talented professors.
During my interviews with faculty, it was a very positive experience — I felt so at ease and welcomed. Also, I was a master's student at SIU in 1993-1994. From that experience, I already knew that I loved the Southern Illinois area — how friendly the people are, how strong the values are, the slower pace of life, lots of wineries with live outdoor music and the many outdoor activities like hiking, kayaking, biking, etc. It was the whole package.
What is your favorite song? Why do you like it?
"Overcomer" by Mandisa. It is a great and uplifting reminder to me that through God, all things are possible, nothing is hopeless. I am a work in progress, but I will overcome whatever comes across my path trying to pull me down or sidetrack me. It encourages me, don't quit, stay in the fight! Also, it makes me want to dance, which I love to do. A close second is Danny Gokey's "The Comeback" for the exact same reasons.
At the top of my "bucket list' is to … and why
In terms of something I wanted to do, it used to be going to Italy and touring around, but that one is complete. It was awesome, and I would go back in a heartbeat. Traveling and experiencing different parts of the world remains something I enjoy (especially ancient places and relaxing places) and will continue (after COVID). I still want to see Greece, Ireland and Iceland.
I would say what remains at the top of my bucket list is seeing my two daughters succeed in their life goals and doing whatever I can to support them in that.
Know an SIU faculty or staff member who deserves attention? Nominate them for Saluki Pride.