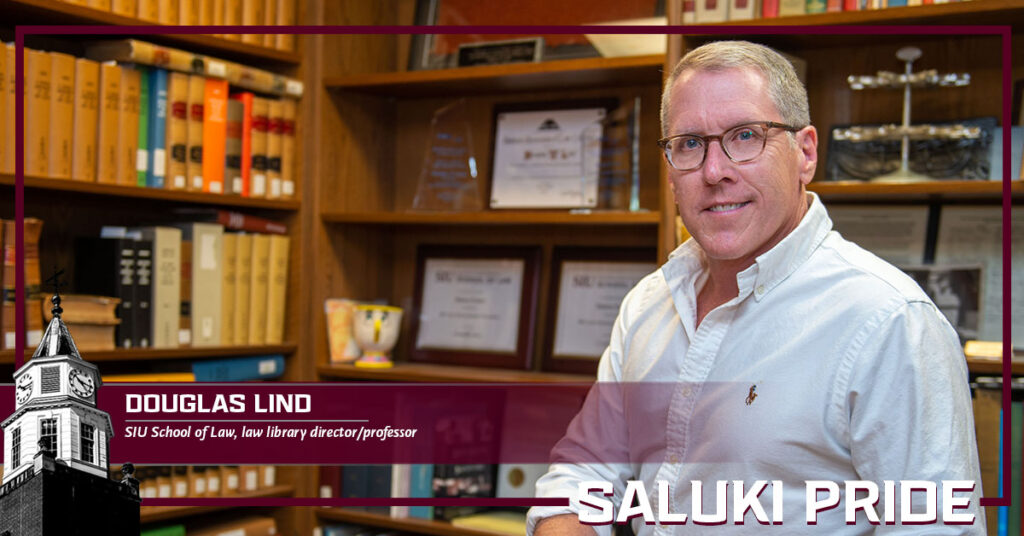 Douglas Lind of the SIU School of Law is an award-winning legal historian who loves to help students with their research. Earlier this year, Lind received the 2021 Joseph L. Andrews Legal Literature Award from the American Association of Law Libraries for co-authoring "The Leaven of Sympathy: A Bio-Bibliography of Frederick C. Hicks." He previously won the organization's same award in 2013 for his sourcebook, "Lincoln's Suspension of Habeas Corpus: the Pamphlet Literature and Congressional Debate."
Get to know Douglas Lind
Name: Douglas W. Lind
Department/title: law library director/professor, SIU School of Law
Years at SIU Carbondale: 14
Give us the elevator pitch for your job:
I'm the director of the library and teach first-year and upper level courses in research as well as a senior writing seminar in legal history. My research and writing focuses on the transmission history of 18th and 19th century printed legal materials.
What is the favorite part of your job?
Introducing students to rare books. Many people don't know that SIU Law has an amazing collection of thousands of rare law books, including everything from a 1530 summary of the laws of England, to the first book on the laws of the rights women published in 1632, to a handwritten legal document, penned by Lincoln when he was a young attorney. I feel quite privileged to be able to incorporate many items from the collection into my legal history seminar. Although digital copies may be available, I think it is important for students to actually touch history and understand the human presence involved in the creation of each book. Student engagement in any given topic increases dramatically when I start passing around books that are hundreds of years old.
Why did you choose SIU?
For 13 years, I worked and taught in Washington, D.C. at the largest law school in the country. My classes were so large I didn't feel like I was making a difference. Here at SIU, there is a small-town community atmosphere. I know all of the law students' names and feel like I have a personal stake in their success.
At the top of my "bucket list' is to … and why
Explore the Utilidor tunnels under the Magic Kingdom at Walt Disney World – because that's the sort of thing that Disney nerds think about.
What are three things you cannot live without?
I should probably say something profound like, "shelter, love and hope," but let's be real, after the last couple of years, craft beer, pizza and Nutter Butters are at the top of my list.
Know a colleague to feature in Saluki Pride? Simply fill out this form.