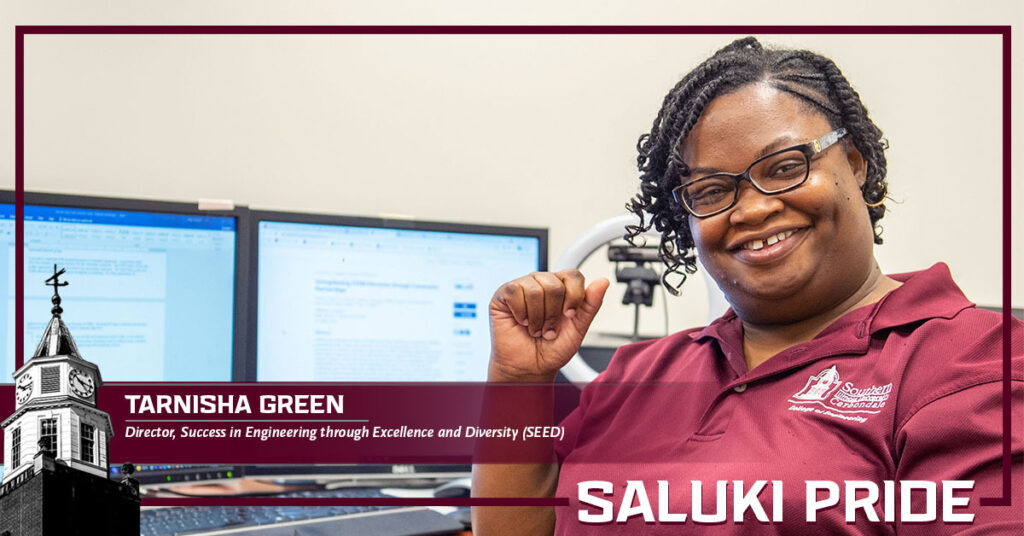 Tarnisha Green directs the Success in Engineering through Excellence in Diversity Program (SEED), supporting students in SIU's College of Engineering, Computing, Technology, and Mathematics, especially those from underrepresented populations. Holly Tugiyanto, an account technician at SIU Extended Campus, nominated Green for Saluki Pride, saying "Tarnisha goes above and beyond to encourage people from diverse backgrounds to study STEM, and she supports them along their journey to make sure that they are successful. It is quite evident in her work that she truly cares about our students and about sending them off into a bright future in STEM."
Get to know TARNISHA GREEN
Name: Tarnisha Green
Department/title: Director, Success in Engineering through Excellence and Diversity.
Years at SIU: 13 years.
Give us the elevator speech for your job on campus:
I am the director of the SEED Program. My main role is to provide support for students in the College of Engineering, Computing, Technology, and Mathematics. The support includes tutoring, job placement, and providing a safe space for underrepresented populations. I want my office to be a place where students can be themselves, receive mentoring and be able to ask those tough questions that they cannot ask their professors. I am here to offer the same level of support that I received as an engineering student pursuing my degree in electrical engineering.
What is your favorite part of your job?
Being with my students and supporting them in whatever they need. I find it extremely satisfying when a student trusts me enough to confide in me and then again seeing them be successful in the end. I love seeing the students I serve walk across the stage at graduation, but also find it a little sad. I invest so much of my time with them while they are here, they become like family. You love to see them leave, but hate to see them go.
Why did you choose to work at SIU?
I am a proud Saluki alumna. The Minority Engineering Program (now known as the SEED program) offered me support and a place where I was able to see and be around people that looked like me. It is where minority students found solace and where I found some of my most meaningful friendships. I believe the MEP played an instrumental role in the completion of my engineering degree. When I saw that the position of director was available, I didn't hesitate to apply.
What do you do in your free time?
I love spending time with my daughter, listening to audiobooks, reading articles for my dissertation research, and performing community service.
What are your goals for the future?
I want to finish my Ph.D. and continue student advocacy work in higher education.
Know a colleague to feature in Saluki Pride? Simply fill out this form.