Gorgeous weather, large crowds, a wide variety of special events and winners both on and off the field  made Southern Illinois University Carbondale's Homecoming 2021 a big success —  proving once again that "SIU Is All That."
Royalty named
Audrey "Claire" Waldon and Brandon Goede were crowned as the 2021 Saluki Royalty during halftime of the football game.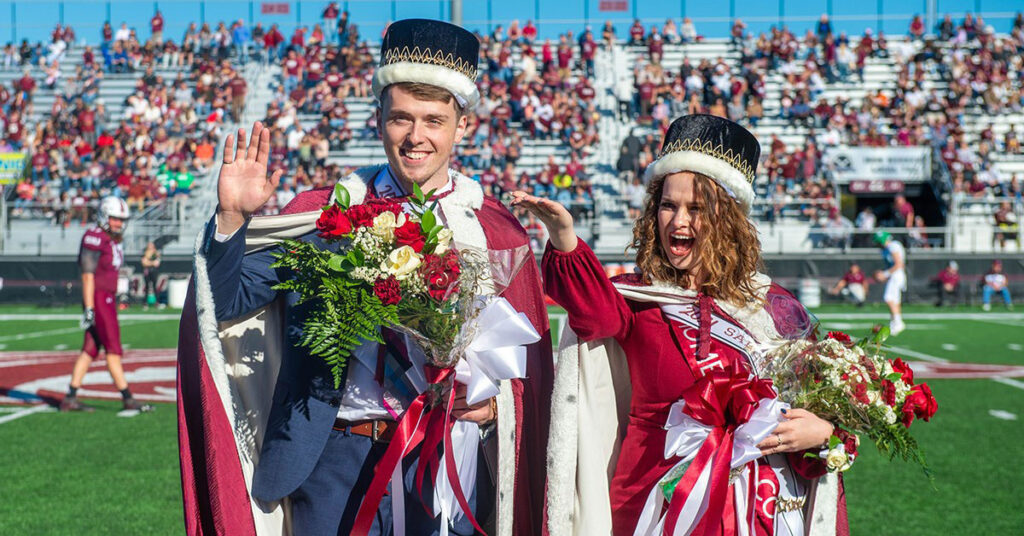 Waldon is a civil engineering major with mathematics minor from Horn Lake, Mississippi. Goede is a business management major from Maroa, Illinois. They were chosen via online student voting. The court members, listed with majors and hometowns, were:
Emily Buikema, a political science major with history and paralegal studies minors from Rock Falls, Illinois.
Majesty Gunn, an exercise science major from Chicago, Illinois.
Taylor Hartke, an agricultural communications major with a minor in agribusiness economics from Teutopolis, Illinois.
Chloe Leonard, a physiology major with chemistry, forensic science and psychology minors from Springfield, Illinois.
Josef McKee, a double major in wildlife biology and conservation from Earlville, Illinois.
Lalo Munoz, an electrical engineering major with mathematics minor from Beardstown, Illinois.
Isaiah "Rashawn" Overton, an electrical and computer engineering major with mathematics minor from Rock Island, Illinois.
Chelsey Varela, a criminology and criminal justice major with forensic science minor from Centralia, Illinois.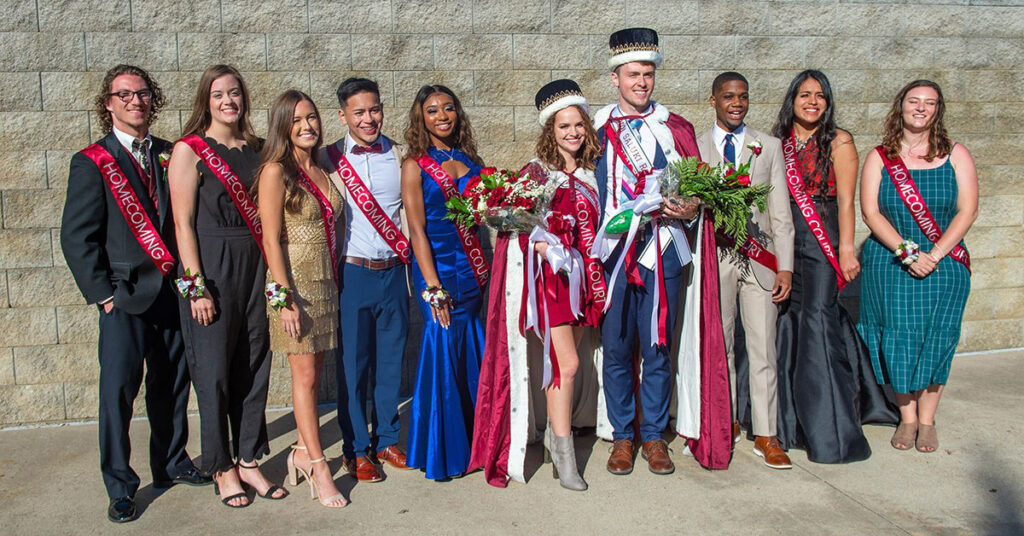 Parade winners announced
SIU alumna DeAnna Price, a two-time Olympian, world champion hammer thrower and -former Saluki track and field star was grand marshal for the festivities.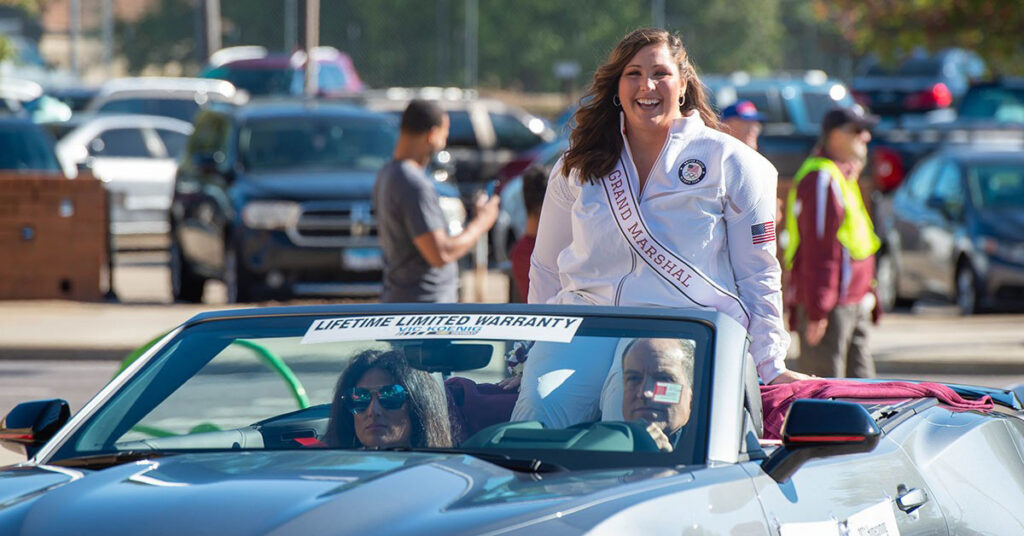 The Alpha Gamma Rho fraternity and Delta Zeta sorority used their combined energies to create the top prize-winning float in the homecoming parade.
Prizes also went to these participating bands:
Class A (large high school) – 1. Harrisburg High School, 2. Carbondale Community High School.
Class B (small high school) – 1. Goreville High School, 2. Sparta High School.
Class C (junior high/middle school) – 1.Carbondale Middle School.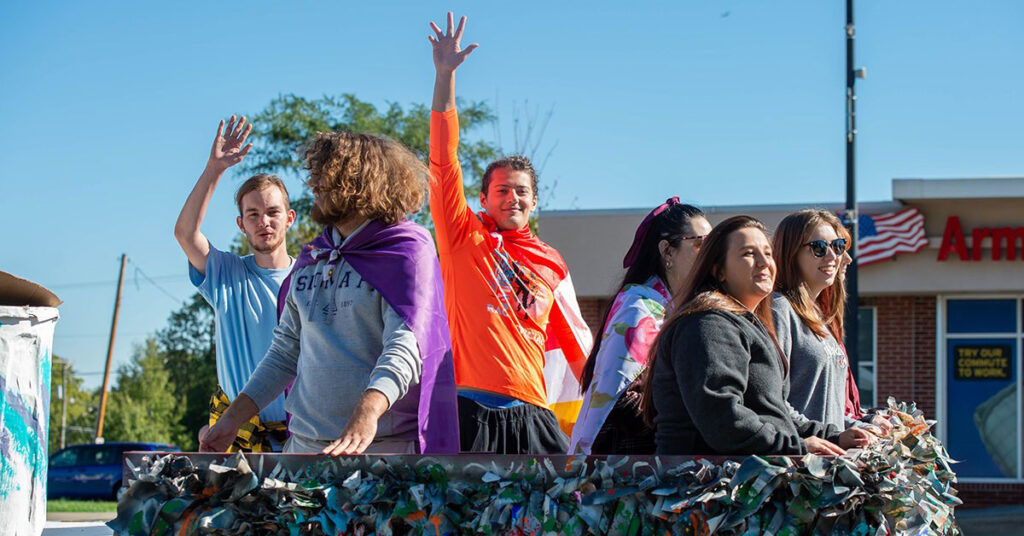 Numerous floats, dignitaries, the homecoming court, the Saluki Spirit Team and other attractions thrilled parade onlookers. The judges were William Lo, Carbondale Chamber of Commerce executive director, SIU alumna and State Farm agent Cristina Pisoni and Danielle Kaufman, Saluki golf director/coach.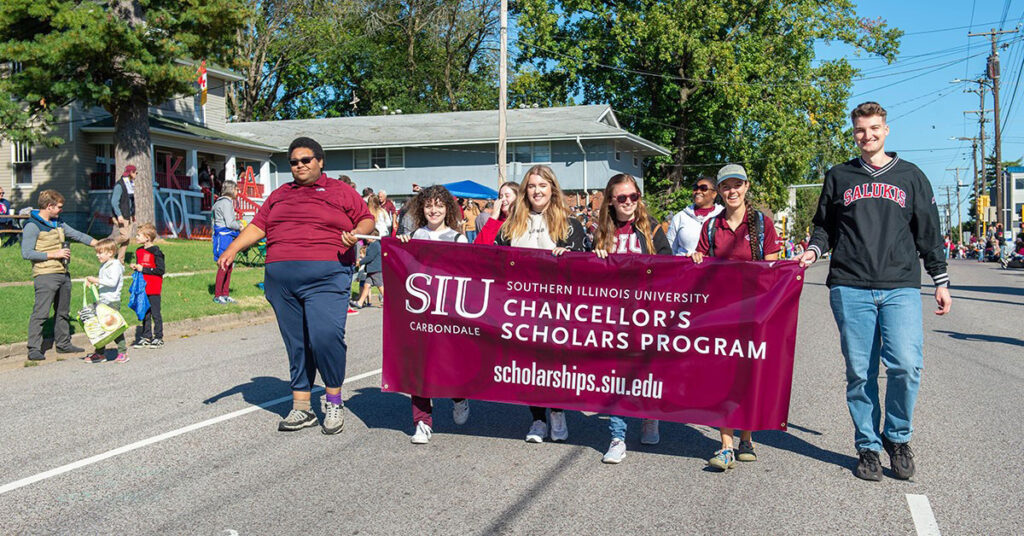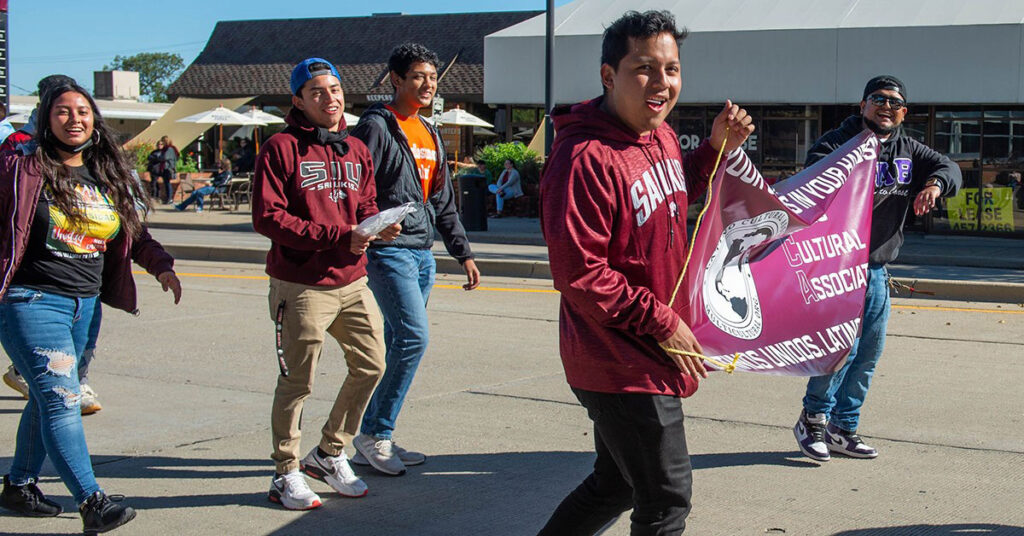 During halftime, Price and several other Saluki alumni standout athletes were enshrined as 2021 Saluki Athletics Hall of Fame inductees.
Joining Price were:
Randal Falker – men's basketball.
Damon Jones – football.
Cartaesha Macklin – women's basketball.
MyCole Pruitt – football.
John Smith – track and field.
Meg Viggars – volleyball.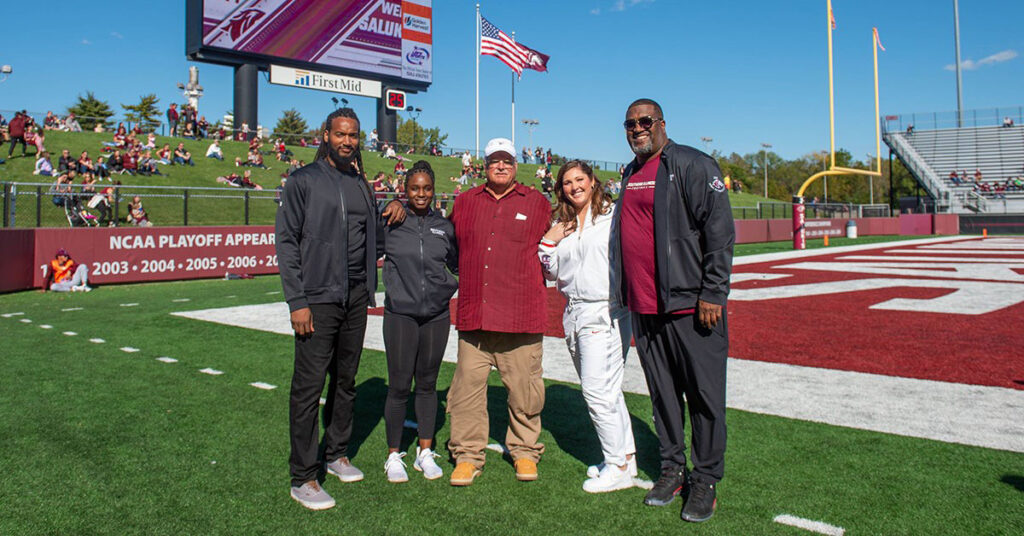 College spirit
The campus and the community were awash with maroon in their support of the Salukis and numerous campus offices and departments celebrated by decorating their doors in a show of school spirit. Judges awarded the top prize to the information technology office.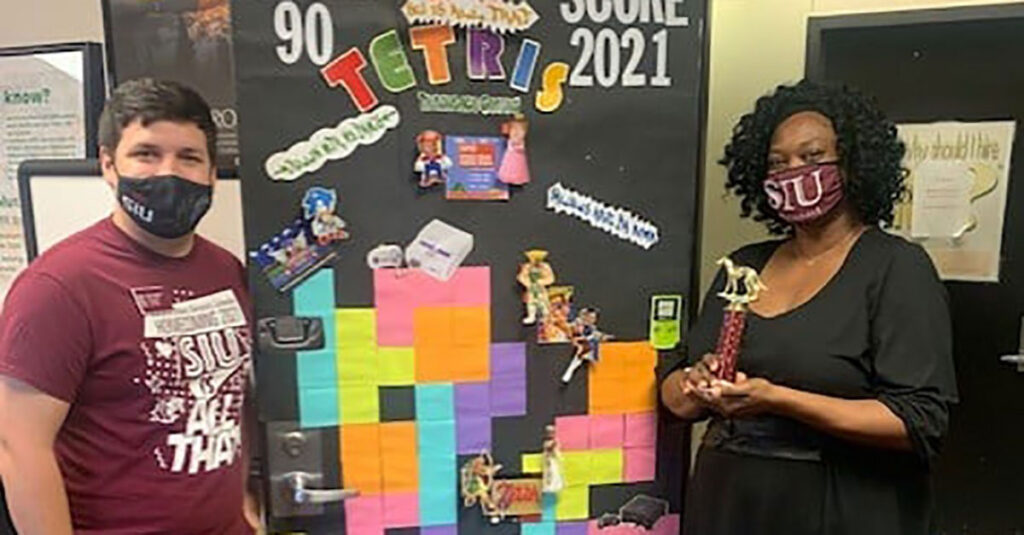 The Oct. 11-16 homecoming theme was "SIU Is All That: Flashback to the 90s." The SIU Alumni Association sponsored the Rock and Rolled Homecoming Concert, featuring the Jungle Dogs. The week also included a "Rocked and Rolled Reception" at University Museum, featuring the works of Illinois artists and photographers, the annual Alpha Phi Alpha Step Show and a ceremony renaming the association's alumni center as the Guida-Moller Family Alumni Center.
On Saturday, there was plenty of tailgating fun, along with the No. 4-ranked Salukis' 31-28 win over North Dakota at Saluki Stadium, Miss Eboness Pageant, "Mimosas at the Museum," Saluki volleyball and much more.
By the numbers
Carly Holtkamp, Student Center Programs assistant director, noted participation was strong in each of the homecoming events.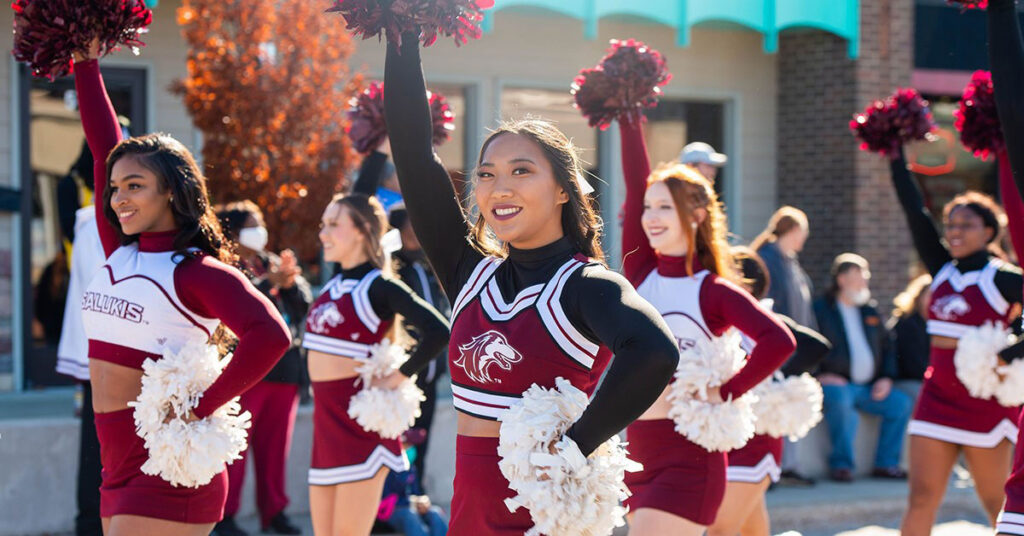 Here are a few of the highlights:
The parade featured 64 units and about 500 participants with officials estimating about 2,000 parade watchers.
A crowd of 10,644 saw the Salukis' win over the University of North Dakota.
There were 2,345 student votes cast for Homecoming Royalty.
The popular Saluki Block Party attracted about 900 students and 200 faculty, staff, alumni and community members for an evening of food, inflatables and entertainment.
About 300 Salukis – students, faculty and staff – were on hand for the big homecoming pep rally and proclamation on Oct. 11.
More than 200 students created '90's-themed art brush hats and T-shirts courtesy of the Student Programming Council.
Generous donors at the homecoming blood drive gave 191 pints of blood, a lifesaving gift for 593 people. There were 109 first-time donors.
Catch highlights of the 2021 homecoming festivities on the SIU Facebook page album here: https://www.facebook.com/media/set/?vanity=SouthernIllinoisUniversityCarbondale&set=a.10158176241366899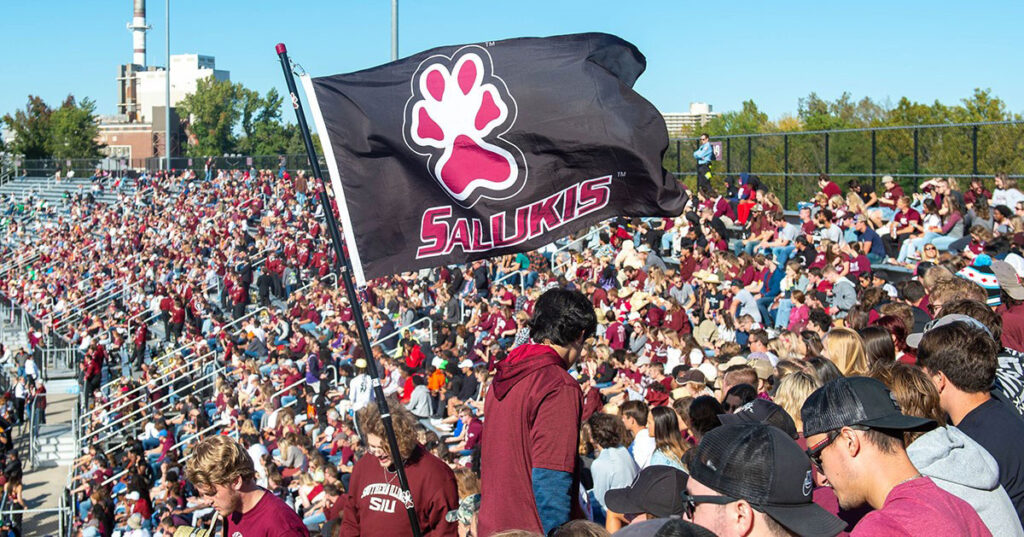 Note: Photos by Yenitza Melgoza or provided.