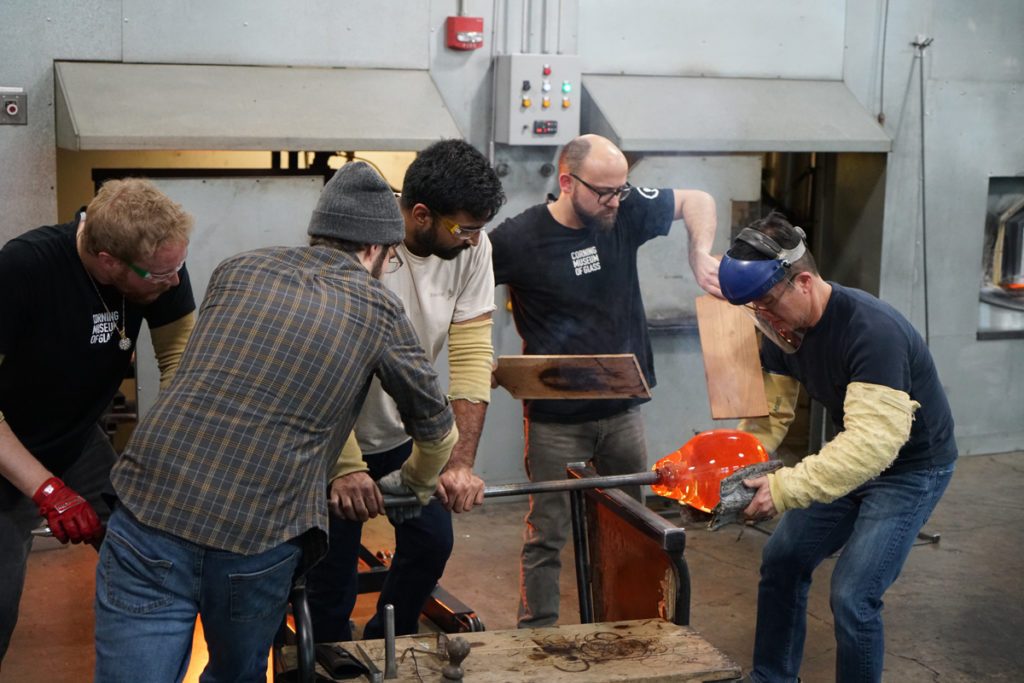 Utilizing his sabbatical to the fullest, Jiyong Lee, a professor in Southern Illinois University Carbondale's School of Art and Design, is not only using his time and talent as a resident artist at the Studio of the Corning Museum of Glass in Corning, New York, but his works are receiving accolades in France.
Lee is working through March 20 at the Corning Museum of Glass as one of the selected resident artists of the Kohler/Corning Joint Residency Program. The opportunity gave Lee to pack up various works he wants to finish to be part of a world class, top-notch facility. The nearly 70-year-old not-for-profit museum is dedicated to the art, history and science of glass and has more than 50,000 objects, some of which are nearly 4,000 years old.
"It is one of my favorite places on earth. The collection, studio, Rakow Research Library — all of the resources and support at the Corning Museum of Glass make it the best place to conduct creative research," said Lee, who has been in charge of the glass program at SIU Carbondale since 2005.
International accolades
Lee also learned his recent glass artwork "Mitosis" is one of the shortlisted final 30 artworks of the Loewe Craft Prize 2020, an internationally acclaimed juried exhibition. Lee has been invited to the Musée des Arts Décoratifs (Museum of Decorative Arts) in Paris, France, with 29 other artworks and artists for the exhibition and reception event in May.
The winning artwork will be announced May 19 with the exhibition of finalists' works in the museum May 21 to July 12. The Loewe Foundation is based in Spain and they exhibit works in major museum in Europe and international cities around the world, Lee said.
The finalists, hailing from 18 different countries, range from newly emerging artists to esteemed leaders in their fields. This year's finalists were chosen by a panel of experts from 2,920 total submissions — a 15% increase since last year, according to Loewe officials.
Lee uses a special glass technique called cold working to create his unusual segmented sculptures inspired by the growth of cells. The artworks, part of a series called "Segmentation," are created without glass blowing or kilns, but instead through a labor-intensive process of cutting, sanding, laminating, and carving.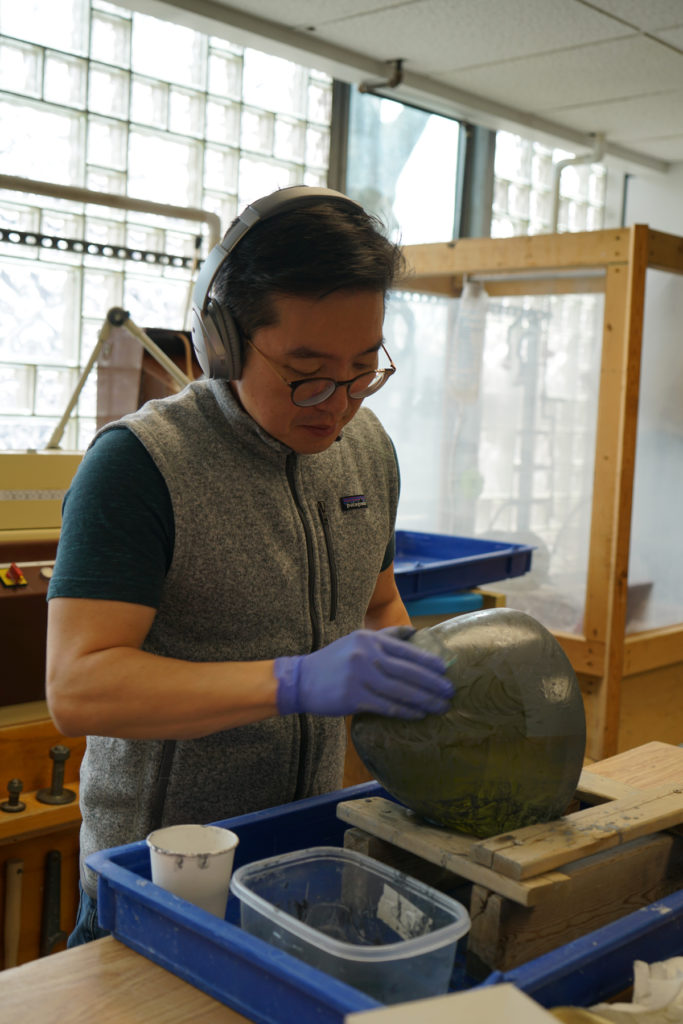 Lee is regarded by peers for his extraordinary attention to use of color and translucency in each object creates surprising optical effects.
"I have a fascination with the journey of growth that starts from a single cell and goes through a million divisions to become a life. I work with glass that has transparency and translucency, two qualities that serve as perfect metaphors for what is known and unknown about life science."
Visiting a familiar area
Being a resident artist with the Corning Museum of Glass allows Lee to visit old haunts. Originally from South Korea, Lee spent plenty of time in upstate New York. He received his master's degree from the Rochester Institute of Technology and visited the Corning Museum of Glass countless times, including field trips with SIU students.
During his residency, Lee will explore new forms in hot and cold-working to incorporate into his own "Segmentation" series. He will be among a dozen artists spending month-long stints in Corning, getting the opportunity to focus on his own work while networking with local entities to broaden his expertise.
Art for the people
Lee's goal is continually to be more than a gallery artist. He wants to keep bringing his works to people who might not normally have the inclination or ability to get to museums. Since last December, some of his work is in exhibition at the front end of a department store in Seoul, South Korea. His works have been touring multiple locations of the department store chain.
He has similar designs on trying to get something like that done when he gets back to Carbondale.
Has other plans in the works
The SIU glass program will commemorate its 50th anniversary this fall.
"I am working on a commemorative event that the whole Carbondale and SIUC community can enjoy," Lee said. "That includes a sculpting-of-a-Saluki dog demonstration with a hot-glass sculpting visiting artist from Seattle during the fall 2020 semester."