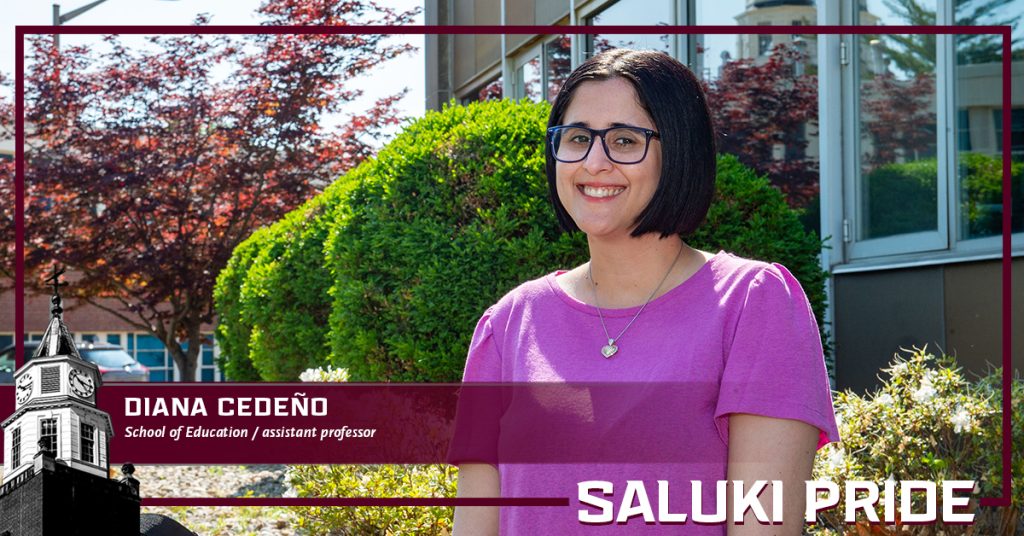 Diana Cedeño, assistant professor of curriculum and instruction in child and family services, has been teaching at SIU only a couple of years, but her work on the social inclusion of underserved minority communities is already drawing attention on campus and beyond. She has presented her research at numerous national conferences and was recently chosen as just one of four participants for the highly competitive Visiting Poverty Scholars Program from the Institute for Research on Poverty. Created in 1966 with federal funding and housed at the University of Wisconsin-Madison, the institute features a collaborative of partners.
The award is a noteworthy achievement for "an outstanding young faculty member," according to M Cecil Smith, dean of the School of Education.
In conjunction with the award, Cedeño visited the University of Michigan Ann Arbor and presented a seminar highlighting her research on social exclusion and inclusion among minoritized families, with an emphasis on Latinx communities. Her interdisciplinary research incorporates economic and sociological views with family science and human development applications, and she takes a community engagement approach toward inclusion of transnational and bilingual families and youths as she works to understand the pathways of inclusion for these communities in order to better help them.
Get to know DIANA CEDEÑO
Name: Diana Cedeño
Department/title: Curriculum and instruction program in the School of Education, assistant professor in child and family services
Years at SIU Carbondale: 2
Give us the elevator pitch for your job.
I am a teacher-scholar who focuses on social exclusion and inclusion among Latinx families. My work has an asset-based approach and is community-oriented. I also focus on bilingual education and teach undergraduate and graduate courses.
What is your favorite part of your job?
The best part of being a teacher-scholar is the interaction with the students. I often link my research with my teaching, thus connecting social justice topics in the classroom, which provides a space for students to share their ideas. I also really enjoy the mentorship aspect of teaching. It's very rewarding at the college level.
Why did you choose SIU?
I chose SIU because of its rich history, beautiful campus and welcoming faculty and staff.
If I had one wish, it would be:
That there were no more wars and poverty. Every person in this world deserves to have a chance to achieve their goals in their lifetimes.
My favorite meal is:
Mofongo. It is a Puerto Rican dish, and I like it because it reminds me of my family.
What is your favorite song and why do you like it?
I like a lot of songs by The Clash because they address social issues that are important to me, and they sound good!
Know a colleague to feature in Saluki Pride? Simply fill out this form.