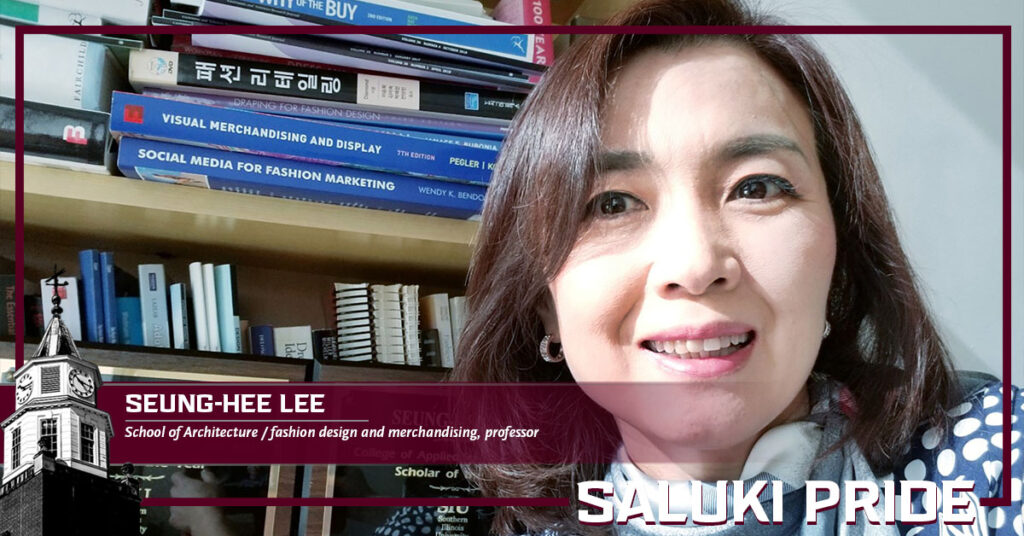 Seung-Hee Lee is described as an "outstanding teacher and extraordinary researcher" who has advanced her work in many dimensions to her students' benefit. Craig Anz, interim director in the School of Architecture, notes that Lee is also strong in research collaboration
Get to know Seung-Hee Lee
Name: Seung-Hee Lee
Department/title: professor, fashion design and merchandising/School of Architecture.
Years at SIU Carbondale: 9
Give us the elevator pitch for your job:
I am a professor of fashion design and merchandising in the School of Architecture. I received a Judge William Holmes Cook Professorship. I earned my bachelor's degree from Ewha Womans University in Seoul, Korea and my master's and Ph.D. degrees from The Ohio State University. My research interests include fashion theory development, brand marketing, consumer behavior, fashion sustainability, and fashion technology. Since 2013, I have been enjoying working at SIU Carbondale. Fashion forecasting, visual merchandising, fashion motivation, and field experience are the classes I teach.
What is the favorite part of your job?
I love my job ­– teaching, research, and service. Especially, research is the favorite part of my job. I have enjoyed engaging in international and interdisciplinary collaboration (e.g., engineering, marketing, psychology, public policy, media) on the convergence of fashion merchandising and have co-worked with scholars among various countries (e.g., as Austria, Romania, Swaziland, Taiwan, Japan, Thailand, China, and Sri Lanka). Due to contributions to scholarship, I was invited as a distinguished visiting scholar to co-teach "Brand Marketing" at University of Vienna (Austria) and as a plenary speaker (over 10) at international conferences (e.g., European Marketing Academy Conference, Japanese Business Administration Association) as well as fashion corporations. I love traveling to attend various conferences globally so I can meet variety of scholars who have similar interests in research.

I have been extremely prolific – over 200 referred research presentations at national and international conferences; more than 130 articles in prestigious academic journals, four book translations (from English to Korean) and one Korean book (Socio-Psychology of Clothing).
I actively try to engage my students in the research process through the classroom and to inspire them to think bigger and deeper than they have ever thought before. I help them challenge themselves to go beyond textbook-learning in the classroom by completing research in finding and solving problems within the fashion industry. In the last five years, 19 fashion undergraduates from diverse backgrounds in my classes gave presentations at an international conference or regional research forums. Not only does this keep my students at the forefront of developments in fashion merchandising, but it helps to develop the next generation of fashion researchers.
Why did you choose SIU?
I had known about SIU for a long time. Beside SIU's good reputation, I have a few friends who have worked at SIU. Before coming to SIU, I had worked in Ewha Womans University, Seoul, Korea. While searching for a position at a U.S. university, I was very glad to see SIU's job announcement on the web site. When I had a campus interview, the campus was very beautiful and peaceful and all colleagues were very welcoming. Everything made me very impressed. Since I was born and raised in Seoul, the biggest city and capital of Korea, I had pursued a smaller, quieter and more peaceful university town in which to live, escaping from the bustle of urban life. So I have enjoyed living in Carbondale very much.
If I had one wish it would be … and why.
If I had one wish, I would wish to be a time traveler. I would travel back to the past, so I could fix the wrong decisions I made in my life and reinforce the areas where I hadn't done my best. Also, going forward to the future, I want to see what is forthcoming so I can prepare for my future, accept my destiny and be grateful day by day.
My fondest memory as a child was …
At the end of last January, my father in Korea passed away. However, I was unable to attend his funeral due to pandemic restrictions. It was so painful that I couldn't attend my father's funeral but I tried to be comforted by recalling many good memories of my childhood with my father. Among them, my dad took me and my younger brother to many new places as much as he could whenever he had time. Especially, the memories about doing something together with my dad such as skating, fishing in a valley, or catching dragonflies, are refreshing. I miss my dad so much.
Know a colleague to feature in Saluki Pride? Simply fill out this form.