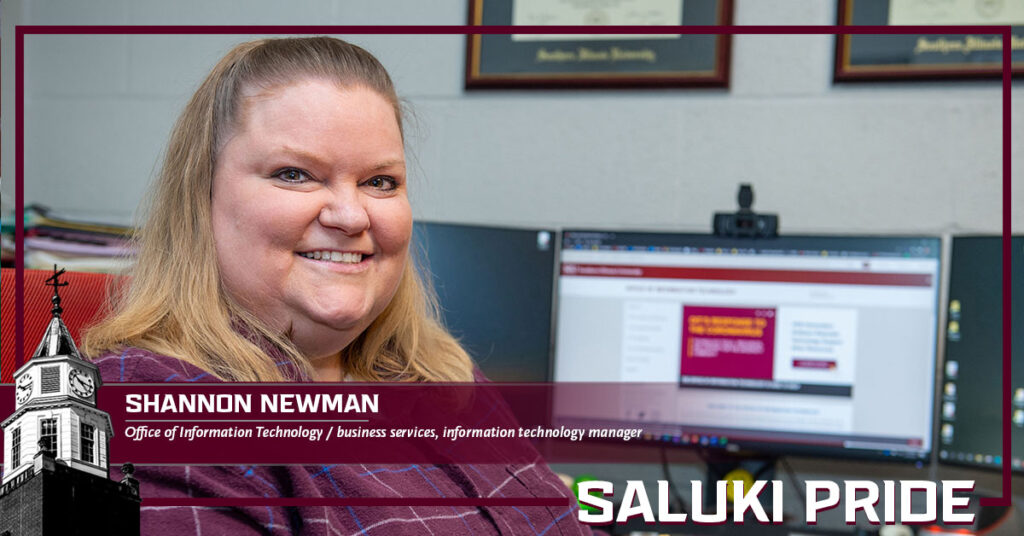 A university runs on technology, and folks like Shannon Newman help keep it running smoothly.
An information technology manager, Newman began as a student worker for the Department of Chemistry and Biochemistry and as a group fitness instructor at the Student Recreation Center, primarily teaching spin classes before starting full-time as an assistant IT manager in the Office of Information Technology.
"Shannon is an excellent team player and communicator. She is a motivated self-starter and sets high standards for herself," said Laurie Holley, business manager in the Office of Information Technology. "Customer service to the university community is high on her priority list, and she has done an excellent job providing the same reliable customer service to campus during the past year while working remotely."
Get to know Shannon Newman
Name: Shannon Newman
Department and job title: information technology manager/IT Business Services department.
Years at SIU: almost 13 years.
Give us the elevator speech for your job:
I purchase all of the computers, servers and related technology on campus for all units and for the School of Medicine on both campuses. I act as a liaison between SIU and our contracted technology vendors. I assist departments throughout campus with obtaining technology quotes, recommending hardware and software solutions, and connecting people with others to achieve their technological goals. I am also responsible for tracking all of OIT's inventory with user assignments while working closely with Property Control to ensure the computer inventory across campus is properly managed from procurement through surplus. I assist Property Control with some of its initiatives like annual inventory by locating computer assets using the tools in OIT. IT Business Services is the unit I call home because it is the hub for OIT's technology records management for all the business transactions I do related to purchasing, quoting and asset management."
What is your favorite part of your job?

My favorite part of my job itself is that it reaches so many areas and is always changing. My day-to-day is most often different, and that keeps the job fresh. It frequently demands out-of-the-box thinking and collaboration with other areas of campus, which I absolutely love. It has allowed me to network with people at all levels from student workers to the chancellor and president. But mostly, I love the people. In OIT, I have great co-workers eager to collaborate to make a difference, great leadership and support across the board for educational and professional development.
Why did you choose SIU?
I had grown to love Southern Illinois when I moved here in 1999 as an undergraduate transfer, and I had no intention of leaving. When I graduated, I continued working for 710 Bookstore, where I managed the Dell contract for SIU, among other things, for nearly 15 years. I was known around town as "The Dell Lady." When SIU's computer contract with 710 expired in 2013 and 710 was undergoing major changes, I decided I wanted my SIU job duties back, so when I saw the job posting on campus for the duties I had been doing for so long before then, I knew I had to apply.
What do you do in your free time?
In my free time, I play competitive billiards, 8-ball and 9-ball, in the Southern Illinois American Poolplayers Association pool leagues in both Jackson and Williamson counties. I am captain of two of the five rosters I play on, co-captain for a third. My women's team won the first-ever Ladies 8-ball league division in Southern Illinois, winning a trip to Las Vegas this upcoming August to play in the APA Ladies 8-ball Championships. When I am not playing pool, I tend to find something to work on, whether it is something for the Civil Service Council, for which I am the secretary, my second job at The Printing Plant or just plain doing work for SIU. The vast majority of my family lives in the Chicagoland area, where I am from, so I like to get up there to visit as often as possible, which has been very difficult this last year because of COVID. 

What are your goals for the future?

If you asked me this a couple years ago, I might have said my goals were to learn more and get more involved on campus. Since then, I have earned an MBA, and I have done quite a bit with Civil Service Council. It is because of COVID and our remote working environment over the last year that I have been introduced to new ideas and collaborative working styles, and I had exposure to technologies that I really want to get into. I love being "The Dell Lady," but I want to dive deeper into some of these technologies to develop solutions that can impact the entire campus to help SIU grow.
Know an SIU faculty or staff member who deserves attention? Nominate them for Saluki Pride.