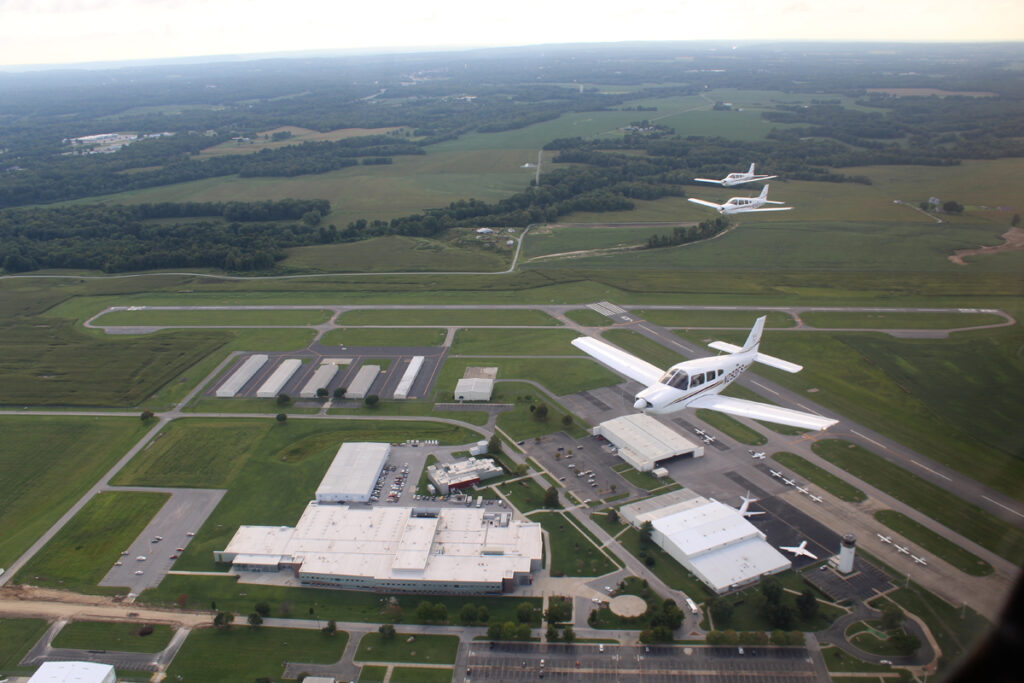 As Southern Illinois University Carbondale nears the 60th anniversary for its nationally recognized aviation program, the horizon remains clear, unlimited and expansive.
What started as a service unit of the university offering flight classes with four airplanes and spare parts has transformed into one of the nation's leading comprehensive aviation programs with multiple degree programs, a state-of-the-industry facility and more than 600 students.
The program's reach now extends nationally with online and off-campus offerings and internationally with agreements to train aviation technology students in China and prepare pilots, mechanics and avionics technicians with Saudia Airlines. In addition, the aviation program is working toward a School of Aviation to encapsulate the aviation technologies, aviation management and aviation flight programs.
Combined effort
Michael Burgener, the program's interim department chair in aviation management and flight and aviation technologies chair, notes the program's growth, relevancy and reputation. He points to the strong foundation provided by the late Ron Kelly and Tony DaRosa, along with Dave NewMyer, who retired as aviation management and flight chair in 2014. Burgener also notes the faculty, students and strong alumni connections through six decades.
"They are the ones who worked over the last 60 years to develop the reputation and develop SIU," Burgener said. "They worked to develop a reputation of success that is paying dividends today. It's rewarding and a privilege for me to be a part of that and to contribute and carry on the tradition of success that SIU aviation has had."
Faculty with industry experience
Thomas Koebel, a senior aviation technology major from St. Charles, Illinois, said there were several factors in his decision to attend SIU – the varying types of aircraft within the program, the faculty and the airport's location close to campus. He is president of Aviation Ambassadors, a registered student organization that represents the program at a variety of aviation events and gives tours to prospective students and their families.
"I like telling people about SIU and showing everything the program has to offer," Koebel said. "A tour can make or break a school," he said. "I think that if you really show a passion for the program that it influences the students who come here."
He is also working toward an associate degree in aviation flight and will graduate in August. The hands-on component students receive in training from faculty who also had industry experience is vital, said Koebel, who is now working to reassemble the engine on a Piper Tri-Pacer airplane.
"All of the instructors are super well versed in the areas they are teaching," he said. "That is a really big factor on them being able to demonstrate and instruct the material because they have real-world experience and know what they are talking about."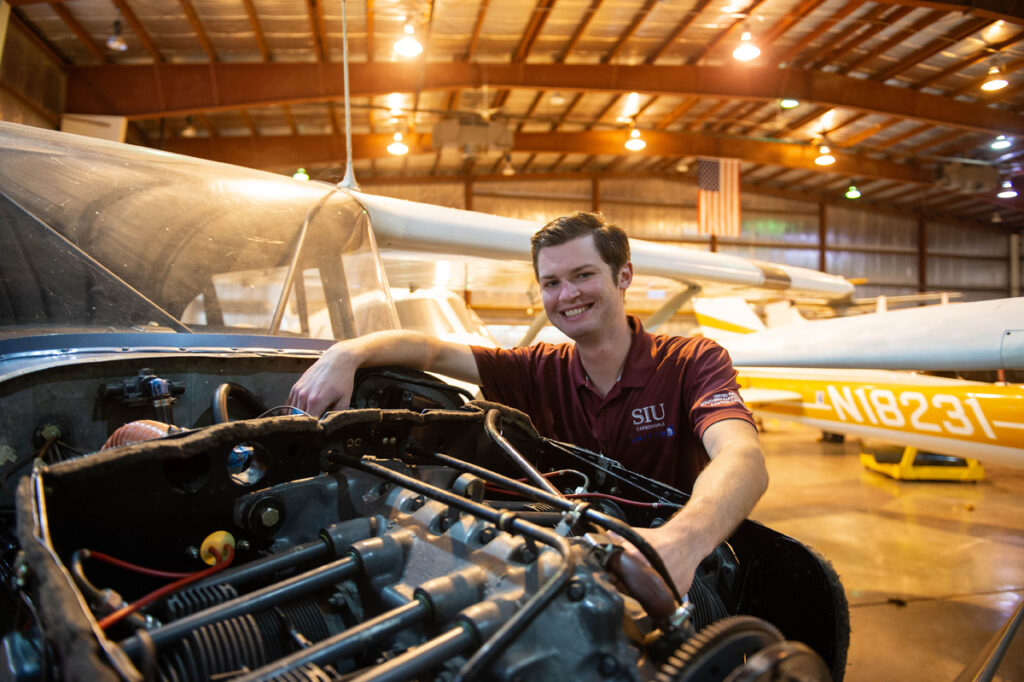 Growing program
NewMyer, who joined SIU Carbondale in 1977 as an off-campus coordinator at Marine Corps Air Station in Yuma, Arizona, arrived on campus in 1979. He points to then-SIU President Delyte Morris' affection for flying as one of the reasons SIU bought Midwestern Aero Services, the fixed base operator at Southern Illinois Airport, for $56,000 in December 1960. Renamed Air Institute and Service, it offered flight coursework, aircraft fueling services and aircraft charter services until it was eliminated and replaced by the Department of Aviation Management and Flight in the early 1990s. The university in 1965 began offering a two-year aviation maintenance technologies degree, the first formal SIU aviation degree program, and has since transformed into a four-year aviation technologies degree, with specializations in aircraft maintenance, helicopter maintenance and aviation electronics.
The aviation management bachelor's degree program began both on- and off-campus in the mid-1970s. In 1990, aviation, working with the master's degree in public administration, began offering an MPA with a specialization in aviation administration. Aviation Technologies also offers an online bachelor's degree in aviation maintenance management.
Transportation Education Center
The fall 2012 opening of the university's Transportation Education Center at Southern Illinois Airport was critical for both the aviation and automotive programs – allowing both programs to move from aged facilities in several locations into one primary building, along with an adjacent aviation engine research test cell.
Because construction was under budget, the remaining funds helped buy equipment, including state-of-the-industry flight simulators, aviation maintenance equipment and an air traffic control simulator.
And the improvements continue. In November, the program is slated to pick up five new Cessna 172S planes, featuring Garmin G1000 avionics and the first planes within the program to feature auto pilot.
Important and evolving connections
One of the biggest connections has been the program's link with United Airlines, which NewMyer notes started with a historic flight operations internship agreement in July 1986. The United Airlines-SIU Aviation Career Day brings high school students from the Chicago area to campus to learn about the program from students, faculty and alumni with United Airlines, celebrated 25 years last fall.
"Because of that connection to United and many other aviation entities – from airports to aerospace manufacturers, alumni have been another key aspect of our program," NewMyer said, noting the program maintains a connection with more than 7,000 aviation alumni.
International presence
The aviation technologies' program link with Shenyang Aerospace University in China is also something Burgener is excited about. Finalized in September 2019, the program is designed to work as a "2+2" degree program where Chinese students attend classes in China for two years and then attend SIU Carbondale for their final two years.
Burgener taught the first two classes to 75 Shenyang students online this summer. The challenges included the time difference, where he began at 8 p.m. to correspond to 9 a.m. the next day to students in China, along with navigating Chinese technology. Burgener was limited to software available in China and was aided by a teaching assistant there who helped with grading and communication with students. The courses were a math-based statistics course with an aviation focus and a propellers course.
"If we can improve aviation safety anywhere in the world, then that is a benefit to aviation," he said.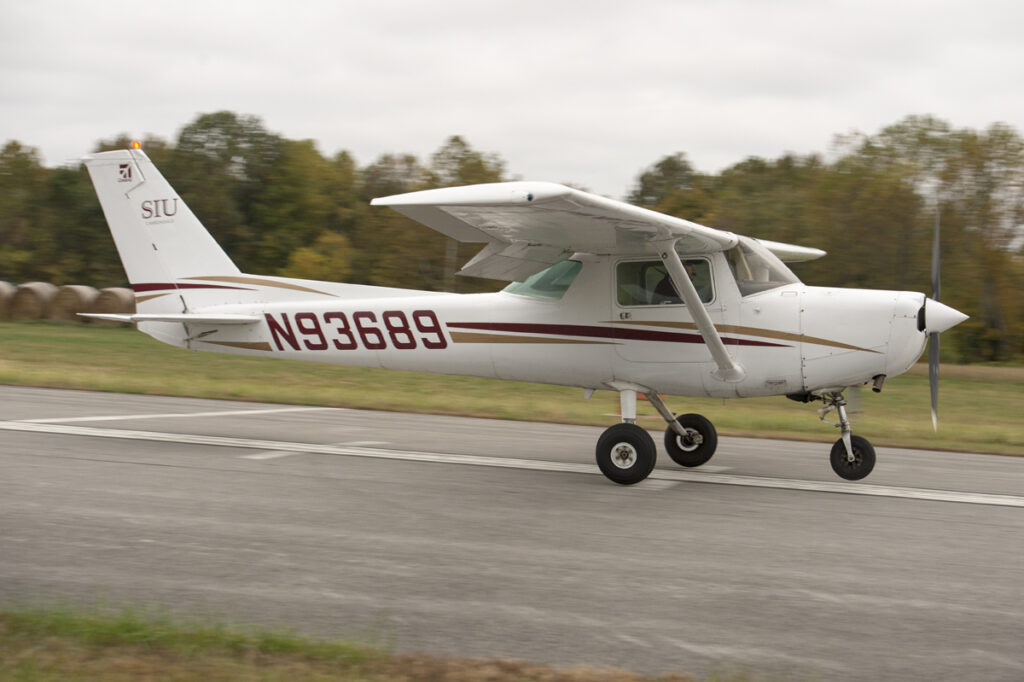 The Flying Salukis
An important component within the aviation program is the Flying Salukis, which helps attracts both students and their parents to the program. The flight team, comprising 15 to 18 members, has earned nine National Intercollegiate Flying Association titles dating back to 1977, including recent championships in 2011, 2014 and 2015. The team since 2011 has nine straight top 3 national finishes, though it was unable to compete in May due to the pandemic.
More students, more demand for graduates
The combined student enrollment from the three programs has increased from 441 in 2017 to 612 this fall, including 140 students enrolled at six off-campus locations in California, Illinois, North Carolina and Pennsylvania. Even with layoffs within the aviation industry due to the COVID-19 pandemic, the 2020 Boeing Pilot and Technician Outlook notes the industry's resiliency when faced with periodic downturns and projects an increasing demand for pilots and technicians as the "long-term need remains robust."
Burgener predicts the same scenario, noting that before the pandemic there was a need for additional flight instructors. The availability of pilots to return as flight instructors aided the program particularly this year. The rise in students in all facets of the program projects "a confidence in the industry that it is going to snap back," he said.
"Before COVID, the industry was going gangbusters. You couldn't find enough pilots; you couldn't find enough mechanics," he said. "We had companies coming in and wanting to do pipeline agreements and internships; they were eager to hire our graduates."