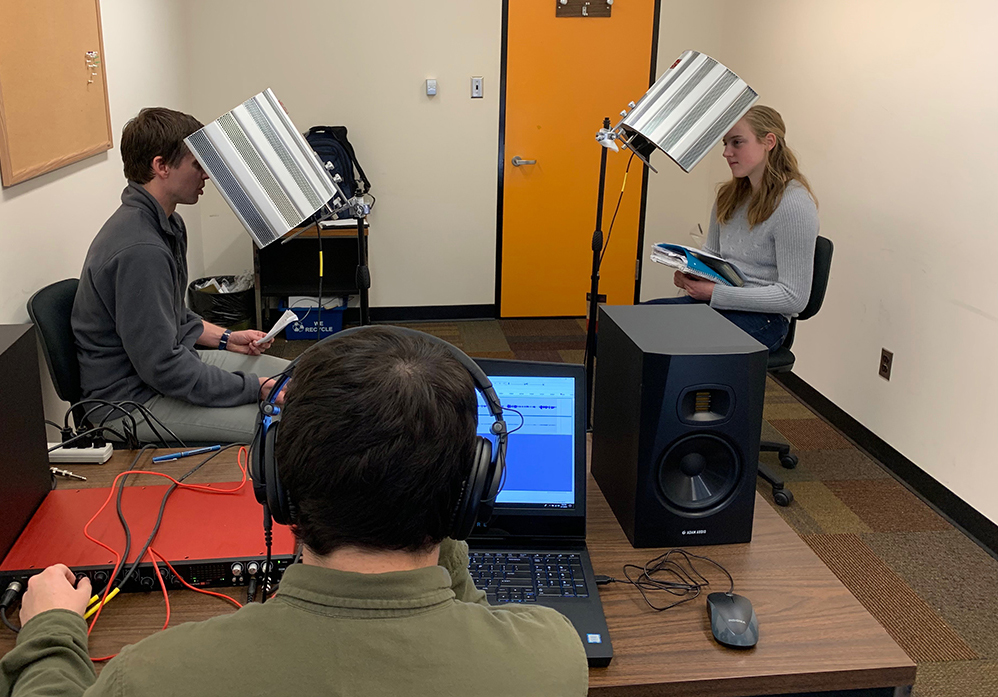 With over 29 million podcast episodes available today, up from 18.5 million in 2018, the relatively new media channel is quickly gaining popularity with people of all ages.
Jumping on the podcasting train are two students from Southern Illinois University Carbondale who recently won awards for their creative works.
Miller Audio Prize
Mandi Jourdan, a third-year MFA student in creative writing from Vandalia, Illinois, just won first place in the prose category of the esteemed Missouri Review's Miller Audio Prize. Following right behind was Will Holcomb, also a third-year MFA student in creative writing and from Kirksville, Missouri, finishing as runner up in the humor division.
Both students submitted their works last spring, after participating in SIU's new podcasting class. The award comes with a cash prize, along with helpful exposure in the literature and creative world. For Jourdan, the experience opens new doors for her creativity and future endeavors.
"Honestly, this has opened my eyes to a lot of possibilities," Jourdan said. "Normally, the Missouri Review only publishes literary fiction, so the fact that my sci-fi piece could win is really amazing. I think it shows that many places are considering new genres that they may not have considered before."
Creating new works with sound
Jourdan's short prose piece picks up after her book series titled "Shadows of the Mind." The seven-minute podcast stands alone by following a character not represented in the novel, but stays in the same universe and story line.
Similarly, Holcomb's eight-minute piece, "8 Missed Phone Calls," is the result of years of wrangling with a basic story theme, combined with recent inspiration based on a nightmare. For both students, the podcasting medium affords a new and unique way for their stories to gain attention.
"Truthfully, this audio stuff was largely experimental," Holcomb said. "But I really think it is a worthwhile skill to have. I am definitely going to be dipping back into podcasting in one form or another."
Writing is often easier, because you have more room to show people your goals and message, Jourdan explained. Podcasting forces you to condense the story and include various sounds to make the piece engaging.
Sound effects within the podcasts give listeners additional context, which conveys more depth of emotion and intrigue in the story.
"This podcasting experience has been really cool, because not only can people hear the narration, but they can also hear what the futuristic device sounds like," Jourdan said.
Following her recent experience in the new lab, Jourdan is currently working on a podcast version of her book series, which is available on Apple Podcasts, Spotify and Google Podcasts.
Hands on learning in the podcasting lab
Led by Pinckney Benedict, English professor at SIU, the podcasting lab just launched last spring as a new 400 level course in the creative writing program. Funded by a grant from the SIU Foundation, the class is open to students across all majors on campus. The goal is to create new and innovative content in a variety of channels and contexts.
Students in the class jump right into working on their own projects, evidenced by Jourdan and Holcomb's success. The starting point for the students is determining their genre, and then writing a script. Following that step, they cast for each character, often pulling from fellow students in the class.
Then comes the tedious recording process. This can often take many attempts to get all the characters and voices together, but after finalizing the narration, they move on to editing and sound effects.
"Once we get through the narration recording, we edit that together," Jourdan said. "I will cut down the takes we don't use and streamline it into one track of the characters narration and dialogue. I then cut in with the dialogue from another character, to get them going back and forth in the scene, which can be tricky to make it seem natural."
Once the narration is in place, the sound effects and music bring the story to life.
"Sometimes I have to really think about it and put myself in the characters' heads to understand their environment, emotions and feelings," Jourdan said.
Looking to the future
Moving forward, the goal is for more students to experience podcasting for themselves and to continue to create intriguing and creative content from campus. The department hopes to add virtual reality, 360-degree video and game narratives in the near future, which will give current and prospective students more hands-on learning opportunities.
"We want to prepare our students for graduate study and for professional careers using the astonishing variety of 21st century modes of narrative," said Benedict.
Students from all disciplines are welcome in the unique fiction classes, with the goal of broadening the creativity and scope across campus. For more information about the classes, contact Pinckney Benedict at pinckney@siu.edu.