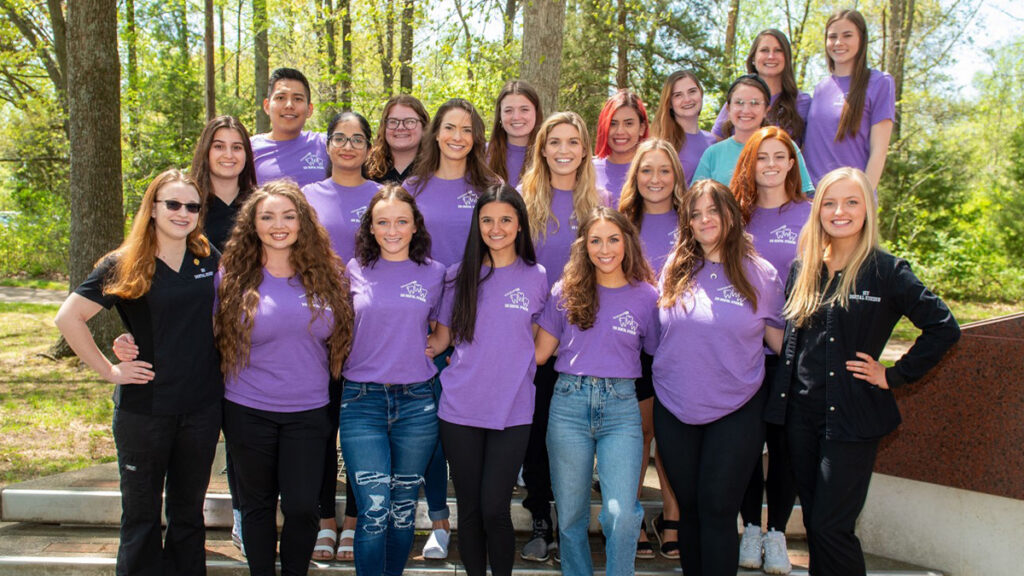 Southern Illinois University Carbondale's 21 spring 2022 dental hygiene graduates not only have the rare accomplishment of earning a diploma from the only baccalaureate dental hygiene program in the state, approved by the Commission on Dental Accreditation, but they are also one of just two groups in the state to complete the online community dental health coordinator (CDHC) certification.
The certification, developed by the American Dental Association, will assist graduates who work in federally qualified health centers, community health centers or with underserved populations, according to Jennifer Sherry, dental hygiene program associate professor in the School of Health Sciences.
"Access to dental care is a big issue not only in Southern Illinois but across the country, and SIU's graduates are positioned to provide services to clients who might not otherwise be able to receive them," Sherry said. "The certification is a benefit for them, their patients and the public health sector."
Hanna Allen, a graduate from Pleasant Hill, said the training she and her fellow students received was comprehensive and challenging, but it gave them valuable insights and perspectives to better work with people who have low incomes or disabilities. She said the CDHC training, coupled with the SIU curriculum, gave her the strong foundation and knowledge she needed to provide quality dental care.
She plans to move to Galesburg after graduation and seek employment in the community health sector because "I want to serve the people that need and appreciate dental care the most."
Online, supplementing course instruction
Students begin working on the nine-month online certification program during the spring semester of their junior year. Much of the CDHC material is already included in SIU's dental hygiene program's community dental health course, according to Faith Miller, associate professor and program director, and Sherry, but the certification builds on the existing curriculum content and enhances the development of students' skills. Students also participate in community dental center and dental sealant grant rotations to get hands-on training.
The additional training helps students understand the issues patients in the community health sector commonly deal with and how to better communicate with these clients and assess their needs, Sherry said. For instance, some of the families will be dealing with issues such as addiction, abuse, unemployment or lack of transportation.
The students also learn about program planning, grant writing and resource mapping, a mechanism professionals use to help patients make dental appointments in public dental health clinics where access is limited. This extensive cross-training helps students better connect with and ultimately serve this client base, Sherry said.
The CDHC training includes numerous assignments in six modules focusing on:
Dental advocacy and outreach.
Communication and cultural competency.
Interviewing skills.
Legal and ethical issues.
Financing and payment of dental care.
A CDHC internship, which is completed through the SIU Dental Sealant Grant program.
Grant-funded program will continue
This is the final year of a five-year Oral Health Workforce Grant SIU received from the Illinois Department of Public Health for the online certification, but officials have already decided they will continue to incorporate the online CDHC program into the university's dental hygiene curriculum, said Sherry, who teaches the Community Oral Health course.
"It can only help them," she said. "It adds to their training and expertise, and it gives them a definite advantage when they are seeking employment in public health facilities. This training involves many extra hours on top of our already impressive curriculum, but our graduates are prepared when they leave here. And it shows. We have a great job placement rate."
The SIU students who earned their CDHC certificates and will be graduating with their bachelor's degrees in dental hygiene during the commencement ceremony on May 7, listed by hometown, are:
Illinois
Bartlett: Juliza Cervantes
Beardstown: Abdon Contreras-Sanchez
Benton: Stephanie Smith
Bloomington: Amanda Waltner
Chicago: Jessica Alvarez
Des Plaines: Elizabeth "Libby" Edmondson
Irvington: Mallory Rupe
Joliet: Lindsey Collins
Lake Villa: Nicole Wright
Libertyville: Caroline Phagan
Naperville: Brynn Murphy
Pleasant Hill: Hanna Allen
Waterloo: Briannon "Bri" Kettler
Woodstock: Nicole "Nikki" Vetter-Sherwood
Kentucky
Paducah: Alicia Love, Tabatha Solomon
Michigan
Holland: Mackenzie Schellhammer
Missouri
Bernie: Ashlyn Burk
Cape Girardeau: Kimberly Hobbs
Jackson: Lydia Goodson
Kansas City: Ravneet Kaur
Community members can participate
Also earning the CDHC certificate this spring was Chanda J. Mason, a practicing registered dental hygienist from Mullins, South Carolina. She was allowed to earn her certification at no charge.
Sherry said other practicing hygienists are welcome to participate in the online CDHC program through SIU as well, at no cost.
"Some dental hygienists may want to enhance their credentials, or they may consider public health after leaving a career in clinical practice and may not have received case management training, patient navigation through different community constraints or other public health processes," Sherry said. "This program provides a linkage between a patient and what services are available in their community."
For additional information, contact Sherry at clnteth@siu.edu.
Learn more about the program
Find more information about SIU's dental hygiene program, the only bachelor's degree program in dental hygiene in Illinois, on the website. SIU offers an online Bachelor of Science dental hygiene degree completion option as well for working dental hygiene professionals who have an associate degree. Find out more online.