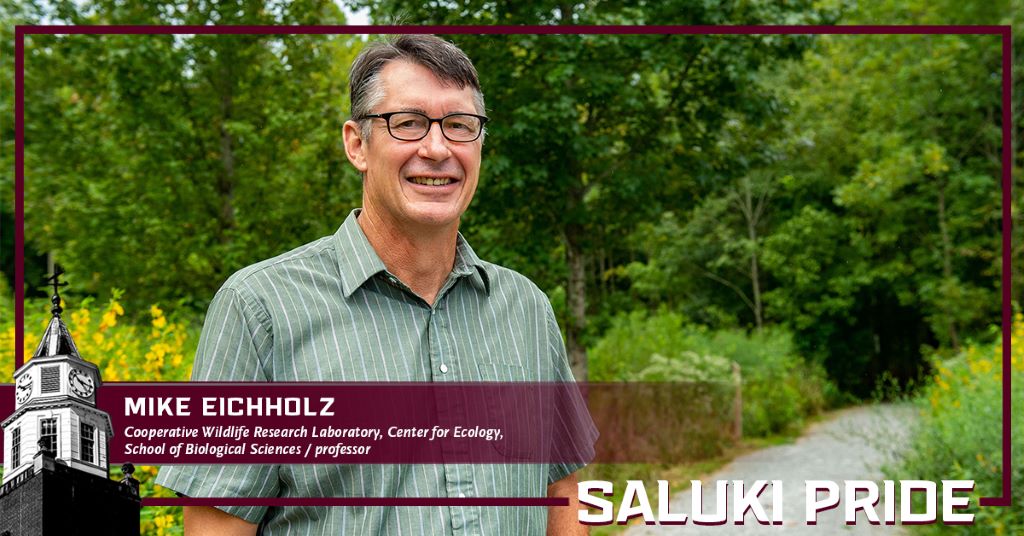 A researcher and teacher who focuses on waterfowl and wetlands management, Mike Eichholz values service as one of his main contributions to his work at Southern Illinois University Carbondale. To that end, he volunteers his time and expertise with groups that help set wildlife management policies throughout the state and country. The 20-year SIU veteran loves interacting with his students and admires the university's commitment to students with great potential, even if their academic backgrounds have yet to demonstrate it. He also still loves being in nature and wetting a fishing line.
Get to know MIKE EICHHOLZ
Name: Mike Eichholz
Department/title: Cooperative Wildlife Research Laboratory, Center for Ecology, School of Biological Sciences/professor
Years at SIU Carbondale: 20
Give us the elevator pitch for your job.
My job is 25% teaching and 75% research and service. I teach courses for juniors, seniors and graduate students that emphasize the management of waterfowl (ducks and geese) and wetlands and how to resolve conflicts among special interest groups interested in the management of wildlife habitat.
As an avian ecologist, I study how the management of habitat impacts bird populations, conducting research associated with wetland, grassland and forested landscapes. I conduct research throughout the mixed-grass prairies and wetlands of Canada and the U.S., and in tall- grass prairies, wetlands and forests of the Midwest including Southern Illinois. In most cases I study how the vegetation, prey (bugs that birds eat), and predators (snakes and mammals that eat the eggs and chicks of birds) influences bird reproduction.
I view service as a very important component of my job. I volunteer for the U.S. Fish and Wildlife Service in a scientific advisory role as a member of the Mississippi Flyway Technical Committee, the committee that recommends waterfowl harvest regulations for the Mississippi Flyway (most of the states bordering the Mississippi and Ohio Rivers), and as a member of the technical committee for the Upper Mississippi Great Lakes Joint Venture, the group that coordinates and promotes the conservation and restoration of bird habitat for most of the 10 states surrounding the Great Lakes. I also serve as a member of the technical committee for the National Bobwhite and Grassland Initiative, a not-for-profit organization that coordinates and promotes the restoration of grasslands for the benefit of quail and other grassland species throughout the United States.
What is the favorite part of your job?
My favorite part of my job is mentoring and interacting with undergraduate and graduate students. I also really enjoy conducting field research at our numerous research locations; however, because I spend the vast majority of my research time writing grant proposals and research papers and reviewing my students' work, I have a very limited opportunity to visit my research sites.
Why did you choose SIU?
I chose SIU for two reasons. First and foremost, because SIU's support for research and its mission of providing high school graduates that have yet to demonstrate their academic capabilities an opportunity to get an education at a research-intensive university. Most research-intensive universities, universities that receive R1 or high R2 status as determined by the Carnegie Foundation, are very selective in regards to students they accept, only accepting students with the highest GPA or standardized test scores. However, there are a number of reasons why very good students, students who are capable of being successful college students and exceptionally productive members of our society, may not have excelled as high school students; remember, these are kids who may have faced circumstances beyond their own control being judged on their academic achievements while they are only 18 years old. Like other public research-intensive universities, SIU attracts a large number of students who were very successful in high school and have achieved outstanding high school GPAs and standardized test scores. An important component of SIU's mission, however, is to identify those students who have not been so successful at the age of 18, and offer them the type of education that only a research-intensive university can provide.
While this aspect of our mission forces administrators to make difficult decisions regarding the balance of provisioning resources between the need to provide extra support for students who are less prepared for college with resources needed to support research and creative activities, it makes SIU unique among research intensive universities, and it has allowed my immediate family to receive seven degrees from SIU. Additionally, Carbondale is my hometown and the position at SIU provided me an opportunity to move back from Alaska and California to be near my friends and relatives.
I'm happiest when I am …
Hanging out with my family and friends.
At the top of my "bucket list' is to …
I have lived a very rich life, and there are few things that I would like to do but haven't had the opportunity. The only two things I can think of are to go sky diving and visiting national parks in Africa. Sky diving just seems like it would be so exhilarating and beautiful, and I would love to see African wildlife in the wild.
My favorite activity away from work is …
Fishing and hunting or other outdoor activities with my friends and family. Because I pretty much love everything associated with the outdoors and I really enjoy sharing it with my friends and family.
My favorite toy or item growing up was ….
A brown teddy bear and my fishing poll.
Know a colleague to feature in Saluki Pride? Simply fill out this form.