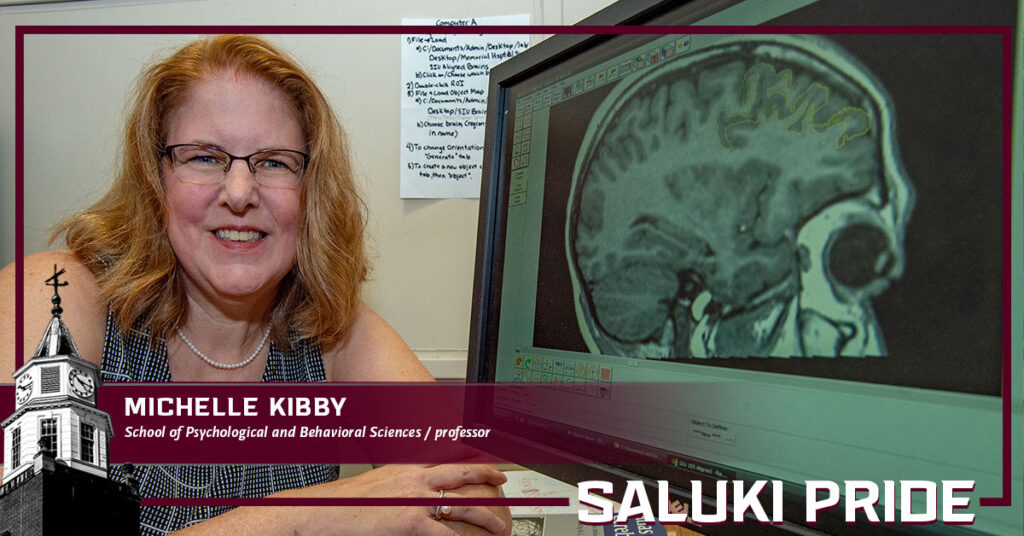 Michelle Kibby is fascinated with the intricacies of how the human brain functions, and as a professor of child clinical psychology and neuropsychology, she's devoted to research and teaching to unlock the mysteries of the developing brain. She also advocates for her fellow faculty members in her new position as faculty ombudsperson.
In addition, Kibby is part of a select group of faculty and staff chosen to participate in the inaugural cohort of the L.E.A.D. SIU Carbondale Initiative. Leading, Empowering, Advocating and Developing provided leadership and professional growth opportunities, including roundtable discussions with Chancellor Austin Lane. Kibby said L.E.A.D. was a beneficial learning exercise during the 2021-22 academic year that is already having practical applications in her career.
"Being in the L.E.A.D. program has been a very valuable experience," Kibby said. "I have learned a variety of things through meetings with Chancellor Austin Lane and others in upper administration, as well as people in the community. I also have interacted with many great administrators, faculty and staff from across campus. I learned a lot about SIU and Carbondale in general, including our assets and needs, and about recruitment and retention needs specifically. I was able to assist with troubleshooting as well."
Kibby said the program greatly enhanced her leadership skills, and she was able to put that knowledge to use as she sought and obtained the faculty ombudsperson position recently.
"I will use this very valuable experience regularly while in this position," she said.
Get to know: MICHELLE KIBBY
Name: Michelle Kibby
Department and job title: ​professor of child clinical psychology and neuropsychology in the clinical psychology and brain and cognitive sciences programs, School of Psychological and Behavioral Sciences, College of Health and Human Sciences. Also, faculty ombudsperson.
Years at SIU Carbondale: 17.
Give us the elevator pitch for your job.
I train future pediatric neuropsychologists, who often go on to work in medical centers or private practice, to assess brain-behavior relationships in children and adolescents with various disorders. I also train future cognitive neuroscientists who go on to work in academe to research and/or teach about brain-cognition relationships. My research focuses on the intersection between ADHD and reading disabilities in children. I study the contributing factors to each disorder specifically as well as the contributing factors that lead to the co-occurrence of the disorders in many individuals. These contributing factors include brain regions studied via magnetic resonance imaging (MRI) scans and/or event-related potentials (ERP), along with various cognitions such as attention, memory, problem-solving, reasoning and linguistic abilities.
What is the favorite part of your job?
My favorite part of my job is working with my advisees, training them in pediatric neuropsychology and cognitive neuroscience. I also delight in conducting research in general, trying to decipher the "puzzle" that is the developing brain. Teaching is close behind, as I enjoy sharing my expertise in the classroom.

Why did you choose SIU?
I chose SIU because of the quality of the clinical psychology program, under which I was initially hired. I also liked that I could incorporate both aspects of my training here: child-clinical psychology and neuropsychology/neuroscience, leading to my joining brain and cognitive sciences shortly after I was hired. I have stayed at SIU because I enjoy working with my colleagues and the students here. Having been at other places, I know how important it is to enjoy interacting with those with whom you work.
If I had one wish it would be …
I would move my extended family closer. Another reason why I chose SIU is that it is located between where both sides of my extended family reside. My family lives in Michigan, and my husband's lives in Georgia. By choosing SIU, I did not show favoritism to either side. Nonetheless, due to the lengths of the drives, we aren't able to see either side much, so it would be great if we could move both sides closer so we could see them more often.
My favorite activity away from work is …
Spending time with my daughter. She is now a freshman, so I try to spend time with her whenever I can as I know my remaining time with her is short. Plus, I love hanging out with her! We have a lot of shared interests: crafting, sewing, drawing, painting, board games and other activities.
Know a colleague to feature in Saluki Pride? Simply fill out this form.