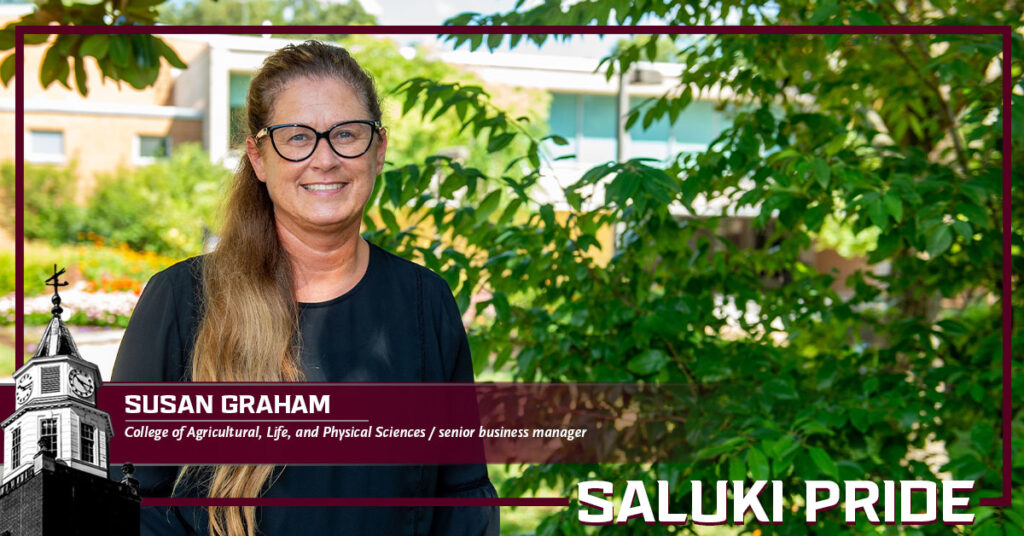 Susan Graham's work on campus doesn't just stop at the end of the work day. Graham's commitment to students, faculty and numerous agriculture-related organizations recently earned her "Outstanding Cooperation" selection from the National Association of Agricultural Educators Region IV, representing a six-state region that includes Illinois. Graham also received the Illinois NAAE Cooperation Award in June and said she's "proud to represent SIU for this award – because this was not just earned by me – it took a small army of various areas on campus and cooperation for this recognition." Josi Rawls, transfer relations assistant director in undergraduate admissions, noted Graham's integral work, "which brings students of all interest areas to campus" and said "she makes me want to be a better Saluki!"
Get to know: Susan Graham
Name: Susan Graham
Department/title: College of Agricultural, Life, and Physical Sciences / senior business manager.
Years at SIU Carbondale: 28 years
Give us the elevator pitch for your job.
My job includes working with recruitment, communications, and outreach – including FFA events, our college career fair, annual All Ag Banquet, field day events, national conventions and shows, various alumni events and activities, social media, college websites and communications on behalf of the dean.
What is the favorite part of your job?
My favorite part of my job is the people I am fortunate to work with – current students, prospective students and parents, FFA advisors and FFA members, alumni, and industry stakeholders. I love sharing with others my passion for SIU and our college and programs.
Why did you choose SIU?
During my college years I worked as a student employee at Shawnee Community College and then for one semester at SEMO. I decided SEMO was not for me, got married, and moved to Du Quoin. Continuing my education was a priority. I was hired at SIU three years later, experienced a six-month leave to have quadruplet boys, came back and accepted a position in Agricultural Sciences in 1996 – more than 25 years later I am still there. I have been fortunate that I've had supervisors that encouraged and supported me to finish both my bachelor's and master's degrees in business while working full time as an employee. I hope to finish my Ph.D. in agricultural sciences in the next three or four years.
At the top of my "bucket list' is to … and why.
To travel worldwide. The pandemic has limited the use of my passport, but I hope eventually to see as many different places as possible around the world.
My favorite activity away from work is … and why.
I have two activities away from work that I love – playing my baby grand piano (I took 14 years of classical music lessons growing up and still love playing classical music) and golfing. I'm not a great golfer, but I enjoy being outside and experiencing the beauty of different golf courses (I hope to eventually play at least one course in every state). Both activities are a great way to clear my head and reduce stress.
Know a colleague to feature in Saluki Pride? Simply fill out this form.