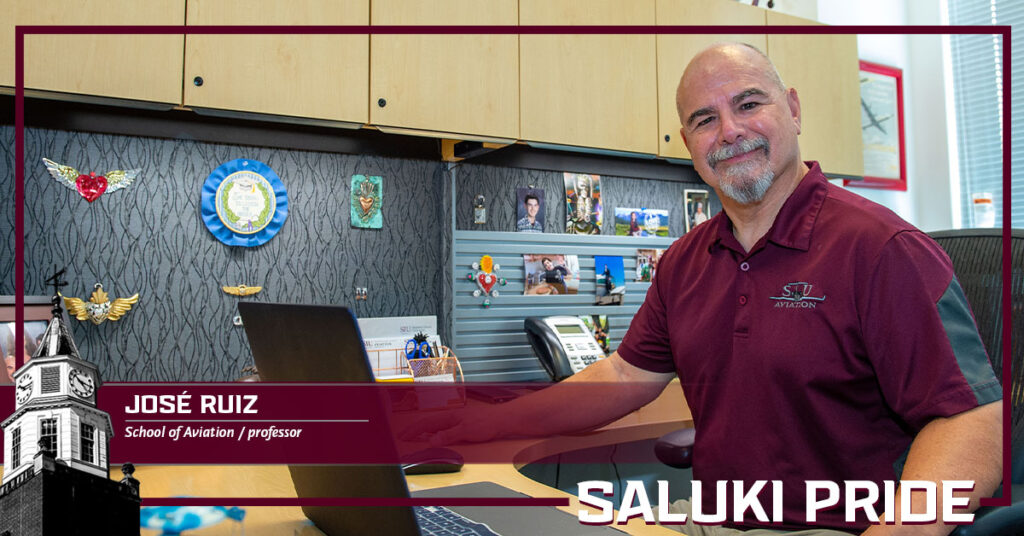 José Ruiz's aviation career has lasted more than four decades, including the last 26 years with SIU's nationally recognized program. He's earned numerous accolades, including leading the University Aviation Association and chairing national panels on runway safety issues. But his passion is helping students realize their full potential and mentoring faculty. Seung-Hee Lee, a professor in the School of Architecture's fashion design and merchandising program, recalls that during her first year as a new faculty member, other faculty recommended Ruiz to assist her. It was "due to his excellent guidance and full support" that she was able to have a successful start, she said.
Get to know JOSÉ R. RUIZ
Name: José R. Ruiz
Department/title: School of Aviation, professor
Years at SIU Carbondale: 26 years
Give us the elevator pitch for your job:
Aviation has played a significant role in my personal and professional development for more than 43 years. Prior to my association with SIU, I served as a non-commissioned and commissioned air traffic control officer in the United States Air Force. I also hold a commercial pilot certificate with instrument and multi-engine ratings. I transitioned to collegiate aviation education upon leaving the military and I have never regretted that decision. Assisting my students in realizing their potential has been my passion for more than 26 years. During that time, I have had the good fortune of having worked with my students in a variety of capacities; as a faculty member, an academic adviser, a career counselor, a mentor, a friend, and a sounding board. Our graduates hold careers as airline pilots, corporate pilots, military pilots, airport managers, air traffic controllers, aircraft accident investigators and a variety of other aviation-related occupations throughout the U.S. and around the globe! I could not be any more proud of what our graduates have been able to accomplish! I have remained at SIU as an aviation educator for only one reason – to serve my students.
What is the favorite part of your job:
The favorite part of my job as a faculty member is holding mock interviews with my aviation industry career development students. I learn more about a student's character during a 30-minute mock interview than I may be able to observe in a 16-week semester.
Why did you choose SIU?
I chose SIU because of the outstanding national reputation enjoyed by its aviation program. I also fell in love with the local area. The Southern Illinois region is beautiful!! I enjoy the outdoors and this region is an outdoorsman's paradise!
I'm happiest when I am …
I am happiest when I am engaged in any recreational activity with my family, whether it be grilling, kayaking, playing board games or renting an aircraft and going up for a quick flight. As long as I am with my family…I know it will be great!
What is your favorite song? Why do you like it?
I actually have two favorite songs because they represent a special connection between my daughter, my son and me. "Vienna" by Billy Joel for my daughter, Allison, and "Indian Summer" by Chris Botti for my son, Joshua.
Know a colleague to feature in Saluki Pride? Simply fill out this form.