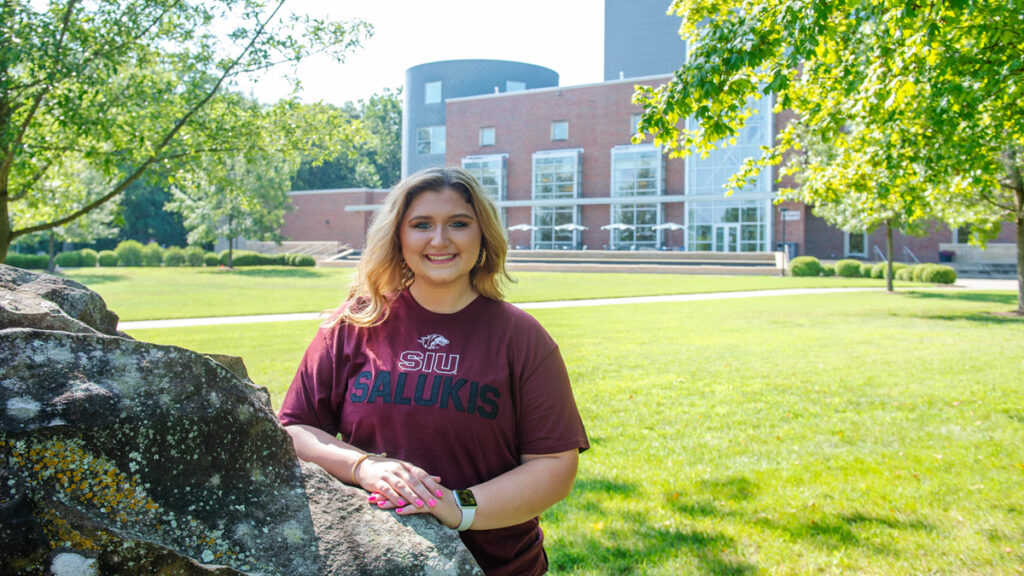 Chloe Grover is making the most of her senior year at Southern Illinois University Carbondale.
A senior in communication disorders and sciences from Mayfield, Kentucky, Grover, is very involved in campus life and serving fellow students and the community as she prepares for a career helping people.
An athlete at heart, Grover overcame injuries suffered in a near-fatal childhood vehicle accident to play softball for two years at John A. Logan College on a scholarship. Grover found herself drawn to SIU for several reasons as she looked for places to transfer.
"Everyone is so welcoming and friendly and that was a big factor. I didn't feel that at the other schools I visited," Grover said. What sealed the deal for her was exploring SIU's communications disorders and sciences program.
"I made a good connection really quickly with all of the people in my department. They are such great people and that totally sold me on SIU," Grover said.
Giving to others
Grover has made quite a positive impression on the people she has become acquainted with at the College of Health and Human Sciences (CHHS) as well.
"Chloe has an amazing attitude," said Deborah Hutson, recruitment and retention coordinator for the college. "She is a team player who is willing to help everyone around her win."
Since January, Grover has been an academic associate for the college, essentially serving as a peer mentor for her fellow undergraduate students. She helps Salukis get involved in campus life, addresses their academic and non-academic questions and concerns and connects them with resources. She also assists undecided students in exploring their options in choosing a major, acts as a liaison between students and the college administration, and does whatever else she can to help her peers be successful in their own college careers.
In addition, Grover is vice president of SIU's National Student Speech Language Hearing Association (NSSLHA), a registered student organization affiliated the American Speech-Language-Hearing Association (ASHA). Typically, the organization conducts hearing screenings, performs other community service activities and allows students to connect with and learn from professionals in the field. Although the pandemic caused SIU's group to change things up, they still sponsored virtual events and projects to help others.
Her work as an NSSLHA officer, including relaying messages and keeping fellow NSSLHA informed and involved, along with her responsibilities as an academic associate is enjoyable, and gives her valuable experience that will help in the future, she said.
"It's definitely helping me with my communication skills and that is really going to really benefit me in my career," Grover said. "My social skills have also really grown, especially as I've tried to help my peers as an academic associate."
She is also very involved with her church, the Lone Oak Church of Christ, and helps out there whenever she is in her hometown.
Researching pandemic-weary voices
As the recipient of a university REACH (Research-Enriched Academic Challenge) award through the Office of the Vice Chancellor for Research, Grover has also been involved in some exciting and fascinating research. Working with Maria Claudia Franca, professor in communication disorders and sciences, she is involved in a project utilizing vocal hygiene methods in occupational voice.
Grover explained that especially during the pandemic, as faculty members have been delivering their course content in live and virtual formats and connecting with students and colleagues in multiple ways, they are talking even more than usual, resulting in vocal stress and fatigue. She and Franca are developing a project to help SIU faculty involving daily vocal exercises and techniques to help alleviate that stress and fatigue.
"It is a great pleasure for me to serve as a mentor for Chloe, who has been an exemplar CDS student," Franca said. She said is most grateful for Grover's valuable help with the project, developed with REACH support and assistance from the Center for Teaching Excellence, as the work is "of critical public health interest given the multiple professional categories, such as those in education, who are at risk of function voice disorders."
Having the opportunity to get involved in research that matters and work with esteemed faculty members has been life-changing, Grover said.
"SIU has given me a lot of different experiences and opportunities I don't think I would have gotten anywhere else," Grover said. "I've also made a lot of connections with wonderful, kind people. I just love the people I have met here and the fact that I've been able to work with and learn from such knowledgeable and experienced people as Dr. Franca and Dr. Valerie Boyer (associate professor and program director for communication disorders and sciences). I've learned so much about my profession and the various aspects of collaboration. I've also made life-long friends. SIU has definitely been a great home away from home."
Plans to work with children or the elderly
Grover's plan after she completes her undergraduate degree is to pursue a master's degree in communication disorders and sciences, preferably at SIU, with an ultimate goal of becoming a speech language pathologist.
She's pleased with the many different career options that are available with her degree and she hopes to either work with infants or with the geriatric population. She said the inspiration for her career path comes from elderly family members and seeing the struggles they bravely faced with swallowing and feeding issues.
"I want to help people in the community and make my family proud of me," Grover said.