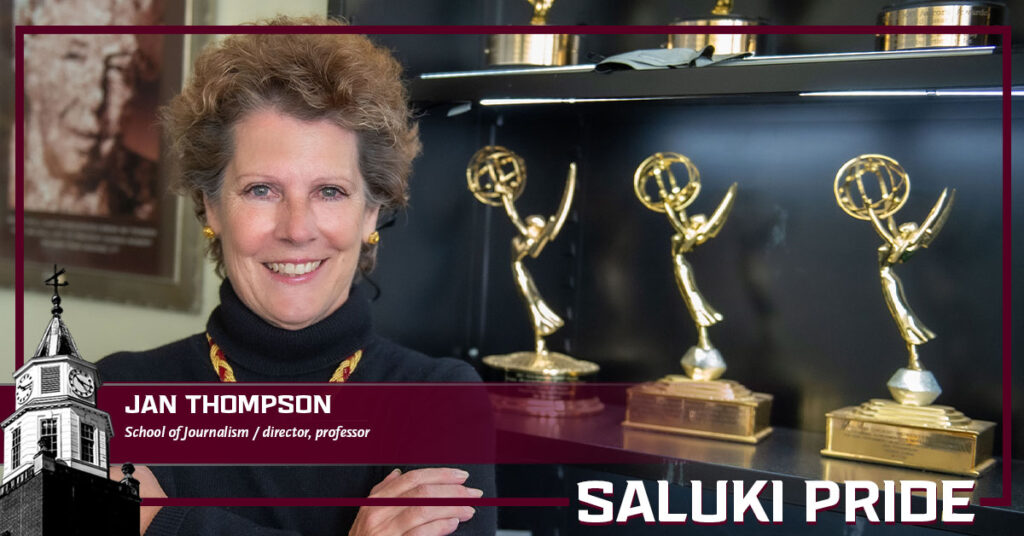 Jan Thompson, director and professor of the School of Journalism and a professor in the College of Arts and Media, was recently nominated for a Chicago/Midwest Emmy in the Outstanding Achievement for Special Event category for her directing of "La Hija de Rappaccini," a livestream Chicago Opera Theater production performed April 24 at the Chicago Field Museum. For Thompson, a three-time Emmy-award winning documentary producer and writer, this is her 15th Emmy nomination. The virtual award ceremony is Dec. 5. Thompson came to SIU in 2000 and is also faculty adviser for the award-winning, student-run "alt.news 26:46" television news magazine.
The daughter of an American World War II POW in the Pacific, Thompson has as part of her acclaimed radio, television and film work three documentaries:
Currently she is working on a podcast with Alec Baldwin, who has licensed all of her POW interviews.
Thompson is president of the American Defenders of Bataan and Corregidor Memorial Society and in July 2015 participated in a ceremony where Mitsubishi Materials Corp. executives apologized for using American POWs as forced labor in company mines during the war — the first public apology by a Japanese corporation for wartime atrocities.
Get to know Jan Thompson
Name: Jan Thompson
Department/title: School of Journalism, director / professor.
Years at SIU Carbondale: 22 years.
Give us the elevator pitch for your job:
I am the director of the School of Journalism and I oversee a highly talented and motivated faculty. Under this umbrella is also the award-winning Daily Egyptian that is over 100 years old; the AdLab, a student run advertising agency who beat power houses such as Michigan, Notre Dame and Michigan State by placing first in the American Advertising Federation competition last year; River Region Evening Edition, one of the longest and oldest student broadcast news programs in the country, and alt.news, which has won 31 professional Emmys.
The School of Journalism also houses the Gateway Journalism Review. It is one of only two journalism journals in the entire country.
What is the favorite part of your job: The School of Journalism is in a rebuild phase because of how the field has changed by becoming digitally multi-platform. It is exciting to be working with a faculty who understand the importance of how the industry is in constant flux as we work together to find solutions and reconfigure the curriculum.
Why did you choose SIU? For its reputation of excellence.
What's your reaction to being nominated for an Emmy Award, and how does one receive a nomination?
This indeed is an honor as the Chicago television market is highly competitive and is one of the largest in the country. The nomination is in a new category for me — my first Emmy was for Original Music and Composition; my second was for Editing and my third was for Writing. None of these Emmys were for the same documentary and all in different categories.
This category is for a live-event, and to say it was stressful, would be putting it mildly. The Opera was almost 2 hours long — no breaks — no stops. It is sort of like doing a surgery and not trying to kill the patient. I hadn't been directing anything live and equally stressful since my Chicago Bulls/White Sox days more than 20 years ago, so I had to pull out a skill set from ancient times.
What does it mean to you that half of the crew you worked with on the project are SIU media alumni?
This part was the coolest as all of the Saluki crew were my former or present students.
We flew Adam Dieter in from Austin Texas to operate the 12-foot crane. He learned how to use the crane in my studio production class over 7 years ago. As a result, this started his passion in this area of production and he has been employed ever since graduation as a jib/crane operator.
I had senior, Katyana Saldana and a junior, Hannah Friedman operating other cameras. Both ladies were from alt.news. I love trying to give students these types of opportunities and exposure. I think it helps build their self-confidence and to never underestimate what they can do. It also gives them the opportunity to start networking with professionals. (It also gave me an opportunity to show them that their old professor could still walk and chew gum at the same time.)
Know a colleague to feature in Saluki Pride? Simply fill out this form.