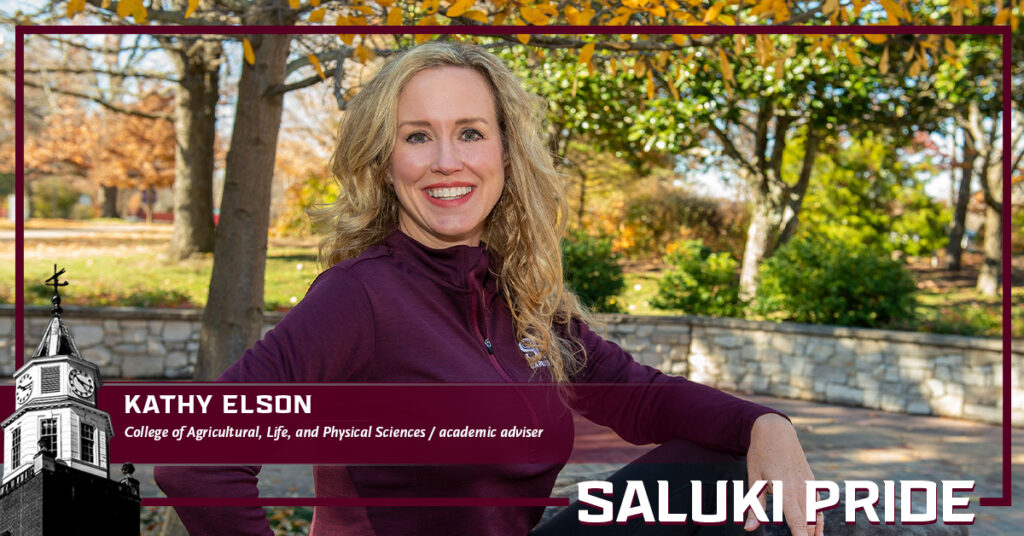 As an academic adviser for four majors and 16 specializations within the College of Agricultural, Life, and Physical Sciences, Kathy Elson takes on many roles. She is a "life coach, mentor, and great listener" for the students, said Susan Graham, senior business manager within the college. Elson, a 1993 SIU Carbondale alumna who is working on a master's degree, works late nights making sure to respond to students' needs and meets with them in person and virtually to make sure they complete their program while always remaining upbeat and positive, Graham said.
Get to know KATHY ELSON
Name: Katherine (Kathy) Elson
Department/title: College of Agricultural, Life, and Physical Sciences / academic adviser
Years at SIU Carbondale: 7 1/2 years as an academic adviser; also worked in the then-New Student Admissions office as a campus tour guide and student worker for 4 1/2 years.
Give us the elevator pitch for your job
The first thing that comes to mind is the Charles Darwin quote: "It is not the strongest of the species that survives, nor the most intelligent; it is the one most adaptable to change." Advisers have to be organized and thorough, while also being up for anything at any time — it's kind of like working in an ER, you never know what is going to walk through the door and you just do your best to be prepared. Think of every time you've heard or seen a professor, staff member or administration email say "ask your adviser" and then add some steroids. All roads of recruitment and retention lead to, through, and around advisement.
What is the favorite part of your job?
It may sound generic, but the answer truly is helping students succeed and graduate. I try to treat each student how I would want my own children to be treated. Whether they need encouragement, compassion, advice or a little tough love, I want to be what they need on any given day. The other favorite part of my job is supporting and befriending my fellow co-workers and staff across campus — we really are all in this boat together.
Why did you choose SIU?
SIU in general is like another one of my children – I am proud of it and I love it unconditionally — the beauty, flaws, eccentricities, varied personalities and all.
What are three things you cannot live without?
My faith, my family, which includes my cat named Blue, and food (I love to eat good food!).I like to brag on my family.My husband, David, is linebacker coach for the Purdue University football team – making our long-distance marriage work is a priority and big achievement! We have three daughters: Lauren, a Harvard University graduate with a degree in chemistry and currently a fourth year full-ride medical student at Washington University in St. Louis; Jessica, a University of Kentucky Presidential Scholar junior majoring in accounting and international business and Wildcat Marching Band member, and Maggie, who is in seventh grade and who wants to be a Dallas Cowboys cheerleader.
If you could presently live in a different era, such as the 1950s or 1970s, what would it be and why? I'm good with living in the present!
Know a colleague to feature in Saluki Pride? Simply fill out this form.