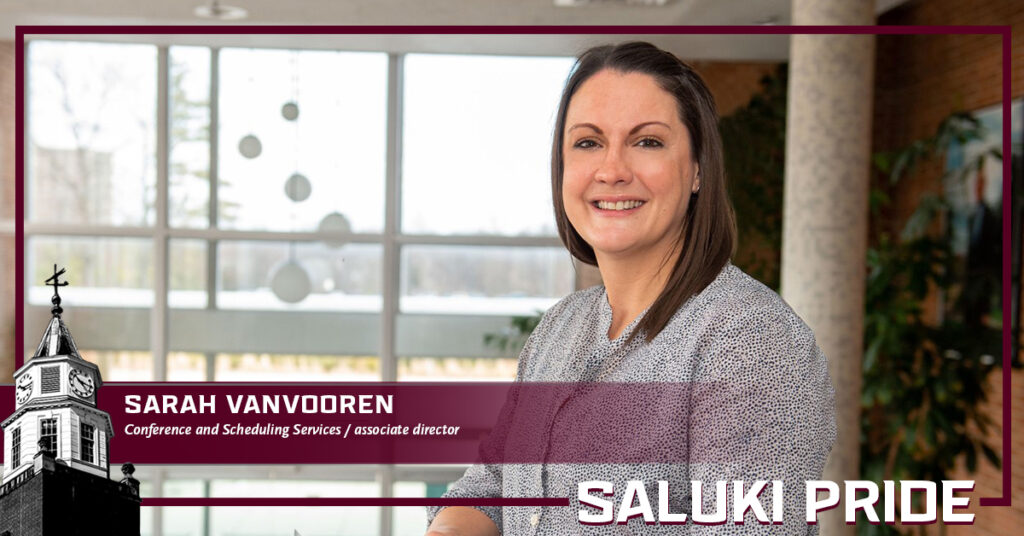 Much of the work Sarah VanVooren does as associate director of Conference and Scheduling Services is behind the scenes, but colleagues say she is one of the most organized, hard-working people on campus and the results of her efforts are obvious.
"She is a great leader for her team, always accessible to other members of the SIU community, and always willing to facilitate whatever she can for the betterment of SIU, our employees and our students," said Jessica Carr, web communications marketing associate. Carr also said VanVooren adapts to whatever the situation requires, noting that when the COVID-19 pandemic hit, VanVooren quickly and successfully shifted conferences, camps and other events to online or hybrid formats to meet the needs of the campus and greater community.
Get to know SARAH VANVOOREN
Name: Sarah VanVooren
Department/title: Conference and Scheduling Services, associate director
Years at SIU Carbondale: 10
Give us the elevator pitch for your job.
In my current role, I oversee Conference and Scheduling Services for campus. With my wonderful team, we handle conference services for campus, which encompasses camps, conference and program planning services. We also manage scheduling of space and building management operations in the Student Center, and I oversee the scheduling software used campuswide. Conference and Scheduling Services also encompasses continuing education and professional development for the university, which includes hundreds of noncredit online classes and a variety of SIU-sponsored and developed noncredit programs. In addition, we offer professional development and continuing education units.
What is your favorite part of your job?
I am passionate about expanding the reach of SIU to the Southern Illinois region and beyond to showcase all the great programs, services and spaces that the university has to offer. I also love that I get to interact with such a variety of groups and people, from student organizations to departments to community organizations to visiting groups.
Why did you choose SIU?
I am an alumna of SIU and from the Southern Illinois region. I am proud of all that SIU has to offer students, staff and the communities we live in. Having worked at another university, I came back here years ago to contribute and help SIU and the Carbondale community grow and thrive.
My favorite activity away from work is…
I am a member of the Rotary Club of Carbondale Breakfast and love participating in Rotary meetings and activities. I am proud to be a member of an organization that does such good for the community.

What are three things you cannot live without?
Family/friends, yoga and coffee. Family/friends and yoga keep me grounded, and there is nothing to start the day better than a good cup of coffee.
Know a colleague to feature in Saluki Pride? Simply fill out this form.