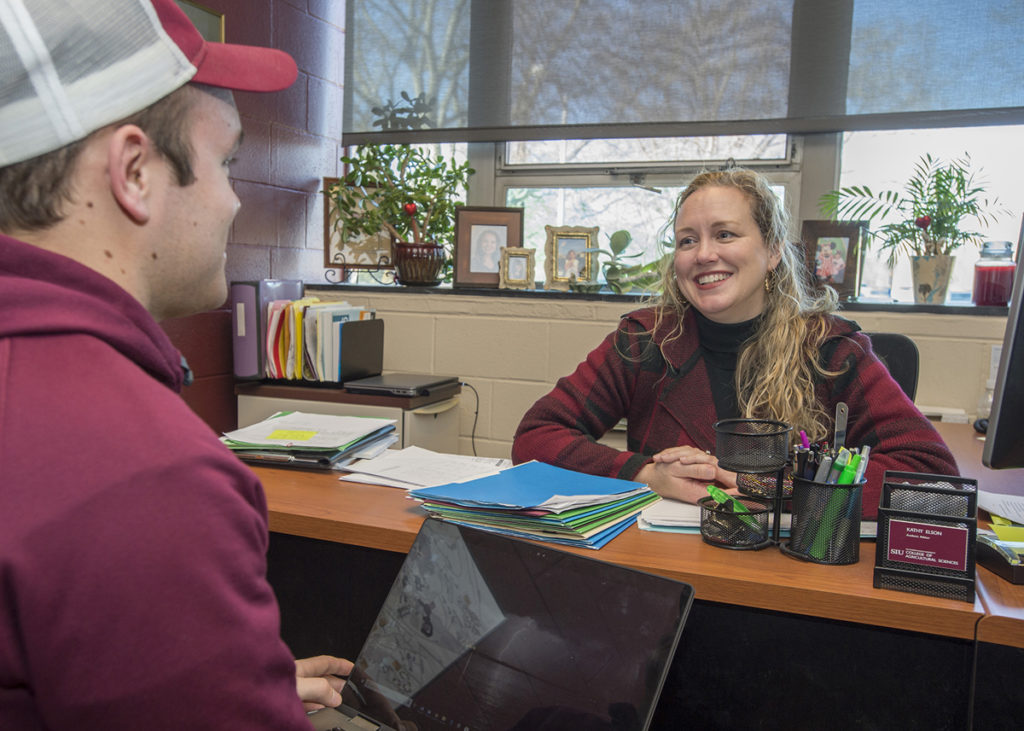 Leading the Pack is a regular feature that highlights faculty and staff members who go above and beyond to fulfill SIU's Mission. If you would like to nominate someone to be featured, fill out our nomination form.
Sometimes students know exactly what degree and future career they want to pursue, and sometimes they do not. For Kathy Elson, pointing all of them in the right direction is her number one goal.
Building trust with the students
As an academic advisor for the college of agricultural sciences, Elson talks with hundreds of students every semester who are all on a journey toward graduation and their upcoming professional life. While many of these students have some uncertainty, Elson is ready and willing to walk with them through the process.
"A big part of the job is building trust with the students," Elson said. "I try to treat each student I work with as my own kid. Whether they need encouragement, compassion or a little tough love, I want to be there for them."
Even though she only works with students from one college, each person is very different and may have a variety of interests and challenges. From Elson's perspective, students always do their best when they find their niche and pursue the things that really appeal to them.
"I try to encourage students to take classes they are interested in," Elson said. "Of course, they will always have those tough ones they just have to plow through, but we want them to leave with an education they truly feel good about."
Once students start to find a few things that really work for them, Elson helps them fit the pieces together to build an overall plan.
"I work hard to listen to the student's interests and understand their skills so we can put a successful plan together for them," Elson said. "It's all about putting the pieces together for the student so they are successful both in school and in their future careers."
Pointing students in the right direction
Many times Elson works with students who do not know a lot about the field or their options in it. In these situations, she connects the students with the right faculty to assist them in narrowing down their best fit.
"We have great faculty who will sit down with the students and help them develop career goals and get them connected with alumni or others in the industry," Elson explained. When students get a chance to sit down and hear more about their options, it helps them stay focused during their time at SIU.
"My goal for the students is for them to enjoy their time at SIU, be academically successful while they are here and then graduate in a timely manner," Elson said.
Elson always encourages students to get plugged in to the many clubs and organizations available on campus. When students are really connected, they not only enjoy their time here, but it also sets them up for future success, she explained.
Making time for people outside of the office
Beyond work in her office, Elson is the advisor for Pause for Paws. This student organization focuses on helping animals in need at the Wright-Way animal shelter and providing a stress-relieving outlet for students who might enjoy working with the pets. Additionally, Elson serves as the sector one representative for the AP staff council.
"I make it a goal to do my part in continuing to improve our campus," Elson said. "We all have at least a little area in our domain, and that is the part we can improve to contribute to the whole picture here at SIU."
Elson also keeps very busy juggling her active family. Her husband is the defensive coordinator at Ball State, and her three daughters range from the oldest in med school and the youngest, just 10 years-old. If she is not meeting with a student or replying to countless emails, then she is probably traveling for a sporting event or a fun kid activity.