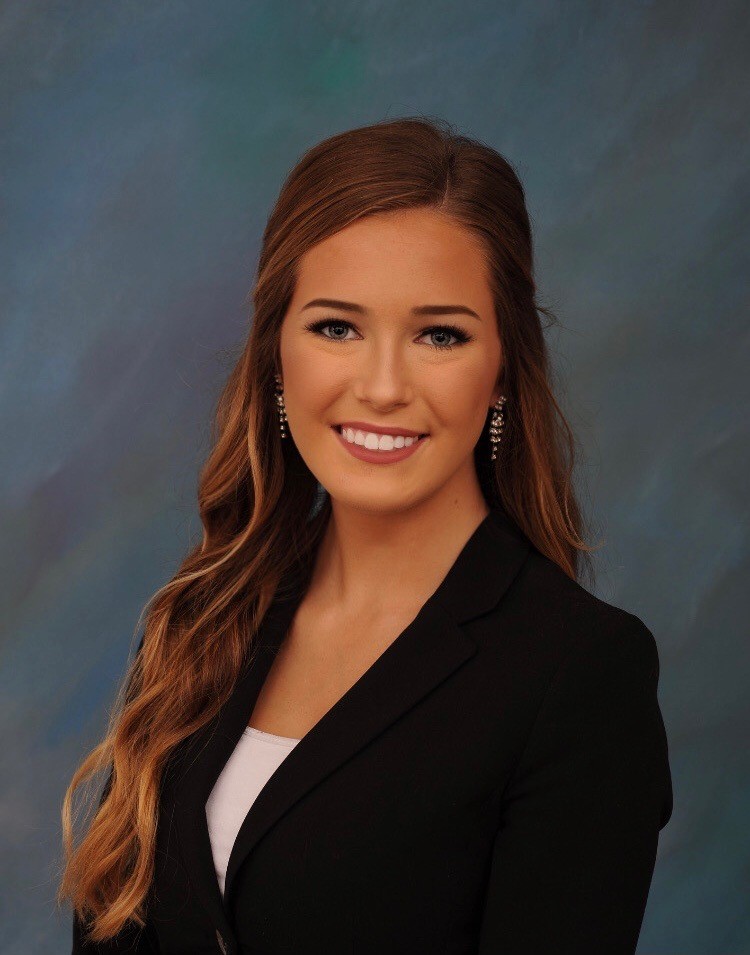 Chloe Leonard wants to make a difference in the world and is determined to overcome whatever defeats she may encounter. A junior physiology major at Southern Illinois University Carbondale, Leonard's story won her a top prize in the national 2020 Character Counts Week Sigma Sigma Sigma Sorority essay contest recently.
The Springfield, Illinois, native and graduate of Pleasant Plains High School claimed second place and a $500 scholarship for her winning submission.
Shaped by experiences
Leonard has applied for many scholarships through the years, but this is her first national award. She said she is both thrilled and humbled.
"The outpouring of love, support and words of affirmation I have been given is extremely heartwarming," she said. "I am incredibly thankful for this recognition and look forward to inspiring others with my story."
Leonard's essay focused on overcoming challenges. She told of working hard in high school to earn good grades, be a leader in the classroom and extracurricular activities, excel in athletics and volunteer to help others. She characterized herself as a "servant leader" and said she hoped to win a Chancellor's Scholarship to attend SIU, her school of choice.
"I chose SIU because from the moment I stepped on campus, it felt like home." Leonard said. "SIU's student-to-faculty ratio was very appealing, and the welcoming persona of the admissions staff did not go unnoticed. Compared to the other universities I was considering, Southern Illinois University made me feel relaxed and confident about my next four years."
She did not receive the Chancellor's Scholarship. Although she was disappointed, she regrouped, found other ways to pursue her educational dreams and kept moving forward. And the story of that perseverance won her national acclaim.
SIU keeps the dream alive
Another reason Leonard chose SIU is the ability to get involved in research, even as an undergraduate. She noted that many universities offer research opportunities, but the wide range of options for SIU undergraduates, from day one on campus, is unique. Since she plans to enter the medical field, she knew it would be especially important to have previous research experience, and as a Saluki, she's able to get a diverse range.
She added minors in forensic science, chemistry and psychology to her academic degree. She's part of the University Honors Program and active in the Pre-Health Professions Association and Rho Lambda Honors Society. In addition, she's served as the Panhellenic delegate, secretary and vice president of membership for the Gamma Omega Chapter of Delta Zeta.
As she's applied to physician assistant graduate school programs, SIU has been very helpful, she said. Research opportunities and hands-on experience, resources for GRE preparations, assistance in reviewing her resume and other help with the graduate school application process – all that and more have been readily available at SIU.
That's just part of it, though. Leonard said the overall Saluki experience has been special in many ways.
"One of the things I enjoy about SIU is its character," Leonard said. "Each building has a different ambiance and story to tell. I am constantly finding beautiful and unique hidden treasures all throughout campus."
Serving others is vital to Leonard
Leonard has continued to be very active in community service during her stint at SIU, including assisting Delta Zeta in its philanthropic endeavors in support of Starkey Hearing Foundation, SeriousFun Children's Network, American Society of Deaf Children and The Painted Turtle camp. Sorority members have done so largely through events to raise awareness and funds such as hosting a community Hotcakes for Hearing all-you-can-eat breakfast and working with many campus fraternities and other organizations on the Mr. Turtle Man pageant. Leonard said she's proud that Delta Zeta's local philanthropy extends to the Women's Center in Carbondale.
"As an organization founded upon sisterhood, we are very passionate about supporting and empowering other women," she said. "Last year, we had the opportunity to march in Take Back the Night, a walk dedicated to domestic violence victims and an advocacy for the survivors. A portion of our philanthropic funds raised each year is also donated to the Women's Center."
The sorority also supports Gum Drops, a Carterville nonprofit organization that provides bags filled with food for at-risk children in the region. Leonard enjoys volunteering to help pack the food bags.
Leonard is also active in community service on an individual basis. She helps with the Gold Star Mission 500, an annual 500-mile bike ride through Illinois in honor of military personnel killed in action. The bikers travel through the hometowns of Illinois Gold Star families, escorted by first responder vehicles, to honor the sacrifices of the fallen and their families.
She said she is honored to be part of the mission to "Always Remember, Never Forget" and that she enjoys volunteering with the organization as it allows her to speak with family members "of our American heroes." The foundation also awards scholarships in the name of fallen soldiers, and in 2019, Leonard said she was "fortunate enough" to be awarded the Sgt. Robert Weinger Scholarship.
The next step
What's up next for the goal-oriented Saluki? Leonard wants to join the Army and work as a physician assistant. She said both of her parents have served more than 25 years in the military "so from a young age I have felt as though it is my calling." While she hasn't decided on a specialty as yet, she is interested in trauma medicine.