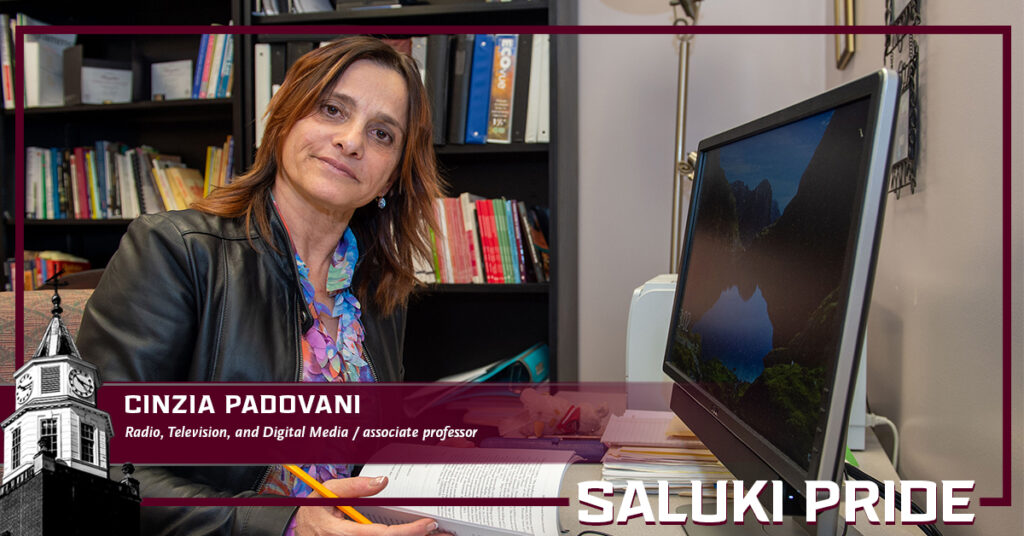 As an international faculty member, Cinzia Padovani, an associate professor in radio, television and digital media, said it can be a challenge to adapt to life in a new place, but she loves the beauty of the Southern Illinois University Carbondale campus and working with students and her colleagues. She hopes her experience will be helpful for future junior colleagues from overseas.
A scholar who has studied the relationship between media and power and ultra-right social movements, Padovani is the author of "A Fatal Attraction: Public Television and Politics in Italy." She has written many articles published in professional journals such asDiscourse & Communication,The Journal of Language and Politics, Javnost/The Public, Problemidell'Informazione,and more.
Get to know CINZIA PADOVANI
Name: Cinzia Padovani
Department/title: Radio, Television, and Digital Media, associate professor
Years at SIU Carbondale: 17
Give us the elevator pitch for your job.
To teach and interact with students from many walks of life, from the U.S.A., as well as abroad. To do research on topics that are relevant socially and politically. All this in a setting that is inspiring and challenging at the same time.
What is your favorite part of your job?
Teaching, being with my students! Doing research with colleagues around the world is also a wonderful perk of this job. I am humbled by the many opportunities we get at this university.
Why did you choose SIU?
 I was recruited by the then dean of the college, Manjunath Pendakur. Manju and I had met at a conference in Slovenia a few years earlier, when I was a graduate student. When I came for the interview, in early April, I was impressed by the beauty of the campus (Campus Lake in particular) and the welcoming feeling of collegiality I sensed during the interview process. At that time (mid-2000s), we also had a sprawling Global Media Research Center, headed by a world renowned academic, John H. Downing. My meeting with him was decisive – and here I am!
What is one of the best opportunities you got a chance to pursue during your career?
The various research opportunities I enjoyed while here at SIU. The most recent one was a two-year fellowship I received from the European Union to do research about ultra-right social movements and media in Europe. During that time, I was able to go on research leave from SIU to expand and enrich my professional network and knowledge. The administrators worked with me to make it possible. My colleagues and students were very supportive as well.
Can you expand on ultra-right social movements and what it means? What does it mean to you?
Ultra-right social movements are political actors whose ideological stances include racism, anti-immigration, misogyny, conspiratorial elements, and in general, discriminatory languages and praxes. I believe that as a community of learners, we need to be aware of extreme political activism as that has an impact on our daily lives.
Know a colleague to feature in Saluki Pride? Simply fill out this form.