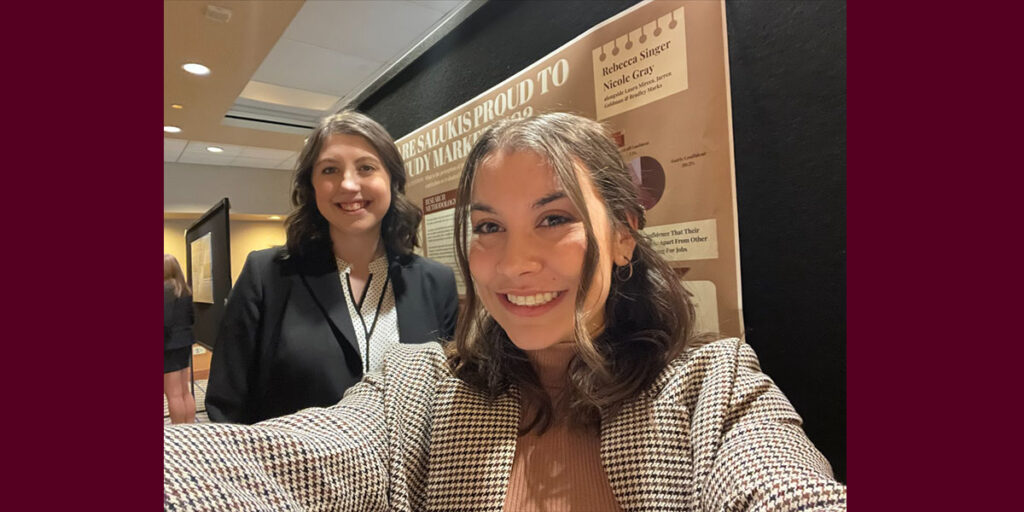 Nicole Gray and Rebecca Singer, members of the Southern Illinois University Carbondale chapter of the American Marketing Association, placed first at an international marketing project research competition.
They submitted a research project titled, "Are Salukis Proud to Study Marketing?" they had started work on from a prior class assignment and received an invitation to come to the conference March 17-19 in Chicago and compete as finalists. After the first round, they were among only four teams selected to advance.
For their project, Singer and Gray created a questionnaire and interviewed current students and alumni to get their perspectives on the current marketing curriculum. After collecting data and making a report, Gray and Singer proposed suggestions to the College of Business and Analytics such as enhancing ties to industry.
SIU Chapter President Gray said she was stunned to see her and Singer's name highlight the screen as winners, but afterward, she felt a rush of confidence.
"We entered the competition on a whim; I never expected to win," said Gray, a native of Lawrenceville, Illinois, and a graduate of Lawrenceville High School. "Seeing our name up there, I was surprised. It proves SIU students can do big things. Don't overlook us."
Additionally, Gray continued to point out their recognition and what this accomplishment means for the future of their chapter.
"We received a certificate of honor, which means we will become a more visible and recognized chapter," she said. "We have shown we can be competitive; we have opened more opportunities and helped build the confidence for our other members."
Gray said she enjoyed the conference overall because she had an opportunity to meet and connect with like-minded individuals from all over the world.
Singer, director of media relations for the chapter, enjoyed presenting her poster in a room full of professional women, finalists in the Undergraduate Research Competition.
"Presenting was my favorite part as finalist. There were only women in the room," said Singer of Granda Hills, California, and a graduate of Grover Cleveland Humanities Magnet School. "Women don't usually dominate the corporate world, seeing that was empowering."
Christie Mitchell, faculty adviser for AMA SIU chapter and assistant lecturer at the College of Business and Analytics, said she was exceptionally pleased with her students as she watched them work diligently to complete this project.
"It was very exciting to see them win. I know they worked hard. I was proud of them before they even started competing," she said. "Their winning brought a lot of excitement to the conference."