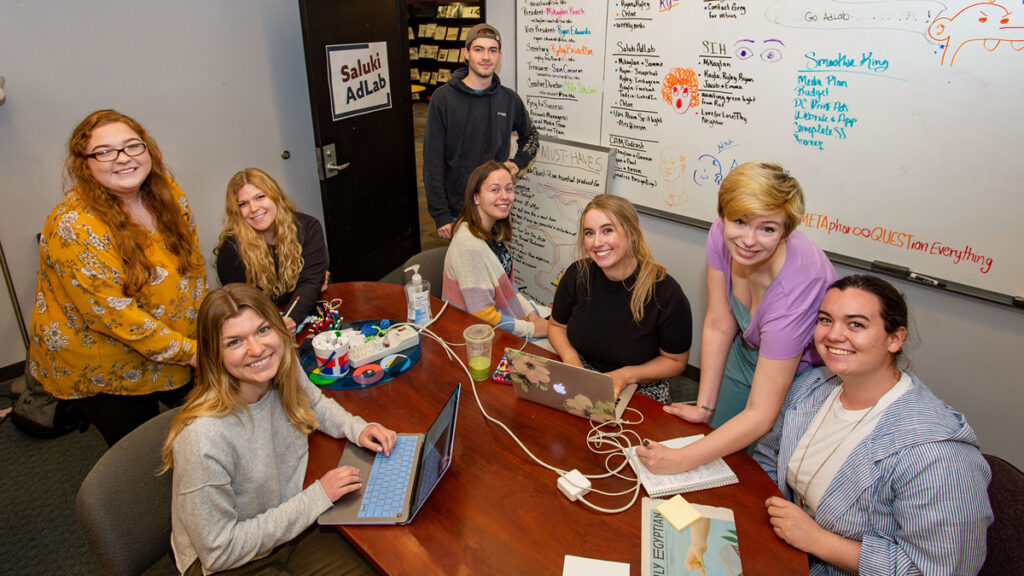 A team considered an underdog at the National Student Advertising Competition (NSAC), Southern Illinois University Carbondale advertising lab has proved to the American Advertising Federation and the other universities that it can consistently display award-winning work.
Saluki AdLab is building a history of wins: second in 2019, third in 2020, first in 2021, and now second in 2022.
Chloe Schobert, the creative director for the team both this year and last year said competing was a great opportunity for her.
"We are able to get real world experience and learn more in the advertising realm outside of the classroom," she said. "It can be stressful, but the payoff is always worth it."
Additionally, Schobert said being a part of Saluki AdLab and competing has given her skills she would've never received elsewhere. Serving as the creative director also increased her exposure to business opportunities after college.
"I cannot recommend Saluki AdLab enough," she said. "By working with AdLab, I have been able to network with local businesses. This organization is a great way for students to apply their design skills in the real world. I have also learned a lot about advertising and marketing through AdLab that I would not have learned in my courses."
Schobert said winning second places reminds people of what SIU is capable of. Coming from a school with limited resources, Saluki AdLab still persevered.
"By winning second place, we are reminding people that SIU is a force to be reckoned with. We don't have as much resources as other schools, yet our talent and drive outshine other programs," she said. "I am so proud of the hard work our team put in, and I am looking forward to seeing where everyone goes."
SIU competed in District 6 of the competition, with 20 other schools. Some teams have 20-30 members while Saluki AdLab has about 10. The district is known as the mega district because of the high number of universities that compete such as Michigan State, University of Illinois, Ball State, DePaul, and University of Michigan.
AAF is the nation's largest and leading professional organization for advertising professionals. Competing in NSAC gives students exposure on a national level, allows them to network with students from across the country, meet and network with advertising professionals from leading brands and ad agencies.
The competition starts in the fall when the AAF announces the client along with the goal and objectives for the campaign. This year's client was Meta Quest 2, formerly Oculus. The company creates VR headsets that enable the wearer to interact in the metaverse and participate in various other games or activities.
Based on their interpretation of the results from their research, team members developed an overall strategy for the campaign. A plans book is submitted in March and given to three judges. The Saluki AdLab team members produced a plans book based on the client's branding guidelines as well as the campaign design and developed a 20-minute presentation to pitch their campaign directly to the judges.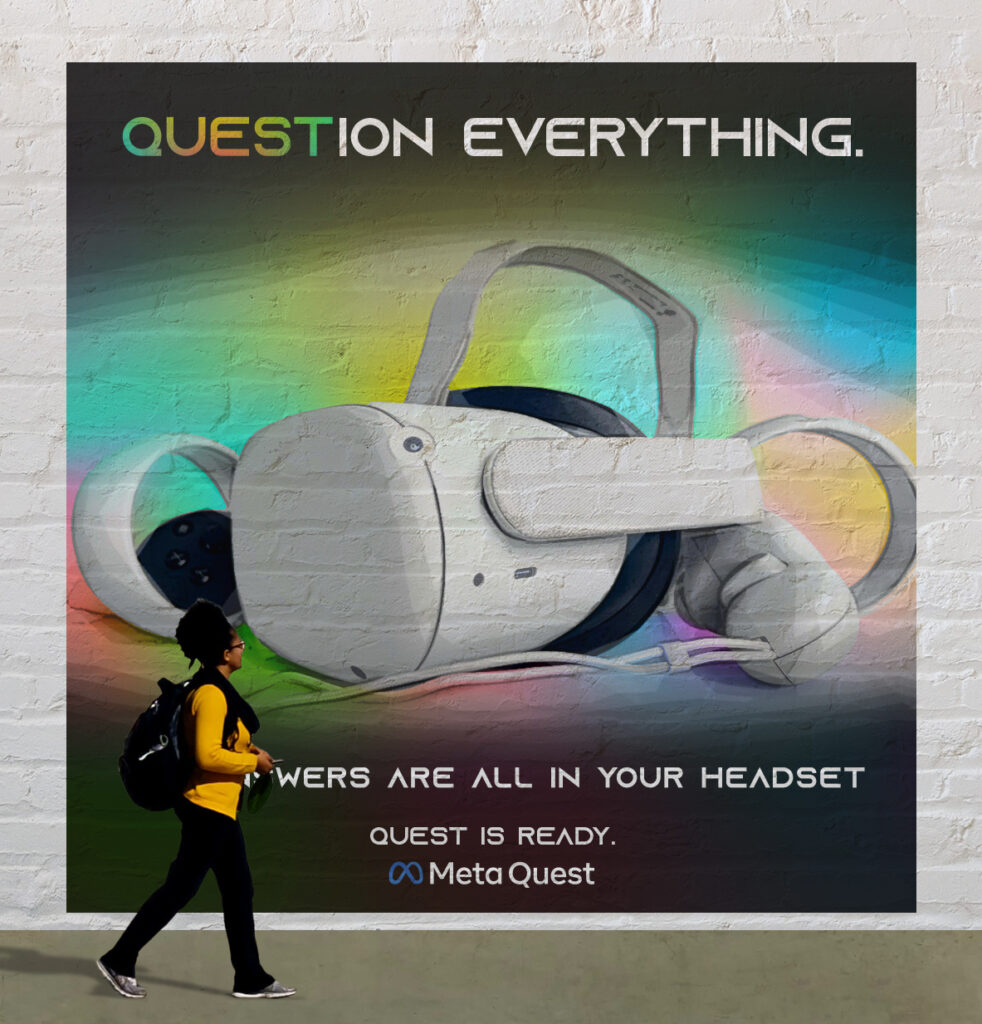 The students created a multiplatform campaign, with the judges commenting it was some of the best video work they had seen.
Founder of Saluki AdLab Bridget Lescelius said AdLab gives students hands-on opportunities.
"The Saluki AdLab also serves as a student run ad agency, and we have local and regional clients," she said. "The mission of AdLab is to give students a deep understanding of how the industry works by giving them real experience. You can't get a job in advertising without a substantial portfolio."
Presentation Team
Chloe Schobert, Belleville, Illinois, creative director
Samantha Corcoran, Mount Prospect, Illinois, media director
Jacob Boehme, Taylorville, Illinois, producer and director of video
Samantha Oxford, Elizabethtown, Illinois, research director
Mikaylan Roach, Herrin, Illinois, presentation team
Ryley Bisaillon, Carterville, Illinois, presentation team
Ryan Edwards, Romeoville, Illinois, presentation team
Gannon McCarty, West Frankfort, Illinois, presentation team
Sophie Whitten, Vandalia, Illinois
Rose Bundy, Saint Charles, Illinois
Peyton Cook, Chatham, Illinois
Monserrat Munoz, Fairmont City, Illinois
Tadzia Lee, Naperville, Illinois
Mallory Aukland, Streator, Illinois
Paul Buckett, White House, Tennessee
Kayla Rockhill, Pekin, Illinois
Kat McCauley, Wyoming, Illinois
Nicole Grey, Lawrenceville, Illinois
Saluki AdLab will be taking some students to the national conference, AdAmerica, hosted by AAF in Nashville in June. The team would appreciate any donations for the trip. Please contact Bridget Lescelius for more information on how to donate at blescelius@siu.edu.