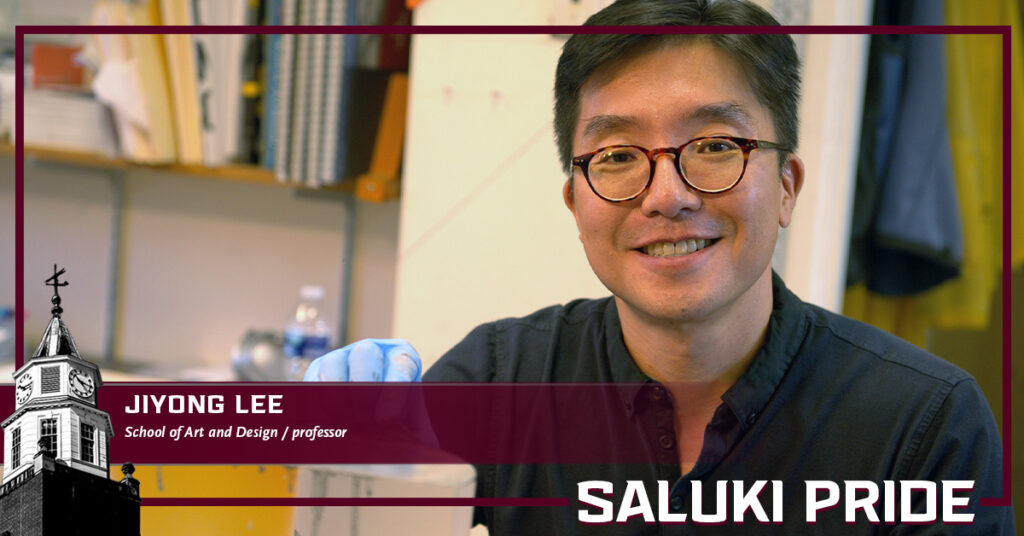 Artist and professor Jiyong Lee spends his days in the School of Art and Design assisting students with glass sculptures. While teaching at Southern Illinois University Carbondale, he has been asked to be a visiting artist at several institutions across the world where he taught workshops, including the University of South Australia, Domaine de Boisbuchet in France, Fire Station Artists' Studios in Ireland, and more.
Lee has participated in eight solo exhibitions and over 70 group exhibitions around the world. He has received the Bavarian State Prize from International Trade Fair in Munich and was select for the Loewe Foundation Craft Prize Finalist Exhibition in Paris.
Lee's works are currently showing at Duane Reed Gallery in St. Louis and Gallery Sklo in Seoul.
Get to know JIYONG LEE
Name: Jiyong Lee
Department/Title: School of Art and Design, professor
Years at SIU Carbondale: 17
Give us the elevator pitch for your job.
I am a studio artist and professor heading the glass program in School of Art and Design in the College of Arts and Media. Our glass studio is in Pulliam Industrial Wing with blacksmith/metalsmith and ceramics studios. We have broadened the curriculum in the glass program the last 16 years, and our glass program is one of the 18 such programs in the U.S. teaching comprehensive studio glass art with both Bachelor of Fine Arts and Master of Fine Arts degrees. Since 2005, we invited over 60 guest glass artists from around the world, and our alumni are working as professional artists internationally and coast to coast in the States. Upcoming international teaching and exhibition include teaching the Masterclass Workshop and "Expanding Horizon" exhibition of the International Festival of Glass in the United Kingdom in August 2022.
What is the favorite part of your job?
Working with the graduate students and seeing their work developing during the school and the continuation and success of their professional artist careers after their graduation is my favorite part of my work.
Why did you choose SIU?
I chose SIU because SIU Art and Design had a great creative research studio environment in advanced level among faculty and graduate students. SIU is one of the few universities that provide the individual studio space for the art faculty's creative research, and that was one of the important factors as a junior faculty and young artist at the time.
What was the largest sculpture you made from glass? What was the title, how long did it take you, and what did you do with it?
My works are not big, but because they are made with solid glass blocks, they are heavy. The work needs to be handled very carefully because of the highly delicate surface of the work and that make it feel heavier. The work "Mitosis" is 8.6 inches high and 14.5 inches wide. It weighs around 133 pounds; it is probably the heaviest work that I made. There are two parts in the work, and I can lift only one part at a time. The work took about six months to create from sketch to finish. I created the work to submit to the Loewe Foundation's Craft Prize 2020 competition around the end of 2019. "The Mitosis" was selected as one of the 30 finalists for the exhibition at the Museum of Decorative Arts in Paris, France, but due to the pandemic, the physical exhibition was postponed from 2020 to 2021, and then finally canceled and replaced with a virtual exhibition. You can see the virtual exhibition here: https://craftprize.loewe.com/en/craftprize2020#archive.
What is the wildest or craziest thing you accomplished when traveling? How do you plan to top that?
I have a few not-usual travel stories, but a workshop teaching in Dublin, Ireland, is the one I would like to share with you. In 2012, I was invited to teach weeklong workshop at the Fire Station Artists' Studios in Dublin. SIU glass program and the glass program at the National College of Art and Design had a memorandum of understanding for a student exchange program. We had about 12 NCAD glass major students who visited the SIU glass program for a semester to work with our faculty and students. With the connection, the Fire Station Artists' Studio invited me to teach a glass workshop, but its multipurpose studio did not have the specialized glass equipment that I usually need for teaching. But some of the artists in the course were professional artists with their own studio equipment, and they brought their equipment, and we made waterproof aprons out of large garbage bags. Everyone worked hard and creatively with many improvisations, and, in the end, we made similar quality works that I see at other workshops with well-equipped studios. That was great fun.
Know a colleague to feature in Saluki Pride? Simply fill out this form.