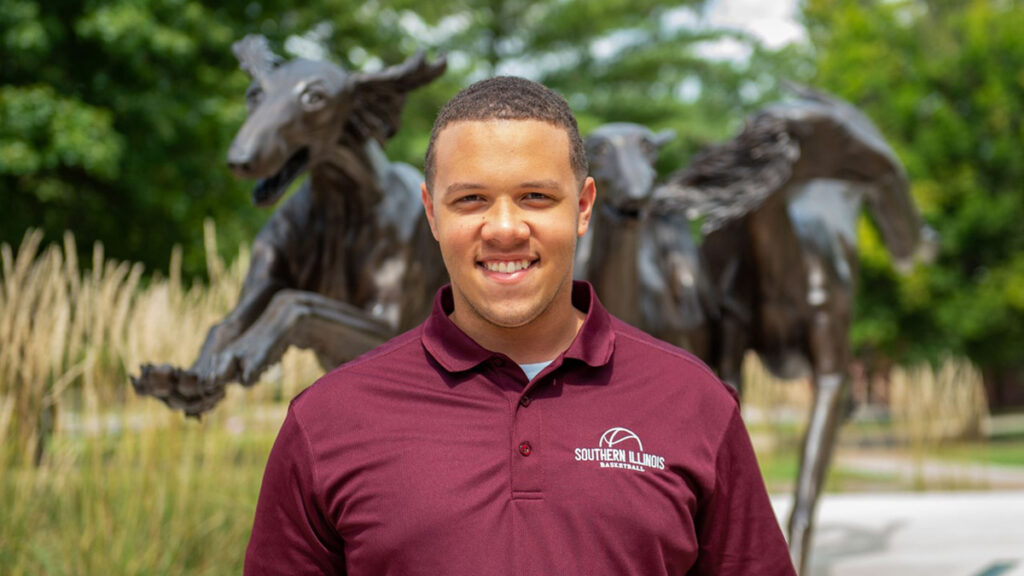 At 19, Dylan Chambers has already devoted more time and energy to serving the public than many people who are decades older have. The Southern Illinois University Carbondale sophomore can't imagine living any other way.
Chambers is involved in several areas of campus life, including working as a resident assistant, leading the Dawg Pound and serving in student government. His desire to assist people started in his hometown of Metropolis, where he is seeing how government works firsthand.
An early start
Chambers was elected student council president and class president at Massac County High School his senior year. He really enjoyed getting involved, so he also started attending school board meetings and then city council meetings. He was fascinated, watching democracy, government and cooperation in action.
"I got really interested in the work and fell in love with helping people and the aspect of public service," he said.
Some current aldermen were impressed with his interest, desire to serve and devotion, and they asked him to consider running for office. He was hooked and a campaign was launched.
"I've always been active in the community, but I really wanted to ramp it up and make a difference," he said. "I thought it was a wonderful opportunity to help people."
Last spring, Chambers was elected, becoming the youngest alderman in the history of the city of Metropolis, serving Ward 2. He's one of the youngest people ever elected to municipal office in Illinois.
Serving the college community
A sports administration major in the College of Health and Human Sciences, Chambers started his second year at SIU in August, and there too, he searches for opportunities to get involved and serve the university and its people.
He's an Undergraduate Student Government senator, and he's already set some goals he hopes to accomplish. For instance, he would like to see changes made in overnight parking options for students living on campus and hopes to help university officials find a way to add the restaurants in the Student Center to the campus student meal plans.
He is proud to note that he has a proven track record of accomplishing goals. In the past, his high school offered an incentive party to reward students for good behavior but a different reward had been instituted. As student council president, Chambers helped bring back the party and aided in starting a popular annual Frisbee tournament.
He's finding a multitude of ways to keep the momentum going at SIU.
He's a resident assistant in Felts Hall this year and thoroughly enjoys connecting with students, helping them and providing peer support.
"I think it's important for students to have someone to talk to, another ear to hear them and someone close by who cares," he said.
He's also president of the Dawg Pound, leading his fellow students in cheering on the Salukis. He's got plenty of experience in that arena too, as he was the student fan section leader his last two years in high school.
The pandemic has affected some of Chambers' plans, and goals but he's not letting it stop him.
"I'm always trying to find something for students to do to keep them active, get things accomplished and help people," he said.
Extensive community service record
Chambers has found other avenues to travel in making a difference as well. He's volunteered at food pantries and helped with food drives, clothing collections and coin collections to benefit charitable organizations. He helped serve holiday meals to 300-400 families as well.
He's also in contact with Chancellor Austin Lane and with the Paul Simon Public Policy Institute, looking for ways to get high school and college students involved in civic leadership and community service.
Dual career plans
Chambers' post-college goal is to become an athletic director, preferably at the college level and if possible, in the Southern Illinois region. He was a manager for the SIU volleyball team last year.
"I have a passion for sports as well as public service," he said.
He said he plans to always look for ways to serve others and make positive contributions to the community, whether through volunteerism or elected office. He admits that he wouldn't be opposed to a future that includes a bid for the White House, but he said he'll be happy no matter what as long as he's helping people.
"Some people think that young people aren't capable of accomplishing certain things, but age shouldn't really matter," Chambers said. "We can contribute, and we can make a difference."