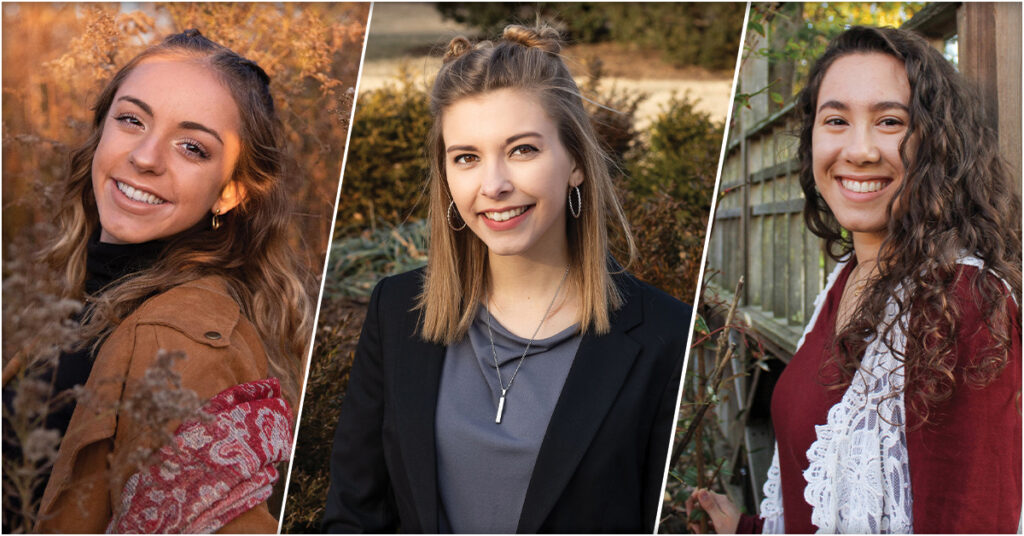 Southern Illinois University Carbondale students Caroline Chwalisz, Jewel Sanders and Darcy Tripod are the recipients of the SIU Women's Club 2021-2022 round of scholarships.
The organization presents two scholarships annually in honor of Dorothy Morris and Joyce Guyon, two former SIU "first ladies" who strongly supported women in academia. Other one-time scholarships are often awarded as well. This year, an Empowerment Award was presented. Each of these three scholarships is in the amount of $2,000.
Chawlisz wins Dorothy Morris scholarship
Chwalisz, of Elgin, is the recipient of the Dorothy Morris Traditional Student Scholarship. She is double majoring in management and fashion design and merchandising, specializing in entrepreneurship and design. She aspires to start her own clothing brand when she graduates.
Sanders wins Joyce Guyon scholarship
Sanders, of Genoa, won the Joyce Guyon Non-Traditional Student Scholarship. She is in the nursing program, while juggling responsibilities with the Illinois Army National Guard. Her dream is to be a labor and delivery nurse.
Tripod wins Empowerment Award
Tripod, of Minier, is the recipient of the Empowerment Award. She is majoring in forestry and plans to complete her bachelor's degree in three years. She would like to pursue a career with the Tennessee branch of the USDA Natural ResourcesConservation Service.
Learn more
The scholarships are funded exclusively through the generous donations of the SIU Women's Club membership.
Scholarship recipients are selected based on academic achievement, career goals and aspirations, leadership experience, references, and financial need. Applications for the 2022-2023 round of scholarships will be available beginning in August and open through Jan. 31, 2023.
Any woman who has a personal, professional, or family affiliation with SIU Carbondale is welcome to join the SIU Women's Club, a social organization founded in 1937. The group gives members opportunities to connect with one another, build friendships, participate in a variety of activities, and serve the university.
For more information, contact siuwomensclub@siu.edu.