Tim Marlo offers his students unique, real-world learning experiences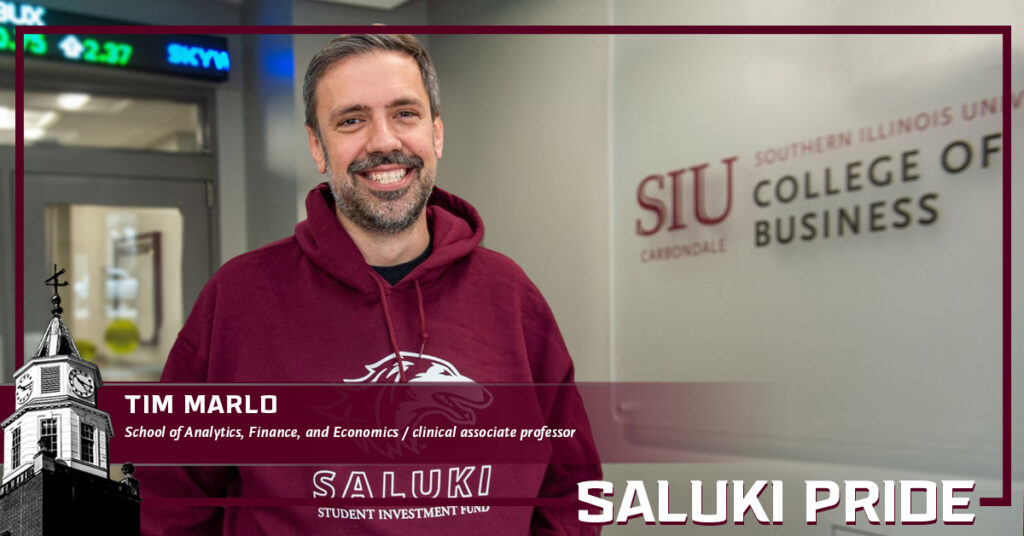 Tim Marlo, clinical associate professor in the School of Analytics, Finance and Economics, is not only devoted to helping SIU students in the classroom, preparing them for their future careers. As the faculty adviser for the Saluki Student Investment Fund (SSIF) and the Chartered Financial Analyst (CFA) Research Challenge team, he spends countless hours mentoring them and providing them with hands-on learning experiences that give them an edge in the competitive job market.
Under Marlo's supervision, the SSIF manages a real portfolio of more than $3.5 million for the SIU Foundation, "an experience not found at most other universities," notes Kevin Sylwester, interim director of the School of Analytics, Finance and Economics.
The students have achieved an extraordinary level of success as well, outperforming 92% of the professionally managed funds. In addition, the CFA team took first place last spring at the St. Louis Regional, the highest finish ever for an SIU team and a testament to the hard work by Marlo and the students. Giving his students real-world business experience and success is what it's all about for Marlo.
Get to know TIM MARLO
Name: Tim Marlo
Department/title: School of Analytics, Finance, and Economics in the College of Business and Analytics, clinical associate professor
Years at SIU Carbondale: 17, including 10 at the SIU Alumni Association before teaching.
Give us the elevator pitch for your job.
My job is three-fold. First, I am driven by the desire to improve the financial literacy of our students and help prepare them for the competitive world of business. Next, I study the world of finance, in particular investments, in an effort to shed a light on and gain understanding of the field. Finally, I mentor and advise students in the Saluki Student Investment Fund to help manage over $3.5 million worth of stocks for the SIU Foundation.
What is your favorite part of your job?
Watching curiosity pay off. Whether it be my personal questioning of a financial topic that may result in publication or students in the classroom who aren't afraid to raise their hands, being inquisitive bears fruit.
Why did you choose SIU?
Having received four degrees from Southern, I am so fortunate to work for my alma mater. From having fun-loving but hard-working students in the classroom to being able to have the pleasure to work in one of the best finance programs in the world, it's a no-brainer. Additionally, in 2016, when I was given the opportunity to be faculty adviser for the Saluki Student Investment Fund, I recognized the legacy of this group that currently manages real money for the SIU Foundation. I have continued to hold the group to the highest standard, as it is a premier feather in the university's cap, setting SIU apart from so many other business schools.
If you could presently live in a different era, such as the 1950s or 1970s or even a different time period of history, when would it be and why?
The 1980s: the music was bad (as in good), movies were amazing, Nintendo's gaming was legendary and there were no smartphones, so people actually interacted with one another! Also, it was a lot less anxiety-producing when you could only get a stock quote from the newspaper once a day rather than seeing prices change in real-time.
My favorite meal is:
Quatro's Challenge pizza with black olives added. The crust is perfection, the taste is amazing and I have nothing but great memories associated with the place from the time as a student to the present. Even the leftovers taste better than any other pizza to me.
Know a colleague to feature in Saluki Pride? Simply fill out this form.