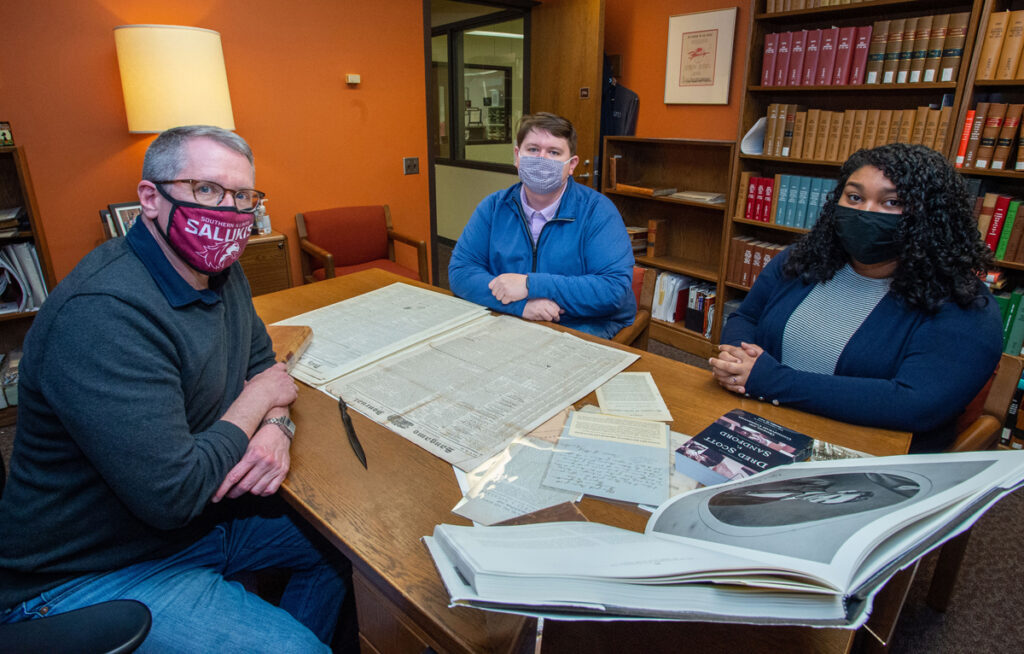 Raised in Southern Illinois, Joseph Tondini, a second-year SIU Carbondale School of Law student from Marion, said he heard family stories while growing up about discrimination that his grandfather and great-uncles faced upon coming over from Italy.
With the interest into the hardships that different groups who immigrated to the region faced over the last 200 years, Tondini and several law students are taking a deeper look into racial disparities throughout the region with the goal of using their research to provide additional education and insight for others.
A recent "Healing Illinois" grant from the Southern Illinois Community Foundation is allowing students from the law school and across campus a chance to "examine the historical connections between slavery, race, and the law in Southern Illinois." The grant is in partnership with the Illinois Department of Human Services and the Chicago Community Trust.
"I thought this would be an amazing opportunity to learn more about my community and the issues that it has struggled with over the last century," Tondini said.
Project will include a website
Under the grant, students will produce web content and convey what they learn. There are also plans for students to have a Zoom discussion. The goal is for the project to be complete by June, with the web content available by August, according to law school faculty Nolan Wright and Sheila Simon, who are overseeing the project.
"Our history reminds us of where we've been and helps inform what steps we need to take to move forward," SIU School of Law Dean Camille M. Davidson said.
Wright, an associate professor and reference librarian, anticipates the project will involve video, historic images in the public domain and the students' own narration "about what they have learned, their experiencing of it and how it has changed the way they are moving forward."
Wright and Simon said a goal is for students to teach others about slavery, race and law in the region. They noted lynching reports in Cairo and Murphysboro, the Lincoln-Douglas debate in Jonesboro, the use of Black and immigrant strikebreakers and labor unrest, a legend that Dred Scott was housed in the Thebes courthouse jail in Alexander County, the history of sundown towns, and the 1837 killing of abolitionist newspaper editor Elijah P. Lovejoy in Alton.
Tondini said he became attracted to the project to learn more about racial relations in the community he grew up in. He hopes to show people that racial inequality impacted the region "just as badly and just as long as the rest of the country."
'It's our history'
Simon, an assistant law professor, hopes the research allows people to learn more about the region's history.
"It's easy to live in Illinois and think most of the awful parts of racial hatred in the United States as being someone else's history, not our history," she said. "It is our history, and we should know more about it to build a better future."
Tondini became attracted to the project to learn more about racial relations in the community he grew up in. It's a history he said many in Southern Illinois might not know about.
Wright said it is also important for students to consider past events in confronting today's issues.
"For the students, it's the role that the law played or failed to play and potentially imagining themselves as lawyers at that time and thinking about events going on now and the role that they might play when they encounter situations that call for people to stand up for justice or fail to do so."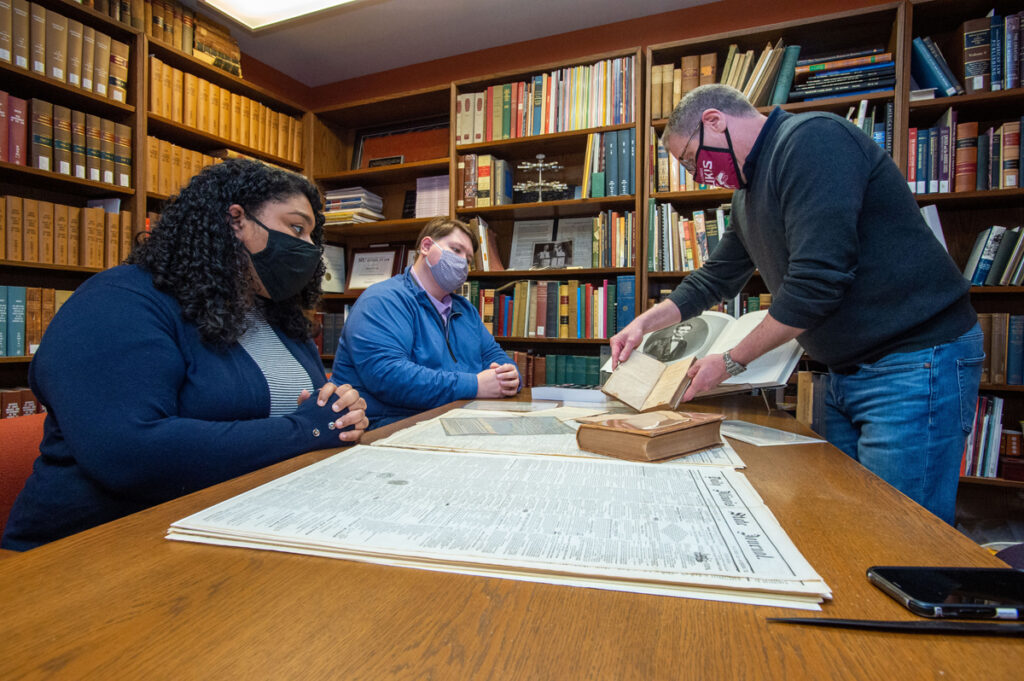 Focusing on rural law enforcement
Tondini and Coral Serrano, who is also a second-year law student, are focusing on the history of law enforcement interaction with the Colp/No. 9 area of Williamson County. Colp is a village between Herrin and Carterville; the unincorporated area of No. 9 is nestled adjacent to Colp.
Serrano became interested in the topic from Tondini, her fiancé. Both earned their respective bachelor's degrees in 2018 from Murray State University and will graduate from the law school in May 2022. Serrano said Tondini shared pieces of the region's local history with her during their car rides together. Noting that her mother is Black and her father a Mexican immigrant, Serrano grew up in a small, rural Kentucky town and "saw and experienced first-hand how some 'historical scars' can impact a local community."
"When I learned about the Colp community generally, it reminded me of the Coe Ridge Colony in Cumberland County, Kentucky, which was a Black settlement that my family descends from," she said. "So, diving into the history of Colp/No. 9 felt like a no-brainer."
Hopes for their research
Serrano said she wants to learn about the foundation of racial disparity seen today, particularly when it comes to race relations.
"I think a lot of animosity comes from a lack of knowledge about the full extent of the legal barriers that kept minorities from prospering or even surviving," she said. "I think far too often people like to believe that anyone can just 'pick ourselves up from our bootstraps' because slavery in the U.S. ended 'a long-time ago' when in reality, systemic oppression was, and still is, a covert process that functions through law and key legal players that prevent people from every getting their 'boots' in the first place."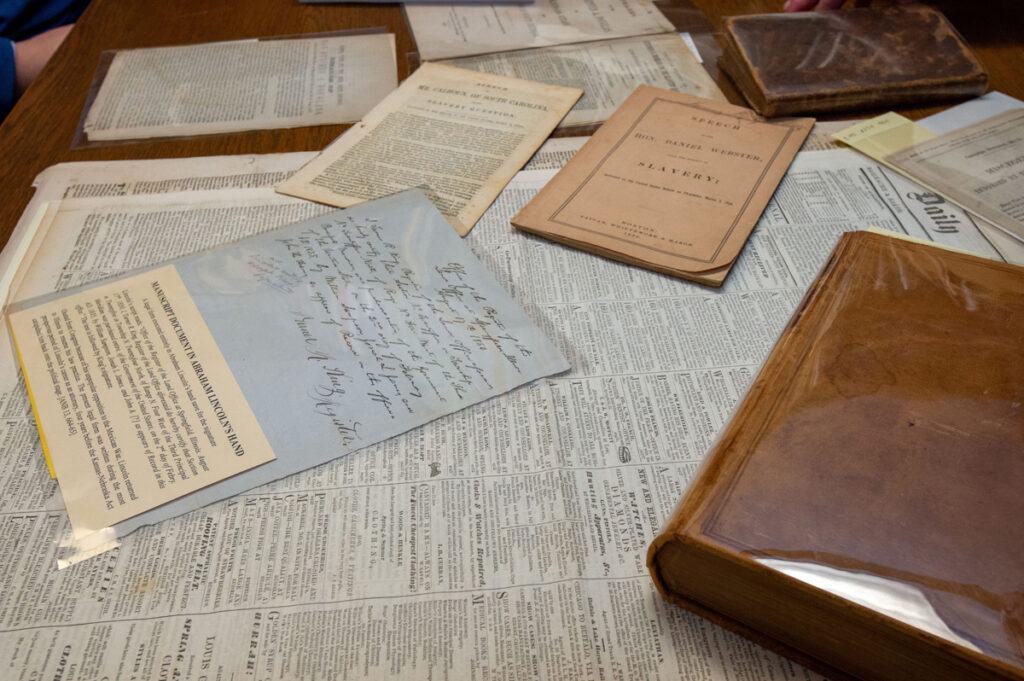 Interdisciplinary effort
Simon contacted Antonio Martinez, an associate professor in the School of Art and Design, on recommending a few photography students to generate the project's visual content. Martinez has reached out to other faculty and the Movie Camera Movement registered student organization for interest. Martinez said the visual possibilities with the project are "endless."
"I believe opportunities such as this are great ways to demonstrate the power of visual communication through the talents and creative spirit of artists, designers and media makers on campus," he said.
The special collections unit in the law school's library has numerous historic books and newspapers relating to Black rights, slavery, the Lincoln-Douglas debates and westward expansion, said Douglas Lind, professor and law library director. That includes "The Slavery and Commerce of the Human Species" by Thomas Clarkson, an English abolitionist, one of the earliest printed in Kentucky in 1816.
Opportunity to help
Wright and Simon would like to see the project continue to grow with community support. Anyone with additional information they believe might be pertinent to historical social justice issues in Southern Illinois can contact Wright at nwright@siu.edu or Simon at ssimon@siu.edu.
Serrano said her hope is that people who normally wouldn't be interested in the subject will "open their hearts to learning about the local community."
"The law school is full of wonderful professors and staff who do their best to give back to the community, and none of this would be possible without them," she said.