Leading the Pack is a regular feature that highlights faculty and staff members who go above and beyond to fulfill SIU's Mission. If you would like to nominate someone to be featured, contact Pete Rosenbery at prosen@siu.edu
What happens when a practical engineer and a passionate biologist connect and find themselves raising a family on a southern Indiana farm surrounded by the Hoosier National Forest?
You have an environment that's ripe for the birth of someone who loves the natural world and dedicates her life to preserving its health. And thus begins the story of Geory Kurtzhals, Southern Illinois University Carbondale's sustainability director.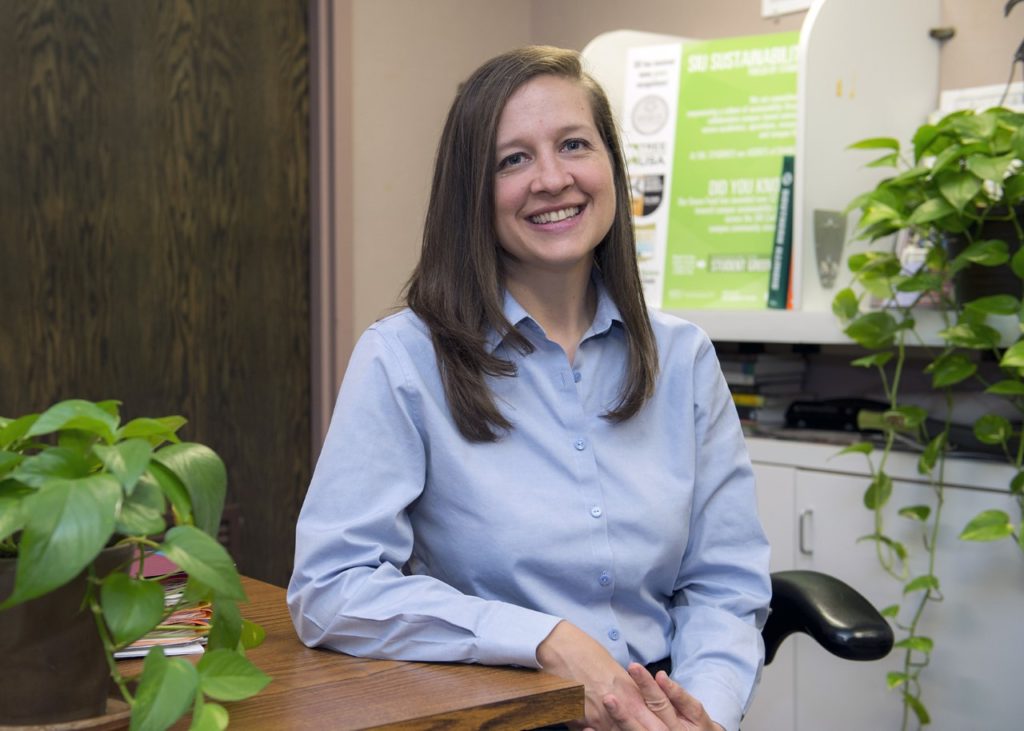 Lifelong passion for outdoors
"My passion for sustainability developed from an early age as I learned to use, appreciate and conserve what the world offers," she said. "I knew every tree and plant on our farm by name because of my mom and my dad, who taught me to appreciate our natural resources."
The origin of her unique first name also traces back to her family.
"My parents were ready for a son: George Henry," she explains. "My dad got creative for the female version: George + Henry."
Started down another path
Despite having a lifelong passion for the great outdoors and preserving it for future generations, Kurtzhals hasn't always been employed in the field. After earning her bachelor's degree in journalism with concentration in environmental studies from Indiana University in Bloomington, Indiana, she was employed as an outdoor educator and worked in the corporate world, including taking on several roles with Starbucks Coffee Company.
But, Kurtzhals ultimately realized it was time to follow her dreams. That meant taking a mid-career break and doing the things that mattered most to her.
Two years in Central America
Step one on the new pathway she was forging was becoming a Peace Corps Volunteer.
"I grew up reading National Geographic and I always had a desire to travel and see and experience different cultures, to enjoy life in other parts of the world," she said.
She recalls watching the national news one evening as a young child and at the end a "feel-good" story featured a young Peace Corps Volunteer, telling about the life-changing experience.
"I remember saying, 'I am going to do that someday,'" Kurtzhals said.
And so she did. She traveled thousands of miles to spend two years in Nicaragua as an environmental education promotor, assisting six different teachers in three different schools, promoting more participatory science education. Essentially, she worked alongside teachers in their classrooms, helping them learn to educate their students using hands-on sustainability and science curriculum. They worked on reforestation projects, created tree nurseries and school gardens, made composting beds and so forth.
In addition, Kurtzhals helped local communities with their needs, such as improving water infrastructure to bring water into more individual homes rather than a small number of centralized locations within the community.
All the while, she lived with a local family in the rural area. There was no internet, no indoor plumbing and electrical service was sporadic. The home had dirt floors, but she's quick to point out that what may have lacking in material possessions was more than compensated for in ways much more meaningful.
"I was a member of that community for two years and they welcomed me, I was part of their local group," she said. "I developed special friendships, they became my second family."
The experience that had a tremendous impact on her in other ways.
"I doubled down thinking about sustainability in a more holistic way," she said.
Although the environment is obviously very important in and of itself, she became more acutely aware of the social and economic components of sustainability.
Back to the classroom
Upon returning to the United States, Kurtzhals also returned to school, completing her MBA in sustainability and social change at Clark University in Worcester, Massachusetts.
By now she'd spent quite a few years away from her Midwestern roots, living in Nevada, California, South Carolina, Washington and Nicaragua. She wanted to come back for two reasons: to be closer to her family, and because she saw the opportunity to bring the skills and concepts she was seeing take footholds elsewhere back to the heartland, to cultivate a greater awareness, knowledge and culture of sustainability.
Becoming a Saluki
Kurtzhals was hired as SIU's sustainability coordinator in August 2015 and dove in fast to make things happen.
SIU has long been a leader in sustainability even becoming the first Illinois school to sign the Talloiries Declaration, an international sustainability pact, in 1999. But Kurtzhals has sought to elevate the presence and awareness of sustainability among students, faculty, staff and community members.
"We've worked to redefine sustainability at SIU to embrace more than just the traditional environmental component," Kurtzhals said. "We're helping people to understand that the environmental, social and economic pieces are inextricably linked."
For example, she noted everyone needs food in order to survive. But we make numerous choices regarding our food, beginning with deciding where we will acquire it, whether that's buying it from the grocery store, the farmer's market or growing it in a backyard garden.
"Our food choices impact our personal health, but also the health of the ecosystems where the food is grown – and in turn the health of the people who plant, cultivate and harvest the food we eat," Kurtzhals said. "When we choose where we purchase food, we are not only choosing to financially support a local or distant economy, by paying for their products we are also supporting their business practices. These practices include all of the decisions made in the business, from employee working conditions and wages to the chemicals used and carbon footprint left by the company."
Kurtzhals said oftentimes business practices aren't readily apparent, so as consumers, it's important to be informed about the companies with which we do business, whether involving the purchase of food or other products or services.
"The more informed we are about sustainability, the more informed our purchasing decisions can be," she said. "As active members in our local and global economies, we have the power to purchase items based on our values."
Her office uses the United Nations Sustainable Development Goals to help people understand all of those relationships, relating the various components to one another in easily understood ways.
New programming added
She also created the new Sustainability Fellows program, an unpaid student internship program that has helped advance sustainability initiatives across campus while giving students invaluable experience to add to their resumes. Students from diverse majors have participated in the Fellows internships – as well as other student-focused sustainability opportunities with the Sustainability Office – obtaining experience and developing skillsets that that resulted in interviews, externships and jobs.
Interacting with students and knowing she's helping them prepare for their future and "instilling in them knowledge and skills regarding sustainability that will have an impact on them and others they come in contact with" is what Kurtzhals likes best about her work.
She's also appreciative of the support from within the university and the community.
"At this university, there is an opportunity and a willingness, no matter who you are, to connect and collaborate," she said. "We have faculty, staff, students and community members who work together to move sustainability forward. Salukis are willing to share and volunteer their talents, adding to their regular workloads in support of a more sustainable community without additional compensation because they care. That is remarkable."
Many sustainability honors
SIU is an eight-time honoree as a Princeton Review "Green College" and a two-time recipient of the silver "Stars" ranking from the Association for the Advancement of Sustainability in Higher Education. The university has earned the Tree Campus USA Award from the Arbor Day Foundation multiple years and was named a Bicycle-friendly University by the League of American Bicyclists, with a bronze designation. A student-led initiative created the Green Fund which has allocated over $2.2 million for projects to create a more sustainable campus, and Kurtzhals oversees the Green Fund Committee's work.
She's also established the Saluki Green Action Team to increase awareness and Sustainability Working Groups to brainstorm plans to address various aspects of campus sustainability.
"We're proud that we've elevated awareness of sustainability at all levels of the institution and now have a more robust program where we can focus more on strategic initiatives such as the sustainability working groups," she said.
Looking forward
Kurtzhals has some big goals in mind.
"I would like to see SIU be known as a university where students can see sustainability-minded solutions as part of a living laboratory, where they and anyone else can come to campus and observe solutions and engage in activities that reflect sustainable practices," she said.
Sustainability is woven throughout the core of Kurtzhals' life, and it's not surprising that when she's not at work, she enjoys spending a lot of time outdoors. Her love of travel remains strong, and she enjoys hanging out with family and friends, as well as her favorite rescue retired racing greyhound, Jerry.