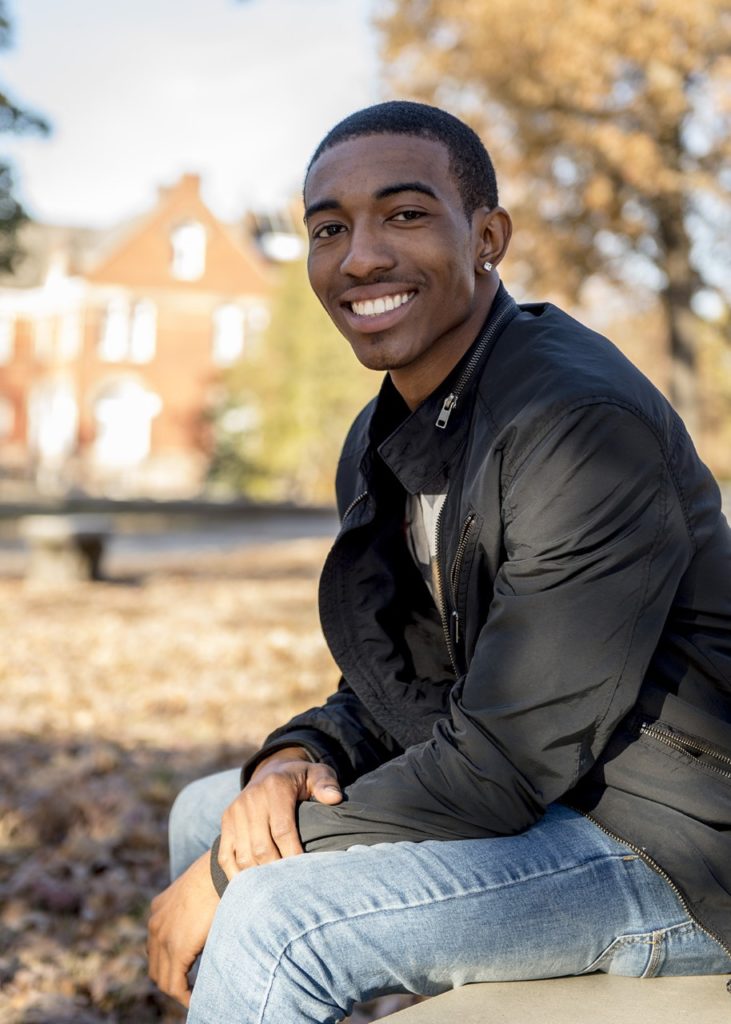 Toussaint Mitchell has big dreams. He's almost hesitant to voice it, but he's got a vision of a future where he finds himself sitting in the Oval Office.
That's years off in the future for the Aurora, Illinois, native, but when Mitchell considers how far he's come in the last few years, he knows anything is possible. He'll take the first step toward making his dreams come true when he walks across the stage at Southern Illinois University Carbondale's commencement at 2 p.m. on Dec. 14 at the Banterra Center. Mitchell will receive his bachelor's degree in cinema and photography with a minor in theater.
A bit of a slow start
Mitchell, the son of Annah and Frank Mitchell, has always had big dreams and ambitions. But he admits he wasn't always necessarily good at figuring out how to focus his energies and channel his life in the direction he wanted to go.
He actually entered SIU through the Exploratory Student – Provisional Program, with grades that weren't as stellar as he would have liked them to be.
But, his grandmother, Leslye Yancey, great-aunt Karen Pryor, and his aunt Jamielah Yancey, are all alumnae of SIU and they gave him confidence the university could jumpstart his future. Mitchell was impressed to see Jamielah Yancey parlay her SIU degree into admission into the Howard University School of Law. His goal is to attend graduate school at Howard as well and after visiting campus, he was convinced. He packed up and moved 350 miles south.
"SIU seemed like the right place to go. It was far enough away from home but not too far. I had come the summer before with my twin sister for the Exploring Careers in Accounting and Business Program with Mr. (Michael) Haywood and I really liked the campus," Mitchell said.
Hit the ground running
Mitchell wasted no time getting involved when he arrived in Carbondale. He's been active in volunteerism, both on- and off-campus and has taken on numerous leadership roles. He has helped out at the Boys and Girls Club and with other non-profit organizations.
While still attending Metea Valley High School, Mitchell began shooting and posting YouTube videos, which he continued to do for a little while at SIU before switching things up and transitioning to filming student music videos and taking still photographs for students and student organizations.
"That's how I learned to use a camera and when I fell in love with cinematography, Mitchell said,
While at SIU Mitchell has also been very active in Alpha Phi Alpha Fraternity Inc., serving as both president and secretary of the organization. He's been involved with SIU's chapter of the National Association of Black Journalists, serving as vice president of broadcasting last year. He's been on the Black Affairs Council as well.
Mitchell's involvement didn't go unnoticed. He was chosen by his peers as the 2018 Homecoming King.
In addition, Boys II Men, a mentoring group based in his hometown, selected Mitchell as a 2019 Phenomenal Man of the Year winner in February. The award winners are honored for academic excellence and/or community service.
Politics enters the picture
As Mitchell got more and more involved in campus and community life, he began to think that perhaps he could make a positive difference in the world, or at least his corner of it.
He served three years in Undergraduate Student Government, initially as a senator-at-large, then as a senator/Black Affairs Council representative. Finally, Mitchell was elected USG president for 2018-2019.
During his presidency, he testified during a special hearing of the Illinois Board of Higher Education, held at SIU Carbondale in August 2018 on the importance of state funding for the university and the impact of funding cuts. He told of how he and other students benefitted from programs such as the Exploratory Provisional Advisement and First Scholars, and how instrumental these programs, faculty and staff are to student success.
Working with the city
Mitchell is now the university's student representative on the Carbondale Human Relations Commission. City and SIU leaders are collaborating on a variety of initiatives, including creating a mentor/activity program for local children led by SIU sociology and psychology students. While everything is very much in the formative stages, Mitchell is excited about the potential and happy to be involved in a promising concept.
"Toussaint has been a tremendous student leader on our campus," Tena Bennett, SIU Student Center director, said. "From his time with Undergraduate Student Government to his fraternity activities, he has always looked to make SIU better for his fellow students and make the community better for everyone."
New goals
Mitchell's experiences have convinced him that it's important to communicate effectively and be informed and involved. He's discovered that knowledge is empowering and his goal is applying to Howard University for graduate school in fall 2020 with plans to most likely major in political science or public administration.
"I really want to have a big influence on educational policy," he said.
The university has proven to be an excellent training ground in a number of ways, Mitchell said.
"I came here with bad grades and not much direction. I truly am a product of SIU. Not just the academics but the experiences," he said. "This school really does have so much to offer. It prepares you for the real world, where you have to be responsible for your actions."
Mitchell said the last four years have proven life-changing. He's worked hard on academics, improving his grades, while also taking advantage of numerous opportunities to become involved.
"SIU has taught me to take initiative," he said. "There are a plethora of organizations and opportunities on this campus. There are so many people available to you as resources. But, everything will not be handed to you. I've surrounded myself with wonderful people and gotten involved and it has really made all the difference. SIU is the perfect place to come to change and be changed, to grow, explore and learn."
As an added bonus, Mitchell said his resume has filled out quite nicely with the many activities he's participated in as a Saluki.
Political aspirations
Mitchell's experiences on campus and in the community also enabled him to obtain a summer 2019 internship in Carbondale office of U.S. Sen. Tammy Duckworth, D-Illinois. He really enjoyed that work and hopes to secure an internship in Washington, D.C., prior to graduate school to obtain additional experience.
Whether or not he'll utilize his education and experience for a career on the front lines of the political landscape or behind the scenes, he isn't sure as yet, but Mitchell definitely enjoys interacting with people.
"I don't know for sure what I'm going to do, but I can see myself on the campaign trail, maybe even running for the presidency. I see that as an attainable goal someday," Mitchell said with a wide smile.