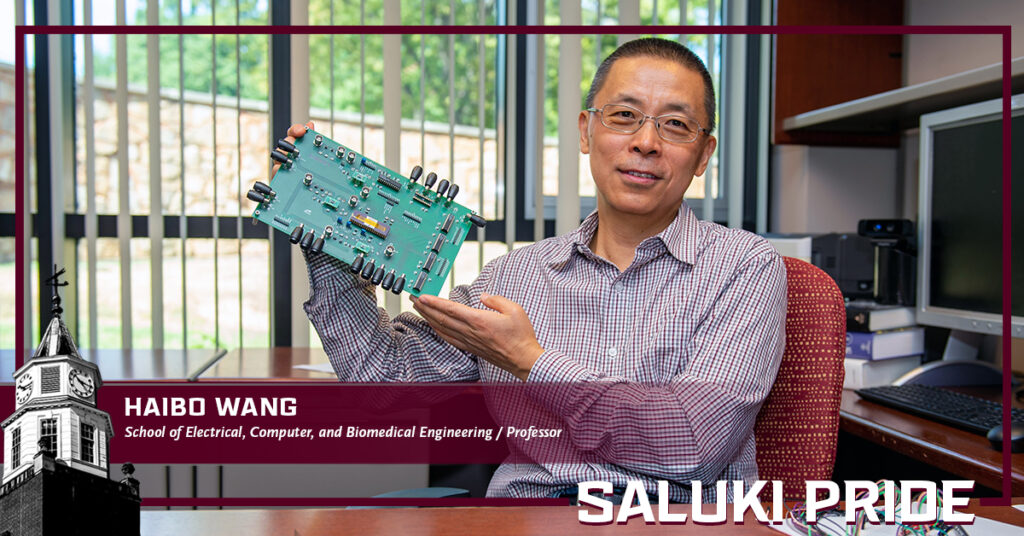 From a homemade crystal radio receiver built as a child to a professor at a top university, Haibo Wang has always been about capturing electrons and making them behave.
The coordinator of the School of Electrical, Computer and Biomedical Engineering's biomedical engineering program, Wang conducts research in integrated circuits and sensor data, as well as teaching many courses. He also enjoys SIU's beautiful campus and harbors a long-standing desire to see more of the great outdoors in the country.
Get to know HAIBO WANG
Name: Haibo Wang
Department/title: School of Electrical, Computer and Biomedical Engineering/Professor
Years at SIU Carbondale: 20
Give us the elevator pitch for your job
I teach courses in electrical, computer and biomedical engineering. I also conduct research in these areas, especially in integrated circuits, sensor data acquisition and processing.
What is the favorite part of your job?
My favorite part is working and interacting with students. They are energetic and curious. It is very rewarding to see them gain new skills, publish their first papers and land their dream jobs. I feel my work has made a difference.
Why did you choose SIU?
I love the supportive and friendly environment and the beautiful campus.
I'm happiest when I am …
I am happiest when I am walking in the woods or by the lakes in the early mornings. I enjoy the peaceful surroundings and feel content. The misty air is refreshing, invigorating me for the day ahead.
At the top of my "bucket list' is to …
Visiting the Great Smoky Mountains. I like to visit national parks and have been to quite a few. The Great Smoky Mountains National Park is one of the most-visited parks and is not too far away from Carbondale. But I have not been there yet. That's why it is at the top of my bucket list.
My favorite activity away from work is …
Jogging around Campus Lake. I get fresh air and enjoy the beautiful campus.
My favorite toy or item growing up was ….
A crystal radio receiver that I built. It could not select radio stations. So, I enjoyed listening to many stations at the same time.
Know a colleague to feature in Saluki Pride? Simply fill out this form.