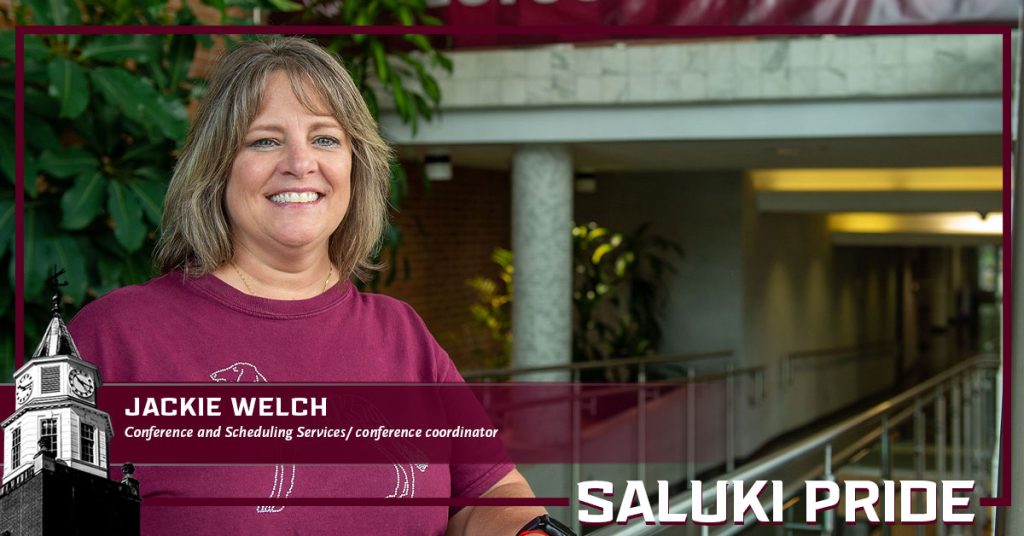 While much of the work Jackie Welch does as conference coordinator for Conference and Scheduling Services is behind the scenes, the scope of her efforts reaches well beyond the campus, and she handles her duties so effectively that events large and small run smoothly, according to her co-workers and clients.
She's worked at SIU since 1995, assisting university and off-campus groups by providing conference services and continuing education opportunities while also managing associations. Her clients are as diverse as Saluki baseball, art camps, School of Education and many others, according to Sarah VanVooren, associate director of Conference and Scheduling Services.
"Jackie is dedicated, hard-working, knowledgeable, organized, and more than anything, has a great attitude and is a wonderful colleague," VanVooren said. "She has been the person who has created continuity in the conference services and continuing education world through numerous leadership and structural changes. Many of the Conference and Scheduling Services current programs and customers are successful because of the hard work of Jackie Welch."
Get to know: JACKIE WELCH
Name: Jackie Welch
Department and job title: Conference and Scheduling Services, conference coordinator
Years at SIU Carbondale: 27
Give us the elevator pitch for your job.
I coordinate a variety of conferences, workshops and summer camps as well as manage two associations: Learning in Retirement and the Illinois Entrepreneurial Small Business Growth Association (IESBGA).
What is the favorite part of your job?
I am very blessed to be surrounded by great clients, both on and off campus, as well as an awesome work family. I really enjoy working with people, and in my tenure at SIU, I have had the pleasure of working with some outstanding people.

Why did you choose SIU?
Before my husband and I relocated to Southern Illinois in 1994, I worked at Eastern Illinois University, so I thought, why not? One of my first interviews on campus was with the Division of Continuing Education. I was offered the position as an office systems assistant, and I have had the privilege to spend most of my tenure in the same department. It has changed names through the years, but the work has remained the same.
I am happiest when I am…
With my husband, Heath, and my two children, Bailie, 25, and Jake, 22. I also enjoy being with my friends, whom I consider to be my family.
My favorite activity away from work is…
I and my entire family are members of the Marion Elks, where my husband serves as trustee and I serve on the committee for the Marion Elks Community Projects, which is a recently developed nonprofit organization. I also serve as chairperson for Kozy Kids, which is part of the Community Projects LLC.
Being part of the Elks family is very rewarding as we do so much community outreach. In the past year, we have helped families affected by the tornado in Mayfield, Kentucky, and a family who lost everything in a home fire. Through Kozy Kids, we provide coats, gloves, hats, socks and whatever else children in the Marion Unit 2 School District might need to stay warm and comfortable. We have many fundraisers throughout the year; the biggest is our Chili Cookoff every November.
Know a colleague to feature in Saluki Pride? Simply fill out this form.