CARBONDALE, Ill. — Beautiful weather, big crowds, a winning football game and a variety of special events all came together to make Homecoming 2019 at Southern Illinois University Carbondale a big success Oct. 13-20.
"As SIU celebrated its 150th anniversary, we enjoyed a Homecoming celebration that was about as perfect as it could be," Carly Holtkamp, Student Center Programs assistant director said. "Salukis past and present came to campus and the community from across the country to enjoy the many activities. It was wonderful to see everyone having such a great time."
King and Queen chosen
Students cast nearly 1,500 online ballots throughout the week to choose their 2019 Homecoming queen and king and those honors went to Tori Rhone of St. Louis and La 'Royale Hunley of Chicago. The coronation was held during halftime of the Salukis' Homecoming football game, which saw SIU besting the Youngstown State Penguins 35 to 10 before a crowd of nearly 7,700 people.
Rhone is a senior biological sciences/pre-medicine major with a minor in chemistry. Hunley is a junior business management major with an entrepreneurship specialization and a minor in marketing, hospitality and tourism event management.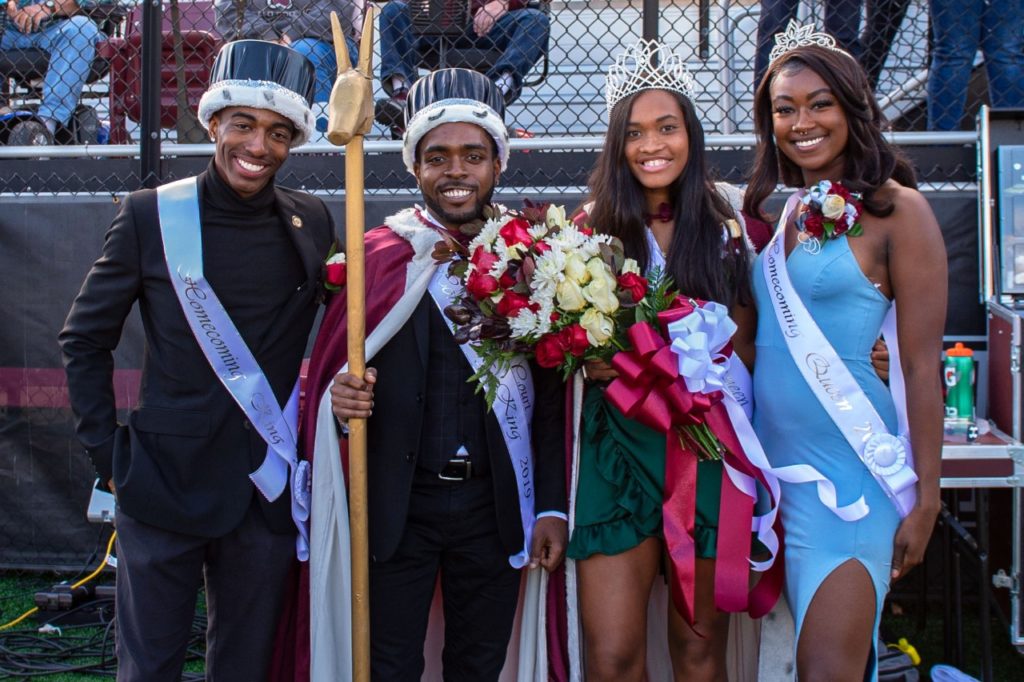 The 2019 court members included:
Parade winners announced
The Homecoming parade featured 56 units plus marching bands. The parade's 800 or so participants were led by Grand Marshal John S. Jackson, visiting professor at the Paul Simon Public Policy Institute, political science professor emeritus and editor of "Southern Illinois University at 150 Years: Growth, Accomplishments and Challenges."
Alpha Gamma Rho, Alpha Gamma Delta and Sigma Alpha won top honors for the best large float while Delta Phi Epsilon, Farmhouse and Sigma Pi won the best small parade float honors.
Winners of the marching band competition were:
Class A – 1. Harrisburg High School; 2. Carbondale Community High School.
Class B – 1. Sparta High School.
Class C – 1. Carbondale Middle School.
World Champion hammer thrower DeAnna Price and the 2019 Saluki Hall of Fame inductees also participated along with the Southern Illinois High School Spirit Crew, comprised of outstanding area high school students.
The 58 participants from 24 high schools across the region were nominated by their high school guidance counselors for their academic achievements, leadership and involvement and walked alongside the SIU Student Alumni Council in the parade. The teen honorees also enjoyed a catered lunch, a scavenger hunt and attended the football game.
Judges for the parade included: Phil Anton, associate professor and program director for Exercise Science; Lee Fronaberger, Carbondale City Council member; and Danielle Kaufman, SIU women's golf coach.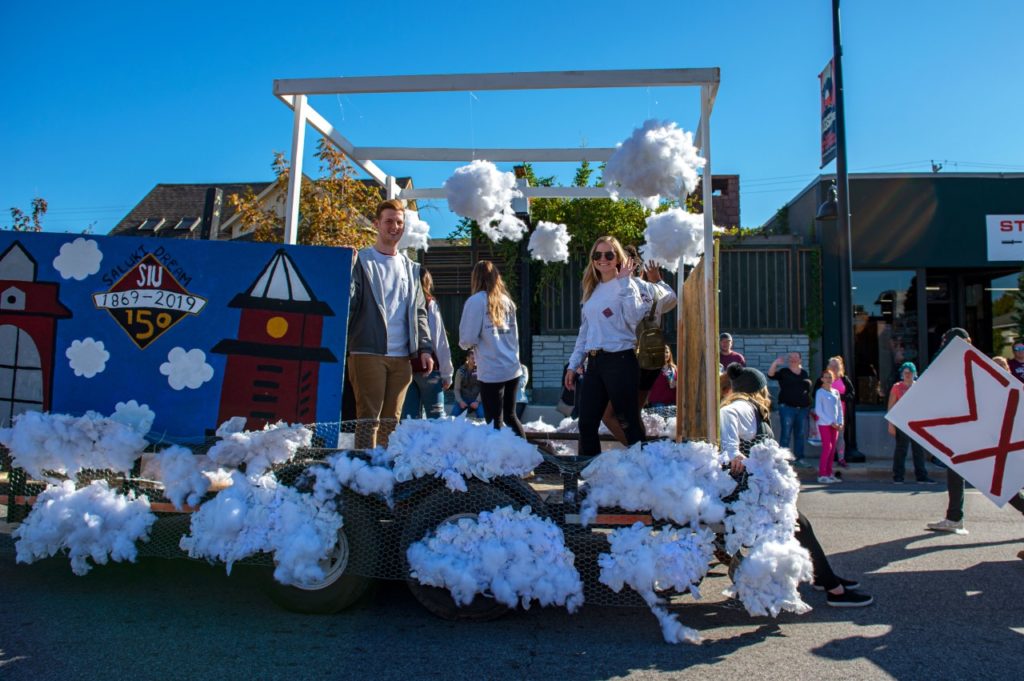 Additional Homecoming week winners named
Numerous other competitions were held throughout Homecoming week. Winners of those contests were:
SIU Homecoming Door Decorating Contest – Plant and Service Operations – Grounds Division won first place and received a trophy and catered lunch, besting 42 offices that entered the contest. Many other office doors throughout campus were decked out in Homecoming décor as well.
Banner Competition – Five student organization teams participated and the team comprised of Alpha Gamma Rho, Alpha Gamma Delta and Sigma Alpha banner took the top prize. The banners were displayed on the International Lounge balcony.
Homecoming Spirit Competition Volleyball Tournament – The Alpha Gamma Delta, Alpha Gamma Rho and Sigma Alpha team took first place in this Recreational Sports and Services event, which had to relocate from Campus Lake to the Student Recreation Center due to rain. The Filipino Martial Arts, SIDC, Climbing Club and SIU gymnastics club team won the costume contest.
Spirit Competition – 15 organizations grouped into five teams to compete in the 2019 spirit competition and the winner was the Alpha Gamma Rho, Alpha Gamma Delta and Sigma Alpha team. They won a perpetual trophy and $250 for each chapter.
More Homecoming highlights
The theme for this year's celebration was "One Team, Saluki Dream: Celebrating 150 Years Strong."
Other homecoming activities included:
A kick-off event featuring a Homecoming proclamation by Carbondale Mayor Mike Henry, speech by SPC Executive Director Leroy Jones and appearances by Chancellor John M. Dunn and Saluki Football Coach Nick Hill. Hundreds of students, faculty and staff attended the event and enjoyed free pizza afterward.
A big 150 Block Party attended by about 1,000 students, faculty, staff and alumni who enjoyed inflatables, games, novelties and all sorts of refreshments.
Movie Night at Morris, an event giving participants the opportunity to view old films that were recently digitized. The movies shown were: "1949 Diamond Jubilee Homecoming," (showing the Maroons, as the Salukis were then known, and other highlights from 75 years ago), "SIU Story" (a 1954 promotional film), "The Year of the Saluki" (A 1950 film showcasing the university and its transition from a teacher's college to a university), and "Moratorium, October 15, 1969" (focusing on the participation by SIU students in a national moratorium to end the Vietnam War.) Find these films online at youtube.com/user/MorrisLibrarySIUC/featured.
A traveling photo booth, which appeared at various events.
A pep rally, a comedy show, a taste test to help Agricultural Sciences create an SIU-themed bratwurst, a blood drive with 124 units collected and the Alpha Sigma Phi, Sigma Kappa and Phi Sigma Kappa team logging the most student donors, the annual Alpha Phi Alpha Step Show and the Homecoming Book Sale.
Visitors were also welcome to book a stay in University Hall on campus for the first time and many enjoyed doing so. Commemorative IDs were available for purchase for the first time as well, securing purchasers a fun keepsake and discounts from local merchants.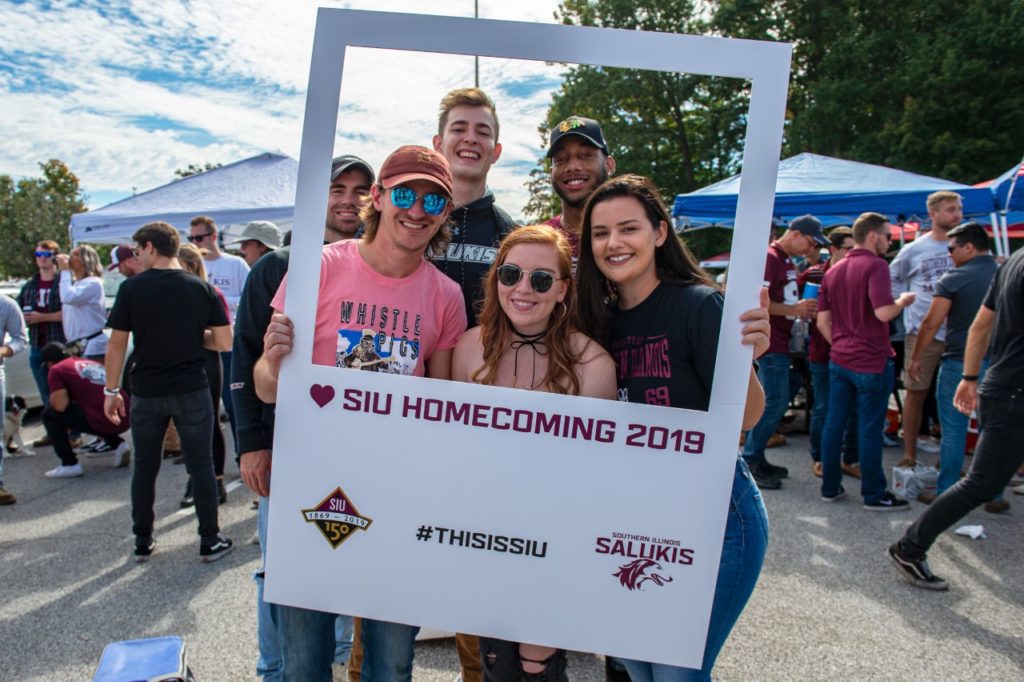 In addition, the SIU Alumni Association held the groundbreaking for the new Saluki Alumni Plaza, the grand opening of the new Alumni Center and numerous other activities.
They also hosted various well-attended reunions, including the 50th reunion of the Class of 1969, the newest inductees to the "Half-Century Club," and the inaugural bash for the "Carbondale in the '80s and '90s" Facebook group, also known as the group that established the B.E.E.R. (Balancing Education, Experience and Reality) Scholarships. Alumni purchased 68 commemorative IDs so $340 will be donated to the B.E.E.R. Scholarship as $5 from each ID purchase was earmarked for the scholarship.
Mark your calendars
Believe it or not, planning is already underway for Homecoming 2020. Mark your calendars now and plan to attend festivities set for Oct. 18-24, 2020. Details and schedule information will be available at homecoming.siu.edu as events are finalized.