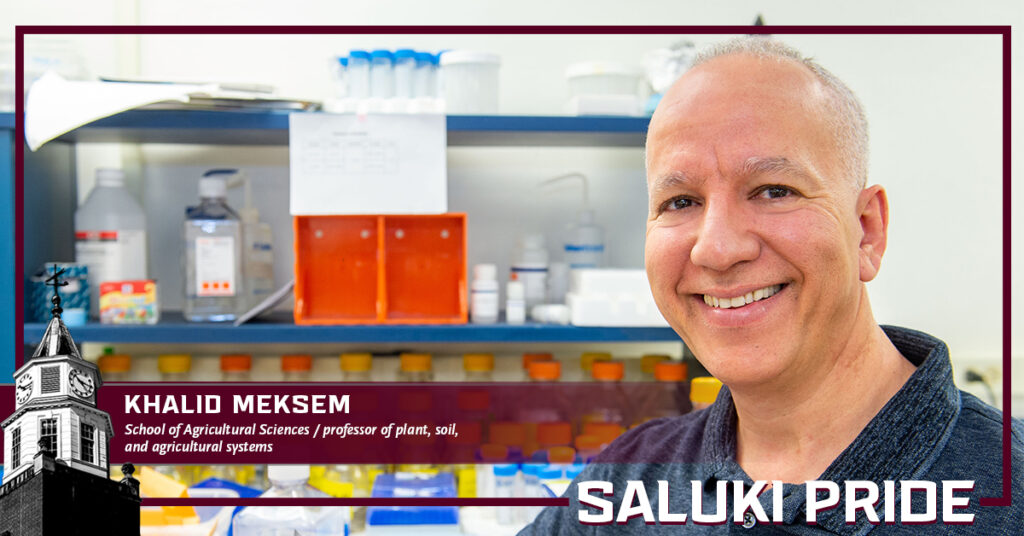 The SIU Board of Trustees recently honored Khalid Meksem with the inaugural SIU System Inventor of the Year award. Meksem, a professor of genomics and genetics at SIU Carbondale, is an internationally recognized expert in the field of seed traits and nematodes resistance.
The Inventor of the Year award recognizes accomplished inventors whose activity during the past five years have made outstanding contributions to the SIU System. Meksem's contributions include 10 invention disclosures, eight provisional patent applications, two U.S. patents and a license agreement with a multibillion-dollar chemical company.
SIU Board of Trustees Chair Phil Gilbert said Meksem's work is vital to Illinois soybean producers, but his scholarship has implications that reach across the nation and to every corner of the world where soybeans are grown.
"We are proud of his work and his example which shows how our faculty, staff and students are making a difference in so many places," Gilbert said.

Get to know KHALID MEKSEM
Name: Khalid Meksem
Department/title: School of Agricultural Sciences / professor of plant, soil, and agricultural systems.
Years at SIU Carbondale: 25 years.
Give us the elevator pitch for your teaching/research/staff job. I am a professor of genomics and genetics. My research interests cover forward and reverse genetics, structural and functional genomics, gene mutations and evolution and genetic diversity, with a long-time area of interest residing in the molecular dissection of plant disease resistance mechanisms (nematodes) and the improvement of economically important traits (Seed composition, oil, sugars, proteins, vitamins and other metabolites).
I have co-authored more than 105 refereed manuscripts, including the discovery of a metabolic gene with a role in disease resistance that was published in the prestigious journal Nature in 2012, and the discovery of the oil biosynthesis pathway in soybean. I participated with more than 250 conference presentations, I was invited more than 70 times to give talks at venues across North and South America, Africa, Europe, Asia and Australia. I have published four book chapters, edited three books and was awarded five patents for my work on disease resistance genes in potato and soybeans. I am a member of the National Academy of Inventors and a proud Saluki!
What is the favorite part of your job? When I see my students, postdocs, researchers and scientists getting good, very well-paid jobs
Why did you choose SIU? Southern Illinois has a special touch with the outdoors and national parks. SIU was right in the middle, with a beautiful campus and an excellent agricultural sciences program.
My favorite activity away from work is … and why. Besides gardening, I enjoy collecting historical artifacts and memorabilia. I love traveling the world to get to know other places and cultures.
What is your favorite activity that you remember from when you were a child? Collecting fruits from the trees while visiting the family farm, mainly when it comes to figs. Half of what I collected did not make it to the basket!
Know a colleague to feature in Saluki Pride? Simply fill out this form.