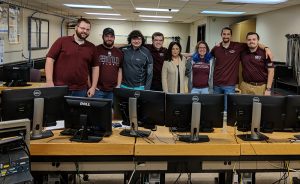 The SIU "Security Dawgs" advanced Saturday to claim a spot in the Midwest Collegiate Cyber Defense Competition later this month after a second-place wildcard finish on March 10.
The Security Dawgs will travel to Moraine Valley Community College on March 23-24 where they compete against nine other teams. The teams competing are the eight state champions, SIU, and Baldwin Wallace University, the team that won the wildcard event.
Eighth trip to regional cybersecurity competition
This marks the eighth time in the last 11 years the Security Dawgs have advanced to the Midwest Regional, including the past two years under the wildcard format. In all, there are 48 teams within the Midwest region.
"The Security Dawgs have shown again that their efforts to improve their knowledge in information security and to represent SIU at the regional competitions pay off," said Tom Imboden, associate professor in information systems and applied technologies. "Their experience at the competition will help prepare them for the workforce."
Midwest regional winner advances to nationals
The team that wins the Midwest region title will advance to face nine other regional winners at the 11th annual National Collegiate Cyber Defense Competition, April 13-15, in San Antonio, Texas.
This year's team members are:
Thomas Birch
Mark Blume
Vincent Davis
Ronald "Quinn" DeBernardi
Steve Osborn
Christian Scott
Trenton Taylor
Brianna Yagow,
Alternates:
Ben Fairbanks
Jesse Frawley
Jacob Kupres
Curtis McRoy