Where to go first? After all, there are so many yummy food choices at Southern Illinois University Carbondale's Lentz Dining Hall, it's quickly apparent this place bears no resemblance to your grandmother's school cafeteria, where you simply lined up and took whatever was put on your plate on any particular day.
At any given time, you're likely to find 60 or more different items to choose from at Lentz.
The dining hall has been transformed inside and out in recent years, with a modern décor, numerous food stations and a new and ever-evolving menu.
Tasty and healthy – as requested
"The students tell us they want fresh, healthy food alternatives so we've revised the menu to include a lot of fresh, healthy choices," Marguerite "Peggy" Connors, associate director of University Housing, said.
Staff are continuously considering the menus, paying attention to current trends and assessing what choices are most popular with the students. And that's not all. The dining hall is also open to the public, so anyone can enjoy a professionally prepared meal or various do-it-yourself options for a reasonable price.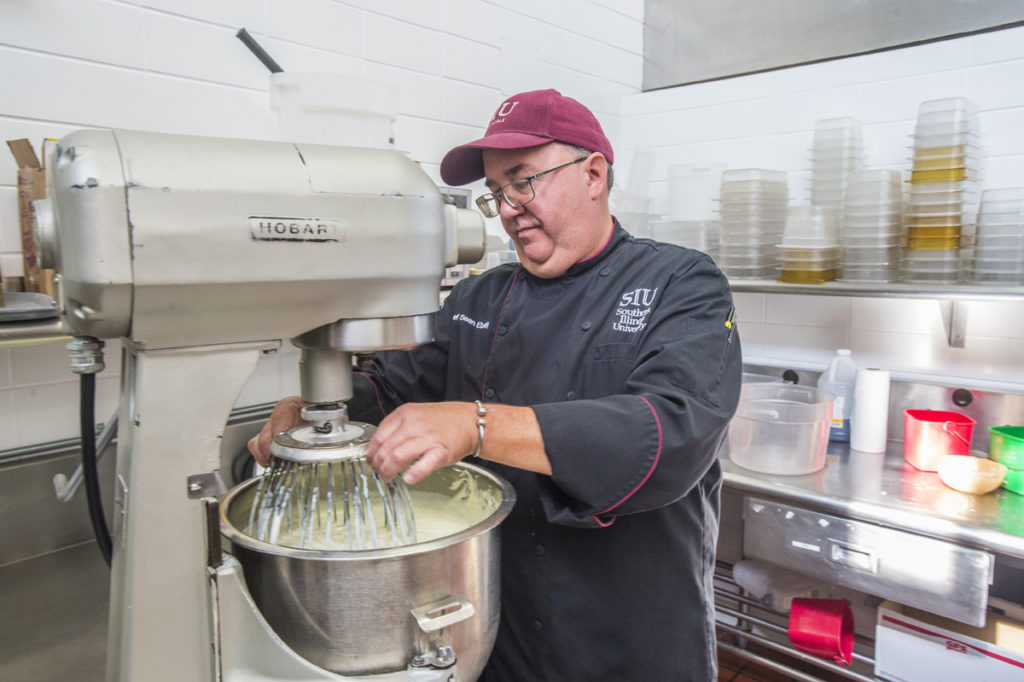 "We totally redid all of the menus, incorporating a lot of fresh foods and veggies and modifying the ingredients in other dishes," Amy Raines, dining hall manager, said. "We've moved away from pre-made, processed foods and toward fresh, clean foods."
Start the day off right
Numerous studies have proclaimed breakfast the most important meal of the day, citing as benefits better health, improved memory and concentration along with decreased chances of developing diabetes, heart disease or becoming overweight. The staff at Lentz are determined to make the breakfasts they serve exceptional.
Sure, there are numerous types of hot and cold cereals, along with a wide assortment of fruits. Traditional fare – such as pancakes, waffle, scrambled eggs, toast, bacon and sausage – is offered as well.
But you'll also find made-to-order omelets with your choice of fillings, prepared as you watch. Many a morning, you can enjoy a fresh smoothie as well.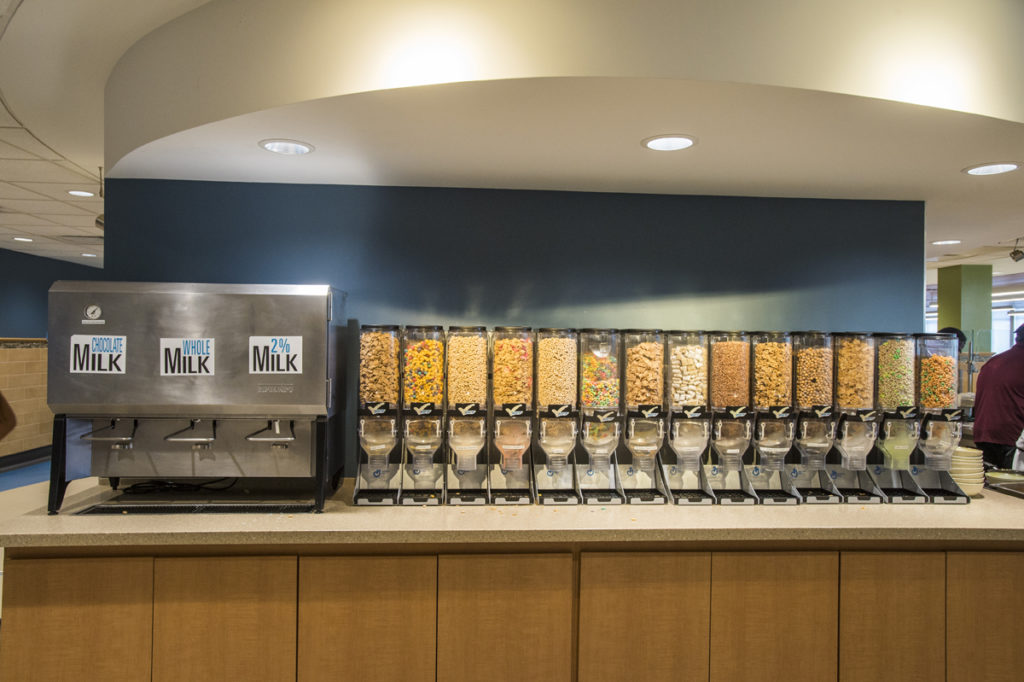 Personalize your sandwich on fresh-baked bread
Updated choices are apparent throughout the day at Lentz.
New this year is the light and airy, straight-from-the-oven bread – baked fresh on-site each day.
At the deli counter, you can select from numerous meats, cheeses, veggies and condiments to place inside. A "sub of the day" is offered or you can have your sandwich your way by picking and choosing your fixings.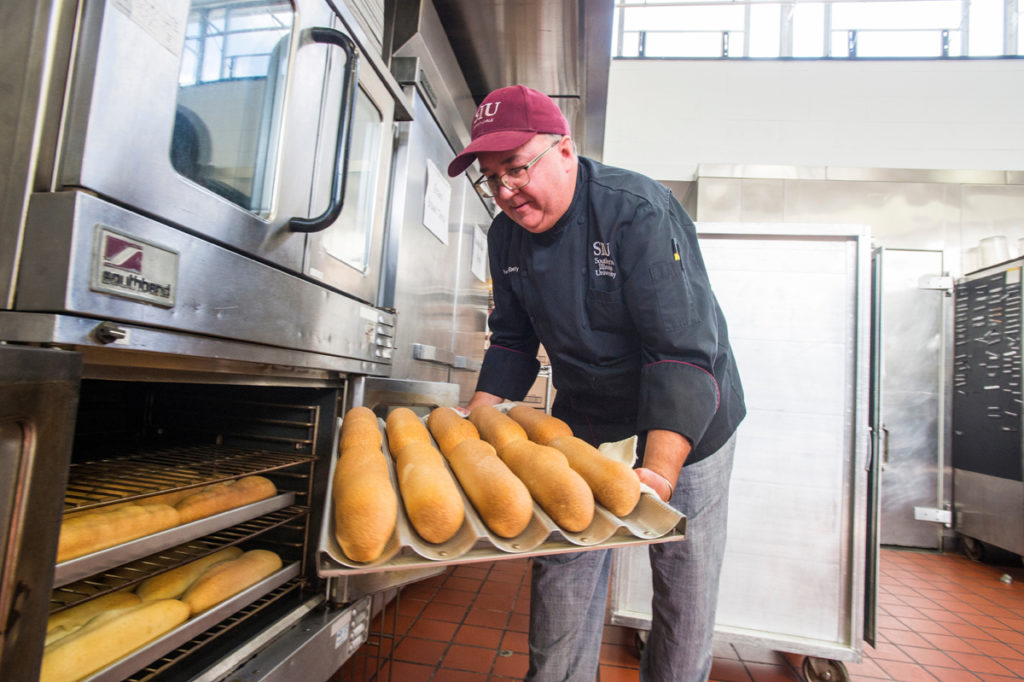 "I like the variety and having the fresh-baked bread," Allison Bone, a junior accounting student from Clinton, said. "It gives you the healthier lifestyle you want and more variety for your sandwiches and other options."
"Everything in the sandwiches is very fresh," Heidi Zimmerman added. The junior radiology major from Litchfield said she is glad to see featured subs offered but also likes "that you can build your own. There's so much variety, too."
You can also enjoy a slice of fresh-baked bread with your favorite entrée. Plans call for adding more varieties of bread – including flavors like honey oat and jalapeno cheddar – all still baked fresh daily on the premises.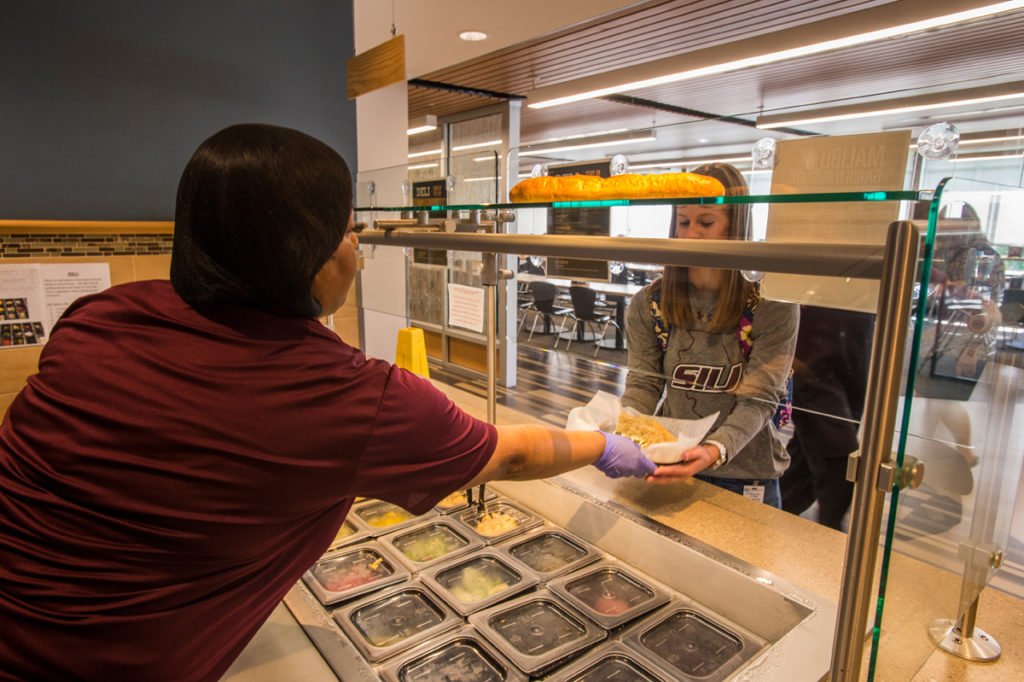 Full salad bar offered
The big salad bar is a favorite of Bree Barnard, a freshman biological sciences/pharmacy major from White Hall. She said it's stocked with so many fresh veggies, meats and other options that it's often her go-to spot.
A wide variety of dressings are offered as well; you may even find a homemade topping for your salad.
Chef Sean's Signature Soups
Want some soup to go with your salad? There's a different soup each day, often made using Chef Sean Eberly's own personal recipes. His Wisconsin beer cheese soup, loaded with real butter, cheese and heavy cream – but, despite its name, no alcohol – is particularly mouth-watering, diners insist. Typically, at least seven gallons of the rich and creamy broth are consumed any time it's served.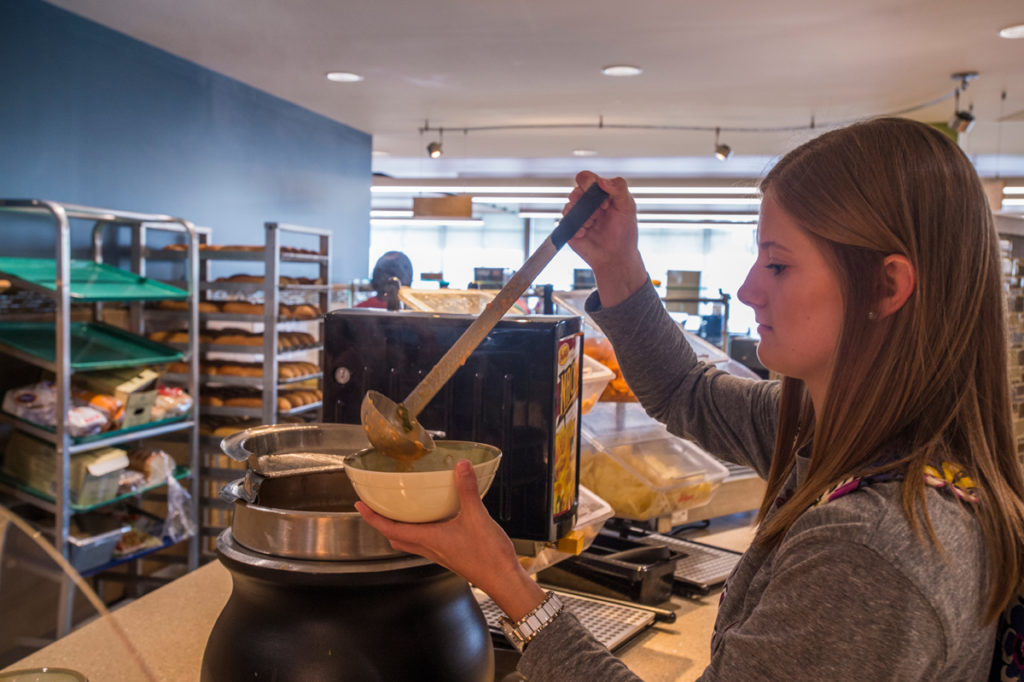 The tomato basil bisque and homemade vegetable beef are almost as popular, eaten at a rate of at least six gallons a day when available. Diners say they really like the chicken wild rice and broccoli cheese soups, too.
That's just the beginning
No matter what hour of the day and even into the night, there are plenty of edibles to choose from.
Thai chicken salad, homemade chili, burgers, grilled chicken, ambrosia salad – the menu might include these or dozens of other foods on any given day. There's always a wide variety of fares available, including a yogurt bar with lots of toppings and a pasta line offering a rotating selection of noodles accompanied by traditional red and white sauces, your choice of add-ins, breadsticks and more.
During regular meal service hours, you can also enjoy a hearty buffet featuring a wide variety of hot, homemade foods. Fancy a burrito? It's sometimes an option, as is that all-American comfort food – macaroni and cheese or a fresh-made grilled cheese sandwich. Of course, there's pizza too, a popular pick for meals, snacks or munching while doing homework late in the evening.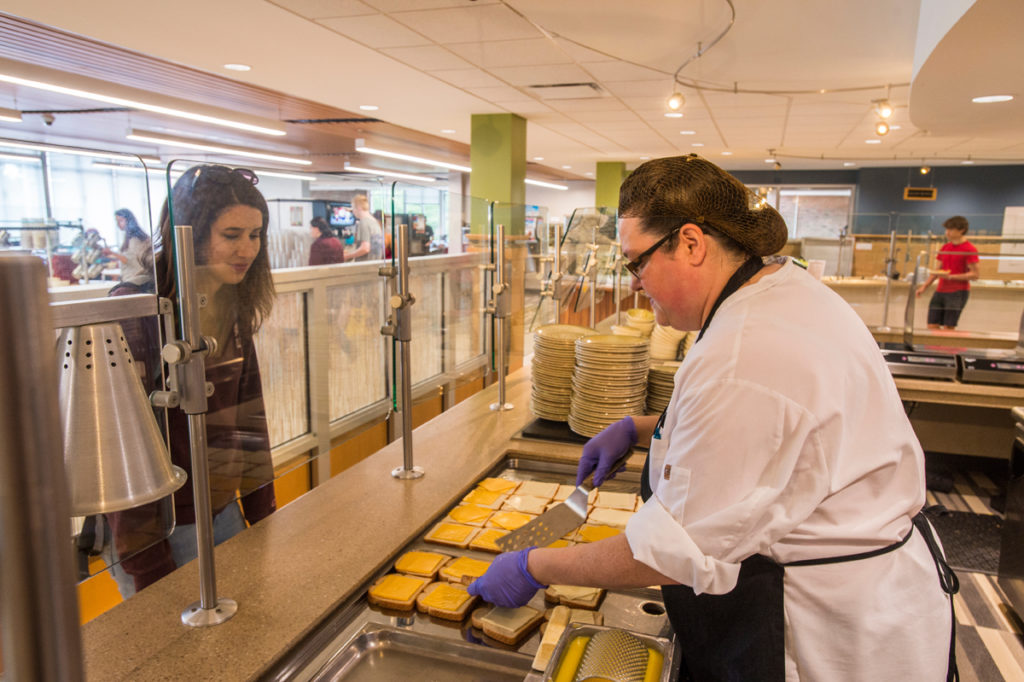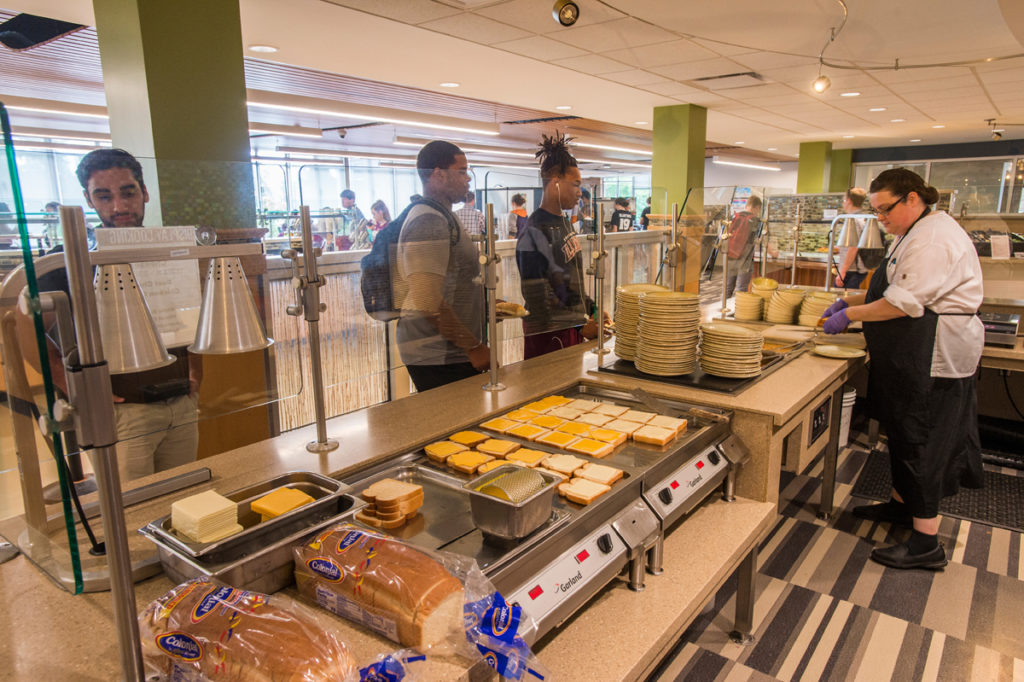 Special diets? No problem
Staff members also do everything they can to make dining enjoyable and easy for students with food allergies or intolerances. Dishes are labeled and food items are purchased and stored separately so diners know exactly what they are getting. Staff also adjust recipes as needed for students' special dietary needs.
In addition, there's a gluten-free kitchen that students residing in University Housing can use.
Going above and beyond
"We try to be over-the-top good" Eberly said. "We try to be responsive to student desires and tastes and do different things to appeal to all of the students. Our goal is to please the students and give them as many options as we can."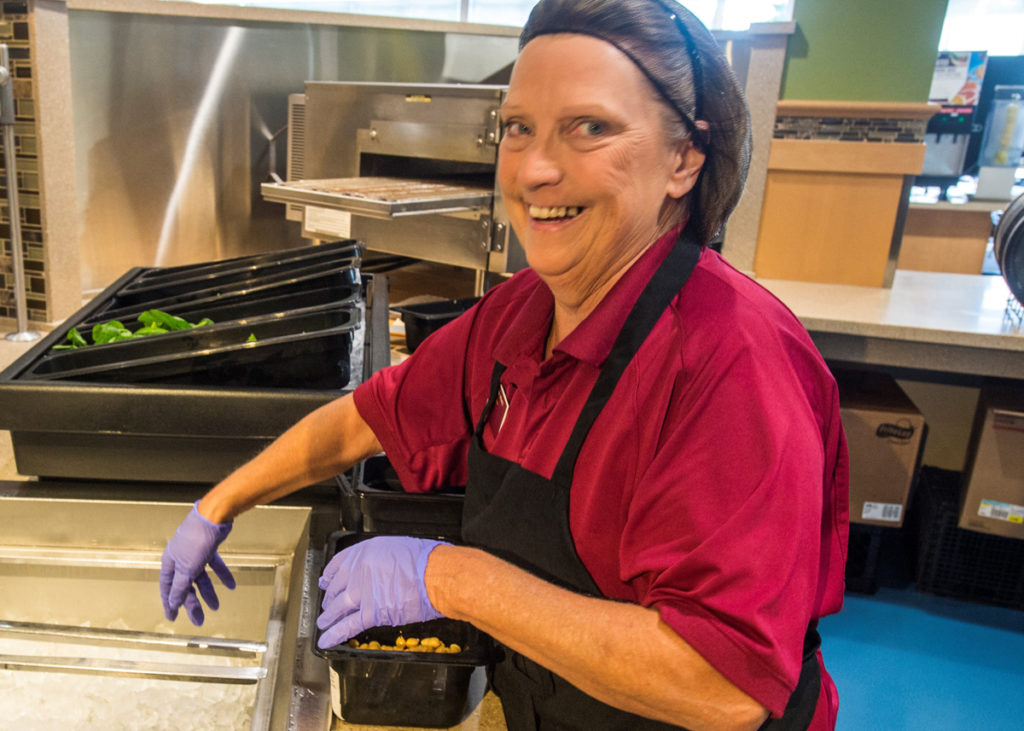 The students say it's a goal being met, both with quality, variety and quantity.
"You can eat all you want," Marie Nieto, a junior psychology major from Chicago, noted.
"You definitely get your money's worth," Zimmerman added.
Extended hours for dining hall
Lentz Dining Hall is open 7 a.m.-10 p.m. Monday through Thursday, 7 a.m.-7 p.m. Friday and Saturday and 11 a.m.-10 p.m. on Sunday, when SIU is in session.
The Saluki Anytime dining plan is included with the university's traditional residence hall contract, and it allows students to eat as often as they want at Lentz any time the dining hall is open.
The "Block-20 Plan," which gives purchasers 20 meals at the dining hall per semester, is a great fit for students living in on-campus apartments, off-campus or in designated junior/senior housing. Multiple Block-20 plans can be purchased at one time or additional blocks bought throughout the semester. Anyone with an SIU "Dawg Tag" – including students, faculty and staff – can purchase the Saluki Anytime or Block-20 dining plans.
Anyone can enjoy the Lentz dining experience
Guests are also welcome to eat at Lentz. Breakfast, including tax is $8.16 for ages 13 and older or $6.53 for children ages 4-12; kids age three and younger dine free. The cost for brunch, lunch or dinner is $11.18, tax included, for adults or $6.53 for children 4-12. Visitors pay at the door for meals.
Lentz Hall's daily menus and more information are available online.
More exciting changes are coming
University Housing's East Campus residence halls will be reopening in the fall and that means Trueblood Hall dining will be reestablished, complete with an all-new menu. Some surprises are in the works to give everyone who eats there even more variety. More details will be announced in coming months.