Missy Houghland has seen SIU from many angles in her 13 years serving the university.
Her view began as a student, with the Pinckneyville native earning two degrees at SIU. Her first taste of working for the university came then, as well, holding student worker positions in the Office of the Bursar, the Learning Resource Center, the Department of Linguistics and the SIU Alumni Association.
Following graduation she worked at her high school alma mater and the Perry County Health Department for several years before coming back to SIU as a full-time employee in September 2006.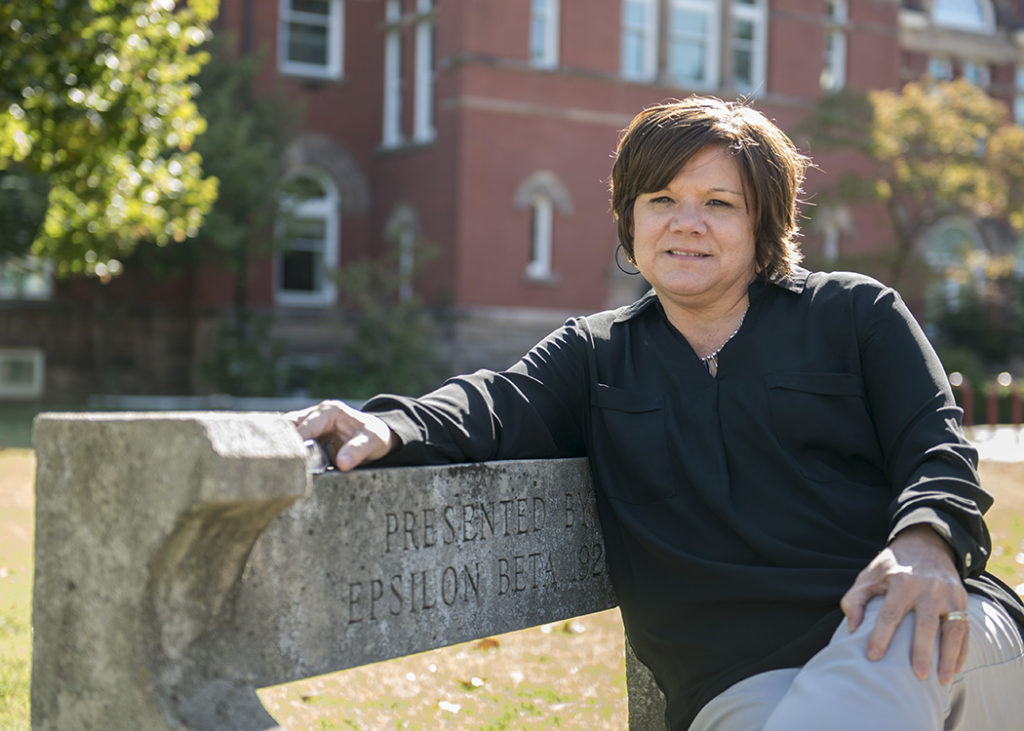 A long record of service
That's when her odyssey through the university's "behind-the-scenes" world began. Houghland started out in Career Services, finishing there as an office manager after seven and a half years.
She then worked in the student involvement sector of the Dean of Students office for a year before transferring to her current home in Office of the Vice Chancellor for Research. She currently holds the position of administrative aide, performing all variety of tasks related to keeping that office running smoothly.
Working in a key office
Houghland says working in an area that directly supports the university's key mission of research is important to her.
"I have great co-workers," Houghland said. "The VCR office staff is small, but we work as a team and that is very rewarding."
During the year before the Great American Eclipse made its way across SIU, Houghland served as a proxy for the vice chancellor on the Eclipse Planning Committee at times, and was responsible for keeping notes. She also volunteered at the eclipse, where she enjoyed meeting people from all over the world who attended the event.
Working in that fast-paced environment can be a challenge. The office is busy, the activity is high and the events and deadlines are plentiful.
"Every day is different," she said. "One challenge is working to promote undergraduate research and to find ways to fund more students interested in doing research."
Highlighting student research, creative activities
A few years ago, the office assumed responsibility for Research-Enhanced Academic Challenge – or REACH – program. That means organizing and running the annual Student Creative Activities and Research Forum, which showcases the work of students who receive grants to pursue individual projects. The event draws many from campus each year.
Students are the priority
At the center of the office's mission, Houghland said, are students. SIU employees have a special role to play their success.
"We, as SIU employees, need to invest in our students," Houghland said. "We need to provide a quality education, a nurturing environment and resources for our students' personal growth."
Adding a personal touch to everyday interactions with students and their families is important, she said.
"When I see parents and students touring the university, I always go out of my way to speak to them, assist them or do whatever I can to make a positive impact," she added. "I love wearing SIU apparel when I travel. There is always someone happy to share a story about SIU."
A new phase of life
In her personal life, Houghland continues serving her alma mater high school as a member of its Education Foundation Board. She previously served on Pinckneyville High School's Athletic Booster Club, as well.
"For over 25 years, I have spent most of my evenings and weekends attending my stepdaughters' or sons' sporting events," Houghland said. "Just this fall I have become an 'empty nester.' I am still in the denial stage so have yet to figure out what to do with all my extra time!"
And in keeping with her love of SIU, both sons are attending the university and majoring in engineering programs.
"I enjoy volunteering at SIU events when I can," she said. "I plan to attend more sporting events at SIU. My boys are here and sports have been our whole life!"