Dinosaur "siblings" at SIU have new names today, thanks to a school in northern Illinois.
The clutch of three Protoceratops housed at the Department of Geology at SIU's Parkinson Laboratory, are now named Sachi, Ido and Ulla. The baby dinosaurs are displayed in the company of their mother, Nanu.
The seventh grade at Trinity Oaks Christian Academy in Cary, a northwest suburb of Chicago, won a contest put on by the university's STEM Education Research Center, the Geology Program in the School of Earth Systems and Sustainability, and the College of Science. The contest asked K-12 schools to suggest names for the three, which were then voted on by SIU students.
Along with Anderson, Harvey Henson, assistant professor in curriculum and instruction and interim director of the SERC, Steven Esling, associate professor of geology, and Justin Schoof, director of the School of Earth Systems and Sustainability, helped organize and conduct the contest.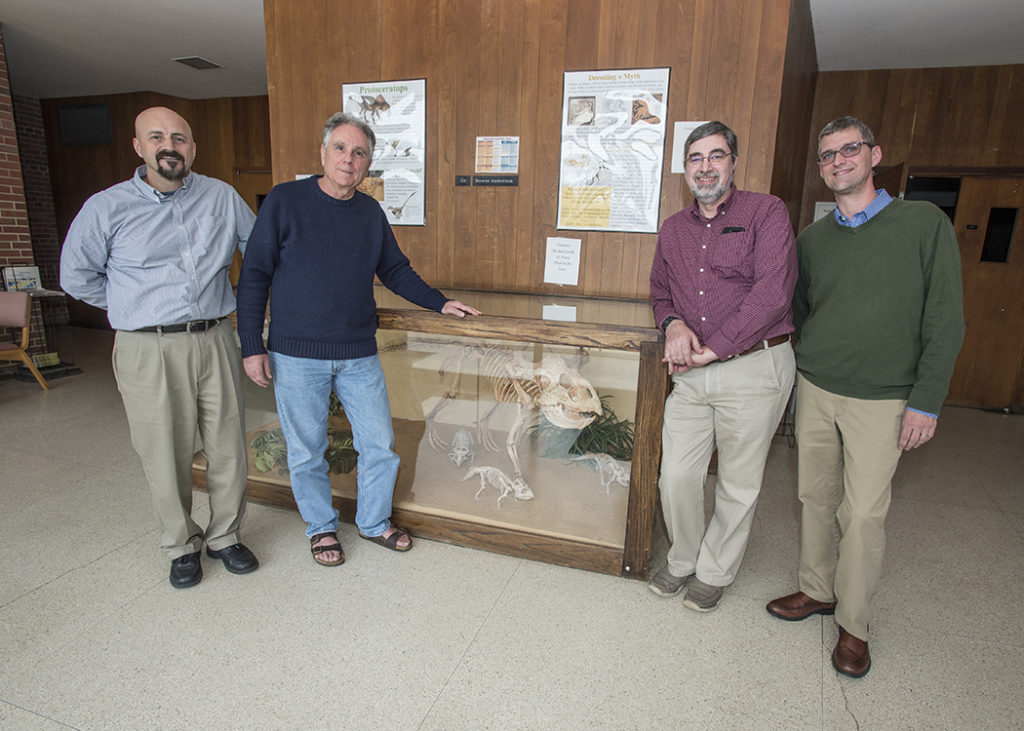 They spell out 'SIU'
The first-place finish for the Cary students' suggestions will net them $400 worth of classroom materials and a $100 pizza party. Finishing second and third were the fourth through eighth-grade REACH students at Desoto Grade School and biology students at Waterloo High School. They will receive $300 and $150 worth of classroom materials, respectively.
All the many names suggested by the K-12 students weren't simply made up or pulled out of thin air. Each has a special meaning. Of the winning entries:
"Sachi" means "blessed child."
"Ido" means "work" or "labor."
"Ulla" means "powerful and prosperous."
Best of all, the words are of Egyptian origin, like their mother's name, and together their initials spell out "SIU."
Dinosaur display calls to curious minds
Ken Anderson, professor in the geology degree program and one of the organizers of the contest, said the display showing mother and babies in a natural environment, found in glass case in the geology building, is popular and powerful.
"Nanu and the hatchlings are a great way to get kids excited about Earth science," Anderson said. "Maybe for a few of them, that curiosity will last and they'll go on and eventually become Earth science professionals."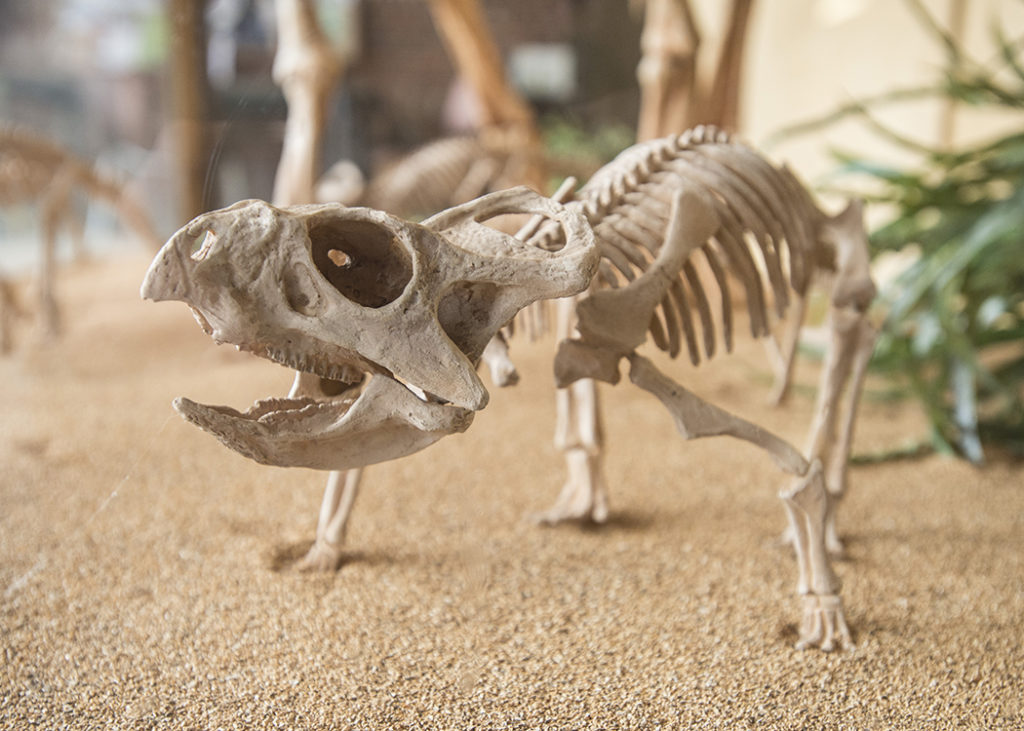 Anderson praised the many entries the university received.
"All of the entries we received were great! It was really a challenge to distill all the entries down to just one winner. They were clever and creative and funny and thoughtful, which is exactly what we were hoping for," Anderson said. "All of the students who participated really got engaged in this. They did their homework and came up with lots of great names that showed that they had learned a little about these animals. For us, that was really what this was about, which I suppose makes us the real winners."
Ancient animals, modern science
Nanu and her clutch are Protoceratops who lived about 70 million years ago in what is now Mongolia. They ate plants, lived in large herds for protection from meat-eaters such as Velociraptors, the fearsome predators featured in the first Jurassic Park movies.
SIU got the dinosaur that would later be named Nanu back in the fall of 2016. After surveying the entire student body – which came up with more than 800 suggested names – the department culled the names down to six before putting it to a vote. SIU students selected Nanu, an Egyptian name meaning "beautiful," which reflects beauty of the campus, the region and Earth. Nanu's clutch arrived in spring 2017.
All four of the dinosaurs are not actually bones, but casts made from the actual bones. The real bones are at least 65 million years old, and too fragile for continuous display, Anderson said.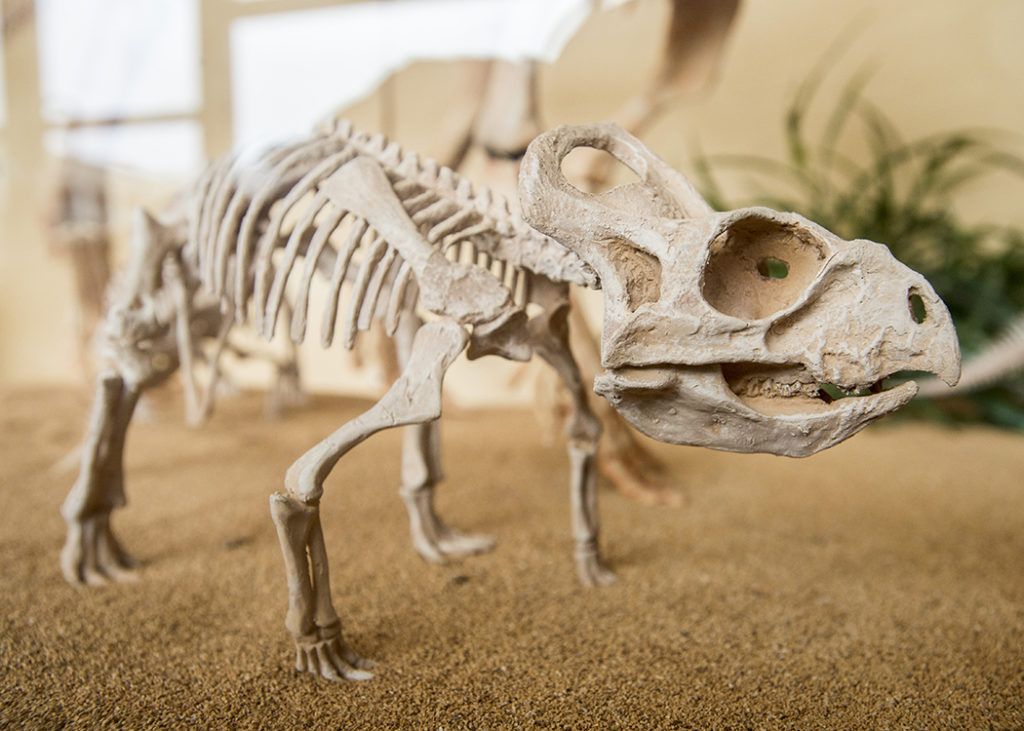 "Most of those you see in museums are actually casts made from the originals for that very reason," Anderson said. "That said, they are not just models. The casts faithfully reproduce the original fossils, right down to the finest details."
Fun and educational
Anderson said the dinosaurs make outstanding educational and outreach tools. The geology program in the School of Earth Systems and Sustainability offers multiple classes that teach students about dinosaurs, as well as many other extinct animals. Having the casts on display helps us make these animals more real to students, Anderson said.
"It's one thing to see a picture in a book, but it's much more effective to show students a life size skeleton," he said. "And having a 'family' of dinosaurs really drives home that these animals didn't just exist in isolation. They were part of dynamic ecosystems that existed in the past."
And something about dinosaurs fire the imagination of curious youngsters and grown-up researchers, alike.
"Kids love dinosaurs," Anderson said. "Having these casts helps get them curious about what these animals were reallylike. It shows them that dinosaurs aren't just something they see in cartoons or movies, they were real, living animals."