As a child, Kamaron Bickham was fascinated with taking things apart to put them back together or seeing what he could create from a variety of scattered pieces.
"If you ask my mom, she will tell you I did that," Bickham recently recalled with a smile. "I had batteries and things everywhere. I like taking things apart, but I also like creating new things. That is what interests me."
Whether it was dissecting motherboards or taking apart other electronic gadgets to see what he could develop, Bickham's natural curiosity and drive will propel him to earning his bachelor's degree in Information Systems Technologies (IST) on Saturday. He will be among the more than 1,100 graduates celebrated at Southern Illinois University Carbondale's fall commencement exercises on Dec. 14 in Banterra Center.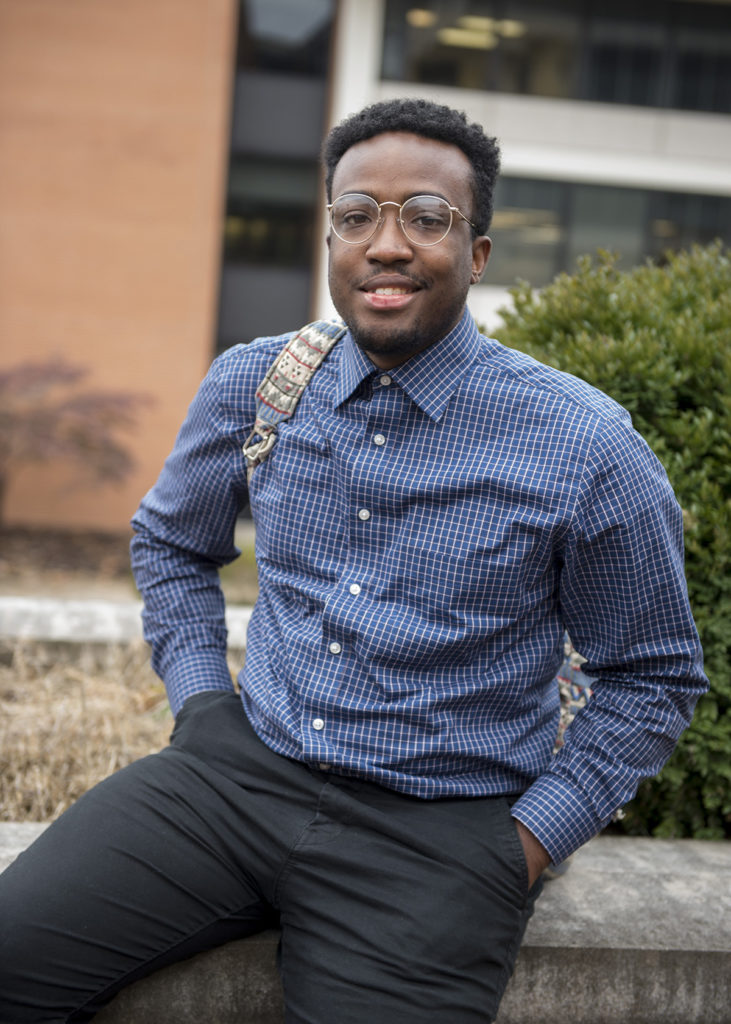 Hands-on learning easily accessible
Bickham gained interest in SIU's IST program through a friend who was in the program. After completing some pre-requisite classes at John A. Logan College, Bickham started at SIU in fall 2017. The hands-on aspect in the IST program was attractive, he said.
"It's like solving problems. The courses are all pretty much hands-on and applied," he said. "I like that. I enjoy building stuff and this program helped me hone skills I didn't know I had."
Productive use of resources
Nancy L. Martin, an associate professor and interim IST director, said she has never had a student do as much extra work and study outside of classes as Bickham. He has taken independent studies and done research internships "and a crazy amount of learning just on his own."
Bickham, whose focus is on data analytics and data management, participated in an independent study project that was scheduled for fall completion only to finish the work before the summer was over. He has also developed multiple applications using technologies not offered in the IST curriculum, Martin said.
For his independent research project, Bickham utilized the university's BigDawg High Performance Supercomputer in learning how to process and utilize data with the python programming language. It's one of two main languages used for computer science for his project that involved Speech Recognition, Natural Language Processing, and building an application with a Neural Machine translation backend that converts speech and text from English to Spanish.
Bickham noted that students have numerous opportunities to utilize faculty and the many available campus resources – something he was sure to take advantage of.
"Any resource I needed was there. All I had to do is ask," he said. "I don't think a lot of students do that."
From shy student to a team-builder
Bickham's contributions and cooperation with classmates were "outstanding," Belle Woodward, an associate professor in the School of Information Systems and Applied Technologies, discovered as she observed him in her "Ethics & Legal Issues in Information Technology" class.
On many occasions he showed his ability to overcome challenges "with a determination to achieve results without fail," Woodward said. "He is always willing to take on any project, and he tirelessly attains any goal that he pursues."
Martin notes Bickham is also humble and respectful. In recalling Bickham's first class, Martin said he was "perhaps the shyest student" she had encountered. Yet thanks to team projects, hands-on applications and faculty encouragement, Bickham become a leader, she said.
Gives credit to family
Bickham, 26, of Chicago, credits his parents, LaTanya and Christopher Bickham, with helping develop his drive to succeed. He is the first in his immediate family to earn a college degree. Bickham also saw pursuing a degree as an opportunity to be a role model for his younger siblings: Kayla, 19, who is attending Columbia College Chicago; and Kyle, 22, who will be attending Joliet Junior College.
"When I was in high school we didn't have a lot of things to show how to prepare for college," Bickham said. "I got good grades but no one ever explained to me the process. I didn't want them to go through that. I wanted them to see that if they had questions, I was there to answer for them."
Important work with University Housing
While completing his degree, Bickham worked with University Housing for 16 months in variety of website-related areas, including:
Helping enhance the events.housing.siu.edu site and the programming of customer service features.
Working on a revamped housing.siu.edu website that will go into production in March 2020.
Upgrading the CBORD Food Service Suite package to the latest version.
Providing general tech support and assistance with University Housing's digital signage.
Jeff Miller, University Housing's IT director, said Bickham has been an exceptional worker who is selfless, works well with others and helps colleagues do their best. Bickham's knowledge of Linux web server platforms sets him apart and "will make him invaluable in the real-world job market after he graduates," Miller said. "We are going to miss having him around to work with the other interns and students in University Housing IT, just because he has the ability to lead by example and has the job knowledge to help out immensely with his web development skills."
Future is bright with opportunities ahead
Bickham is entertaining several job offers for after graduation:
Data integration analyst in Carbondale.
Solution analyst in Kansas City, Mo.
Development operations engineering in Fort Lauderdale, Florida.
"If you want to do it and work hard the jobs are there," said Bickham, who credits faculty and classmates for his opportunities.
"The interactions that I've had with faculty and the other students have been some of the best times I've had," he said. "If you want to do something it is important to know what you are willing to put into it."