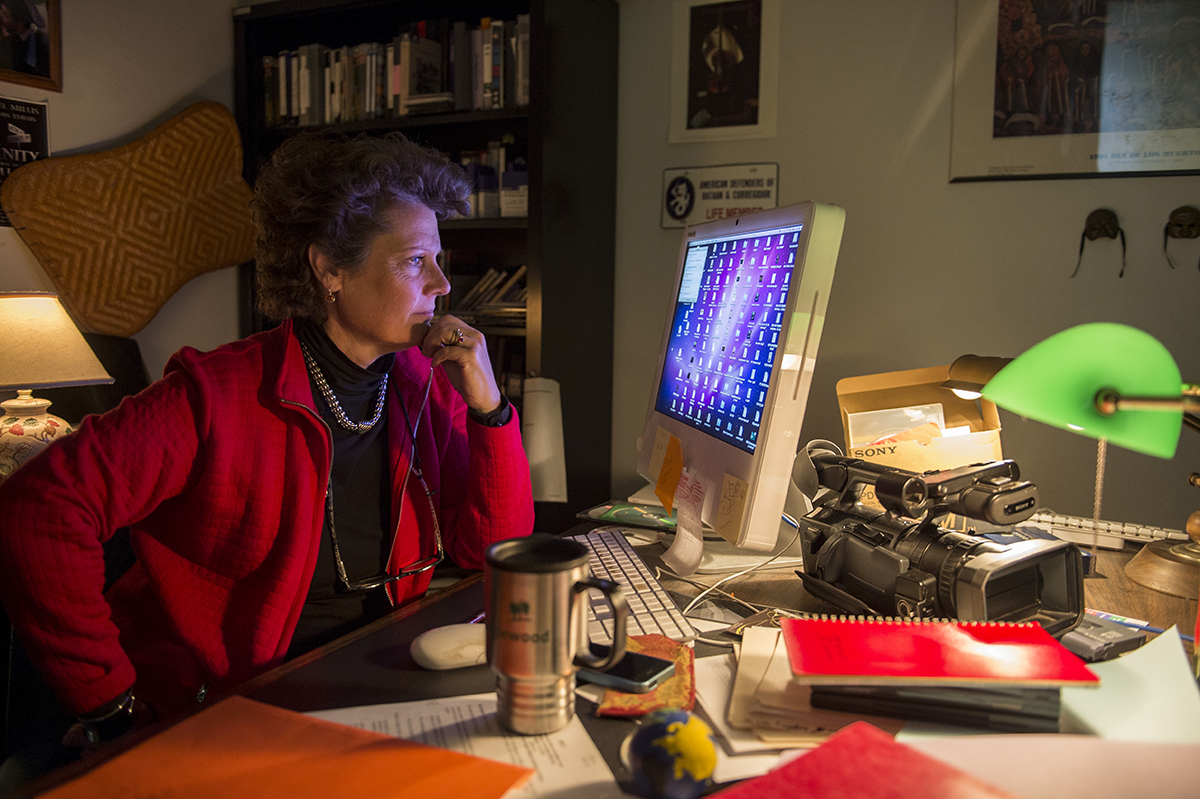 For nearly 30 years, Jan Thompson's mission and community serviceeffort has centered those she lovingly calls "my guys."
The daughter of an American World War II POW in the Pacific, Thompson, a filmmaker and professor in the Department of Radio, Television and Digital Media, has spent much of her time outside of the classroom chronicling the horrors that the men, including her father, faced during their captivity. That is a way that Thompson is able to improve communities and transform lives.
She believes her latest effort toward preserving their legacy is her most significant.
Working largely from Southern Illinois, Thompson, who is president of the American Defenders of Bataan and Corregidor Memorial Society, organized an Aug. 15 dedication ceremony in Honolulu, Hawaii, where a memorial stone dedicated to 400 American and Allied POWs who died while aboard a Japanese transport ship during an American bombing raid on Takao Harbor, Taiwan, on Jan. 9, 1945, was unveiled. The freighter, also known as "Hell Ship," was unmarked so pilots did not realize American and allied soldiers were aboard.
Ceremony held to remember 'forgotten' men
"It's about 400 men who were forgotten. It's about 400 men who were unknown for 73 years," Thompson said.
The ceremony at the Courts of Honor in the National Memorial Cemetery of the Pacific was on the 73rd anniversary of the end of World War II, and marked the first time for the men to be named and honored. The remains in 20 unmarked graves include servicemen from the United States, Australia, Canada, Great Britain, Norway and what is now the Czech Republic. The men were initially buried in an unmarked mass grave near the bombing site, but the U.S. military recovered the bodies in 1946 and later sent them to Hawaii for burial.
Thompson hopes an upcoming effort will include being able to specifically identify remains of the 400 men through DNA of surviving relatives.
Perseverance in arranging ceremony
The American Defenders of Bataan and Corregidor Memorial Society's mission is education and safeguarding the vivid legacy of what POWs in the Pacific endured in World War II.
"We do everything we can for these guys to protect them because nobody else did during their imprisonment or recognition after they died," Thompson said.
She acknowledges the hard work of many in coordinating and ensuring the ceremony's success. That included overcoming concerns about the wording on the stone, she said. Audience members and speakers were from the Hawaii statehouse, and the consulates and militaries of Japan, Australia, Canada, Czech Republic, Great Britain, the Philippines and Taiwan.
There also were letters of support for "Pacific Heroes Day" from former vice president Walter Mondale; U.S. senators Johnny Isakson, R-Georgia, and John Tester, D-Montana, from the Senate's Committee on Veterans' Affairs, and U.S. Rep., Dr. Phil Roe, R-Tennessee, chair of the U.S. House Committee on Veterans' Affairs.
"By being the kid of a POW, they didn't give up so the idea is you cannot give up," Thompson said.
One "hell ship" survivor, Daniel Crowley, who is 93 years old and lives in Connecticut, attended the ceremony. Thompson estimates there at 50 to 60 surviving former POWs, all in their 90s with some more than 100 years old.
Realized the importance of telling story of the POWs
Thompson's father, Robert, a medical corpsman, was captured on the island of Corregidor in spring 1942. After beginning to attend POW conventions in the early 1990s with her father, Thompson said it became important to her that everyone have a chance to tell their stories. The story of Bataan, the Death March and circumstances surrounding a three-and-a-half-year ordeal for those captured, is an important, but little noticed part of America's history.
Between 5,000 and 15,000 of the more than 75,000 American and Filipino prisoners did not survive the 65-mile forced march in the spring of 1942.
Thompson's father passed away in 2012 and was not involved with the Bataan Death March but was aboard a "hell ship." He was liberated from a Manchurian prison camp in September 1945.
Work has included documentaries 
The myriad of interviews and research has resulted in three documentaries:
Thompson also participated in a July 2015 ceremony where Mitsubishi Materials Corp., executives apologized for using American POWs as forced labor in company mines during the war – believed to be the first public apology by a Japanese corporation for wartime atrocities.