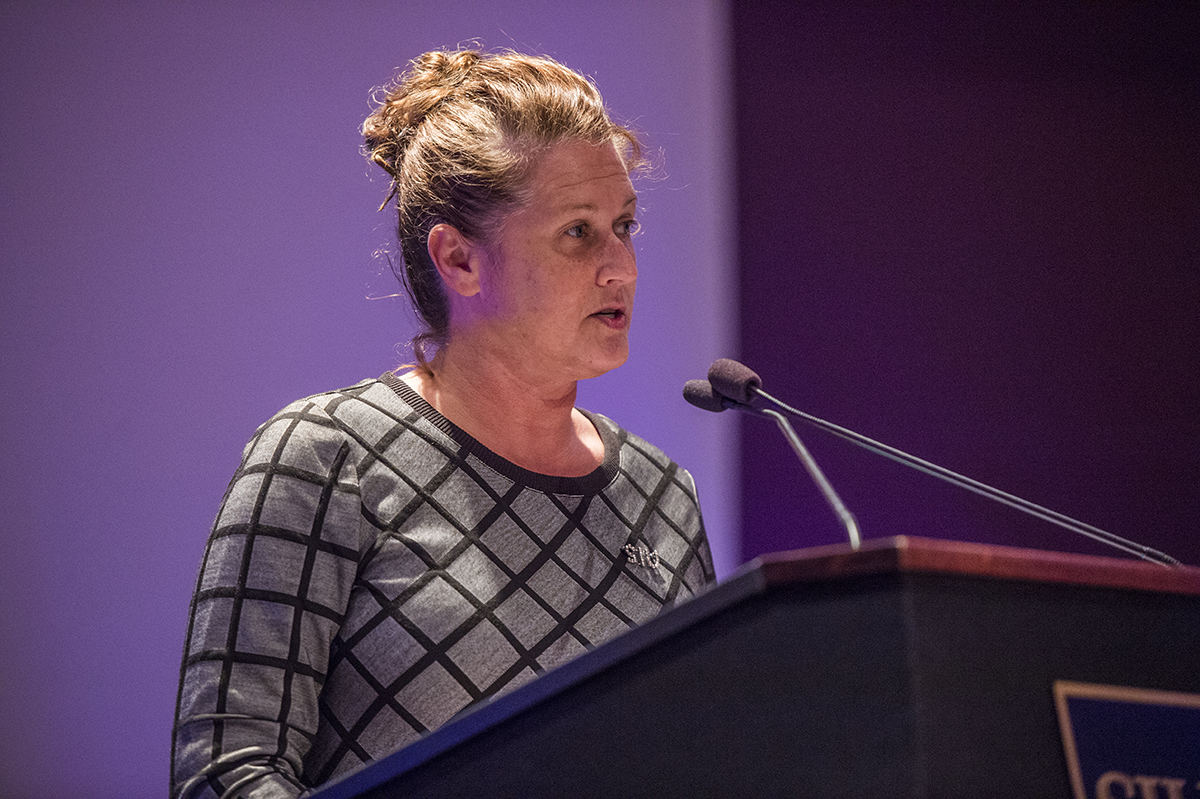 Leading the Pack is a regular feature that highlights faculty and staff members who go above and beyond to fulfill SIU's Mission. If you would like to nominate someone to be featured, fill out our nomination form.
When Susan Graham stepped on campus 25 years ago, she had no idea what she was signing up for. But now, her goal is quite simple: support students so they can succeed in what they love to do.
Bringing research to life
As the assistant to the dean in the College of Agricultural Sciences, Graham has the unique opportunity to work with both research and student involvement. For her, that creates a perfect work environment.
"I can't imagine being on campus and not being able to interact with students, because that is why we are here," Graham said. "The second thing is the research and hands-on learning, that's what has kept me in agriculture. It's hard to find the same type of research that is done here."
One of her passions is connecting the research with the industry side, so producers can use the valuable information. To do this, Graham spearheads the creation of the agriculture journal, AgriSearch, which is published by SIU every year. In the past, she also worked hands-on with grant proposals and research support for faculty members in the college.
Building an agriculture family
Outside of her job, Graham is a mom of quadruplet sons. This not only gives her a deep understanding of family, but it also motivates her every time she is interacting with a student.
"Ag is just family, it's who we are," Graham said. "They have become my family."
When Graham is talking with parents, she explains her mission to not only get students through the program, but to see them employed in a job they love.
"To see where these kids end up going, hopefully I have a small part played in what they do," Graham said.
Reaching beyond campus
Graham isn't one to limit her work to time spent in the office. Rather, some of her favorite parts of the job are connecting with the SIU community and participating in national organizations, such as FFA.
"I love working with alumni in the industry and the connections you make through the years," Graham said. "Because again, they become your friends and family."
Graham makes sure she is available not only to those on campus, but also those who have moved on to other things.
"I love that alumni feel comfortable calling and talking to me," Graham said. "I love to catch up with them and just hear their stories."
Graham goes out of her way to ensure that alumni stay connected with the mission of SIU. This includes hosting alumni events throughout Illinois, and staying in touch through social media. One of her most recent campaigns was highlighting Saluki selfies on Facebook. This allowed recent and distant alumni to be recognized for their current successes, and helped bring the agriculture family back together again.
Pushing for student success
For Graham, student success is built not just in the classroom, but also in the many valuable interactions and activities presented. That's why she is dedicated to mentoring students every step of the way. She serves as advisor for Farmhouse Fraternity and the Ag Student Council. She is also very involved with FFA at both the high school and college level.
Graham was chosen to serve on the Illinois FFA major state officer selection committee, and was able to see the first all-female officer team be selected. She even opened her home to those officers while SIU hosted the officer training on campus. Graham participated this year with state scrap-book judging, and will be participating in national contests at this year's national FFA Convention in October.
"FFA is very near and dear to me, even though I was never a member," Graham said. "I am a huge supporter of that organization."
Karen Midden, dean of the College of Agricultural Sciences, sees Graham's work as a valuable part of the mission of the university.
"Susan shares the College of Agricultural Sciences mission that our students, their success and their experiences are of our top priorities," Midden said. "It's not that we just value them as students but we respect them as individuals. Susan's tireless outreach and support to potential students, current students and alumni is appreciated and helps maintain a common thread of our mission throughout generations."
Motivated by her own family
One of Graham's biggest influencers was her grandmother, who attended SIU in 1926-27 and then went on to teach in a one-room schoolhouse in southern Illinois. Following in her grandmothers footsteps, Graham is a double alumnus of SIU, earning both a bachelor's and master's degree in business.
When she's not working, Graham loves spending time with her four sons and husband, and playing the piano for her church. She is a die-hard Saluki and Cardinals fan, and is always on board to support the SIU community.