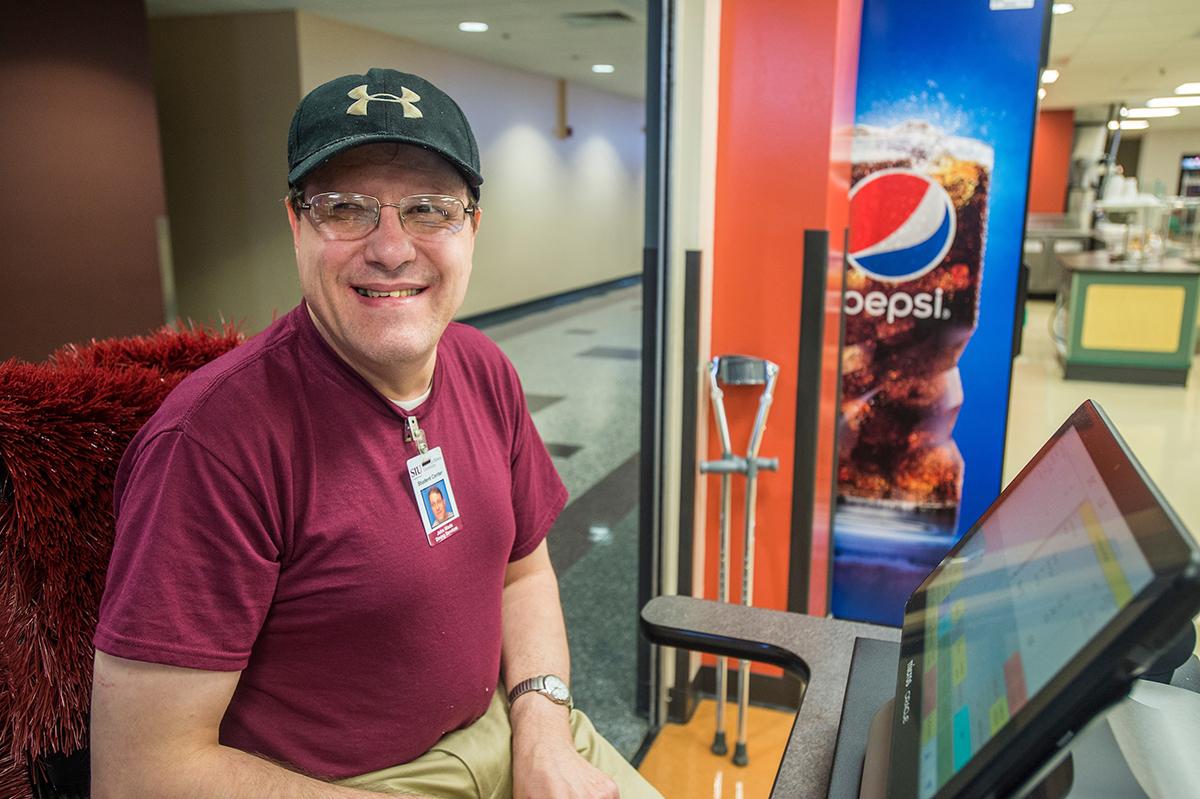 Leading the Pack is a regular feature that highlights faculty and staff members who go above and beyond to fulfill SIU's Mission. If you would like to nominate someone to be featured, fill out our nomination form.
For John Wade, attitude is the best way to build a positive environment for student success. That's why he shows up every day with a smile on his face, and a kind word ready for each student he comes in contact with.
Taking time for each student
After spending 23 years helping each new batch of students get their food, 17 years with Chartwell's and five years as an SIU employee, Wade has seen a lot of new faces come through his check-out line. But with each person he meets he has a goal: learn their name and bring a little joy to their day.
"I try and get to know as many of them as I can by name," Wade said. "That's hard to do with as many people as I see in a day, but I try!"
Wade's favorite thing every day is the few minutes he gets to spend talking with the students, and checking up on their lives.
"I just enjoy interacting with the students and getting to know them a little bit," he said. "[I enjoy] finding out what is going on in their lives, so when they come back the next time I can ask 'how's this or that?' rather than them just being some unknown and unnamed person."
Positivity is what propels Wade forward
Wade is well known for his bright smile and cheerful attitude. His upbeat and caring outlook is often what draws people to his checkout line. For Tena Bennett, Student Center director, Wade is the perfect example of a fantastic employee, and a die-hard Saluki fan.
"He is iconic. Students and staff have purposely stood in his line to checkout just to chat with him," Bennett said. "He is a true team member of the student center and represents the true meaning of customer service."
While life has not always been easy for Wade, he never lets it affect his positive outlook on life.
"I was born with not the best deck of cards, so to speak, but as a kid I realized there was nothing I could do about it," Wade said. "So I may as well just learn to live with it. I have always been that way, my parents will tell you that to. I try not to dwell on what is happened to me in the past, or what my situation is. I just get up and come to work every day."
That very attitude is what endears him to everyone he meets. Kelley Wilkins, Wade's supervisor, sees him as a staple in the student center.
"Even if people come in and don't buy anything, they know John. He is one of those types of people," Wilkins said. "He is very passionate about his job and he treats every customer the same. I honestly believe he gets out of bed every day to come to work."
And when he enters, he is ready to brighten up the whole student center.
"I try to be happy. It doesn't do anybody any good if I come in with a bad mood," Wade said.
Long-time Saluki fan
Wade has been a SIU basketball season ticket holder for 30 years, and is always ready to talk about his favorite team.
"Basketball is my main thing, but I keep up with everything," he said.
When not working at the student center or watching SIU sports, Wade loves spending time watching St. Louis Cardinals baseball, and relaxing with his family.