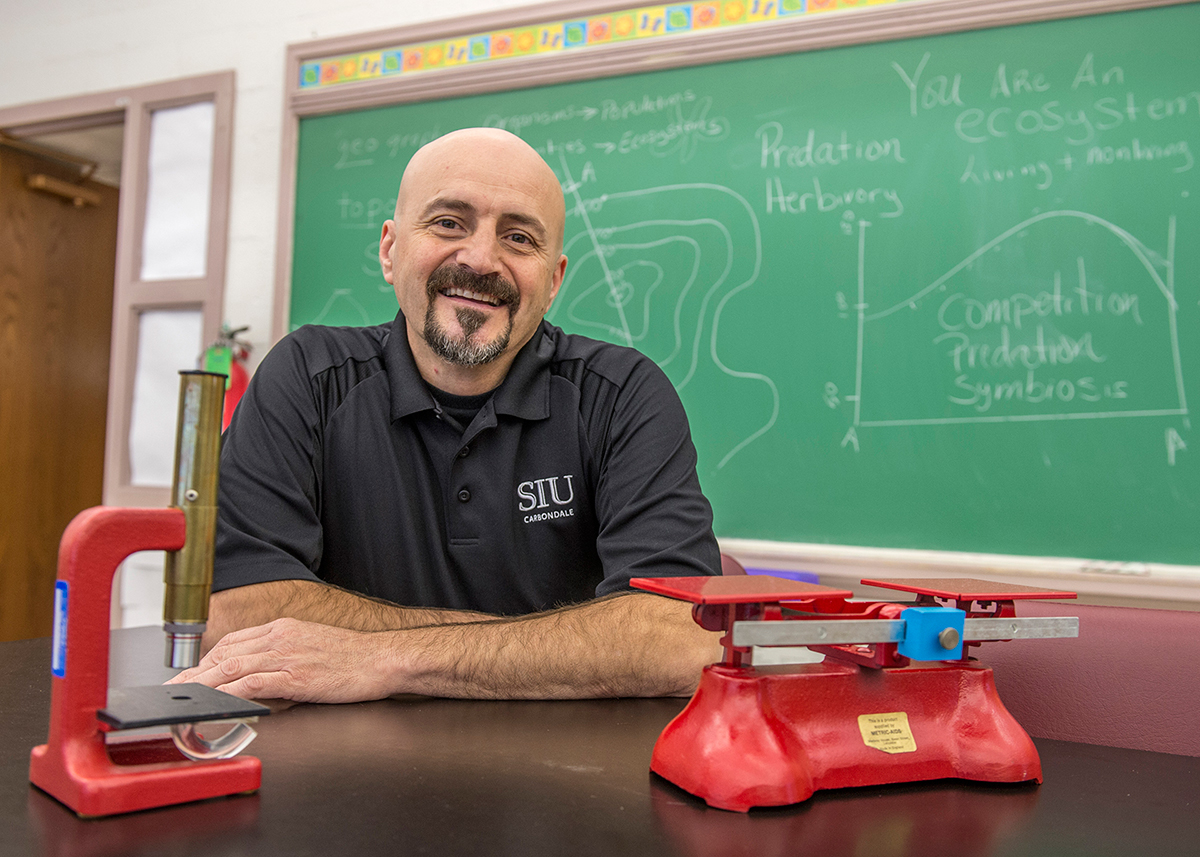 Harvey Henson has been shaking things up for years at SIU, first as geology researcher, where he got involved in preparing the public for the inevitable earthquake that someday will rock the region and later as an administrator pushing STEM education as a priority.
In between all that, he helped launch a scholarship aimed at a little-noticed high school sport: bass fishing.
"I enjoy learning, problem solving and making sense of the world around us," said Henson, who now serves as interim director of SIU's STEM Education Research Center (SERC) at Pulliam Hall. "I especially enjoy helping others, like students, to do this. Being part of something positive, a team working on a project, a committee, a board of directors, a researcher, an educator, a small group at church, or just out in the community provides many opportunities for discovery, leadership and service."
Science background shows the way
With a background heavy in science and education, Henson has long been a proponent of STEM education and involved from the bottom to the top. Working collaboratively with colleagues over the past 25 years Henson has brought $26 million in external funding to SIU. He hopes the center will develop even more new grant initiatives while coordinating existing programs that seek to enhance STEM learning and teaching.
The interdisciplinary nature of STEM will mean a variety of SIU students and faculty will use the center to advance STEM learning. Another goal is to continue building relationships with outside agencies, such as local school districts and the Illinois State Board of Education. The ISBE, for instance, recently partnered with SERC to score the Illinois Science Assessment. SERC is engaging science experts and Illinois educators to do so – part of the new scoring process it helped create. Henson and his team secured the $3.2 million contract in April 2017, and after completing that project, Henson's team was awarded a five-year contract for $13.4 million to continue the assessment partnership. Eventually, the SERC will help coordinate re-working the ISA, as well.
Preparing for the big one
But being a leader in earthquake preparedness was one of his first forays into community service at SIU.
His work in this area started in 2005 with his work on "Suddenly, On an Average Day" an earthquake preparedness and awareness DVD/video created in collaboration with Scott Hodgson at University of Oklahoma.  The video aired on WSIU-TV and won a Regional Emmy Award for best director.
Later, Henson worked with state and regional emergency and disaster agencies to design and create award-winning portable earthquake preparedness kiosks that can be placed in strategic public places to educate the public.
One of the kiosks is installed at the Science Center at the University Mall in Carbondale, where it has been since February 2017. Its interactive experience features numerous videos produced in collaboration with Hodgson. This year, it was selected for the Broadcast Education Association's "Best of Festival" award for faculty interactive media and emerging technologies.
Henson also has received numerous grants to fund additional earthquake readiness projects, as well as earthquake-related research projects, including those measuring earthquake knowledge among school children and investigating fault lines with ground-penetrating radar, among many others during the last 30 years. He has served on earthquake readiness boards, presented at conferences on the subject and received numerous awards and recognitions for his work.
A passions for fishing brings in students
An avid fisherman, Henson said he was surprised to learn in 2011 that SIU has a competitive college fishing team, the Saluki Bassers. While serving as assistant dean in the College of Science, Henson thought he saw a means of recruiting science students who were also anglers.
"I learned that nearly every high school in Illinois and many surrounding states sponsors a student fishing team, and these fishing teams compete to participate in statewide tournaments just like any other high school sport," Henson said.
Always the recruiter, Henson came up with the idea to offer a small scholarship to help attract high school anglers to attend SIU and join the Bassers fishing team.
"We organized and cohosted with the Bassers an annual recruiting event at Campus Lake to attract new students," Henson recalled. "We managed to recruit a few students and gave out a couple scholarships."
For Henson, all the extra activity comes back to being of service to his students and the community.
"I'm passionate about teaching students to ask the critical questions: What, why and how?" he said. "Those questions will help them discover evidence and develop new knowledge that hopefully will help create greater understanding, appreciation and resources to solve problems that challenge our world."